Coco before Chanel (France, 2009)
October 06, 2009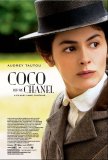 One could make a cogent, compelling argument that no individual had a bigger impact on the 20th century fashion industry than Coco Chanel. Larger than life in both image and influence, she shaped the way women dressed from the Flapper era until her death in 1971. Nevertheless, it is an unfortunate truth that it's not always the most influential individuals whose stories make for the most compelling drama. As brought to the screen by French director Anne Fontaine, Coco before Chanel's telling of the title character's formative years has its share of intriguing moments, but the story as a whole lacks tension and conflict and takes itself far too seriously. The film's central love triangle - which seems designed primarily to emphasize that Chanel could live without a man - is so solemn and emotionally dry that it will threaten to put even the most caffeinated viewer to sleep.
Chanel is played with starkness by Audrey Tautou (filling in for the deceased Audrey Hepburn, who would have been perfect for the role), in what is, ironically, her least glamorous role. The twinkle in Tautou's eyes, which may be her most endearing quality (it certainly helped Amelie to amass a large number of fans), is ignored by Fontaine and her cameras. The actress' interpretation of the part is without charm, although one could argue that since Chanel was notoriously aloof, this is the appropriate way to play her. Nevertheless, this bland, straightforward portrayal fits perfectly into a film that seems indifferent as to whether viewers feel anything about the characters or their circumstances. Tautou is attractive (although not as much here as in many of her previous endeavors) but it's hard to summon enthusiasm about the icon she's playing.
The film opens in the mid-1890s with a Dickensian prologue set in the orphanage of the Roman Catholic monastery of Aubazine, where young Gabrielle Chanel lived for seven years following the death of her mother and the abandonment by her father. Coco before Chanel rejoins Gabrielle's life shortly after the turn of the century when she and her sister, Adrienne (Marie Gillain), are working as singers in a saloon. There she meets the wealthy dilettante Étienne Balsan (Benoit Poelvoorde), who becomes her friend and lover and offers to advance her singing career. That doesn't work and she moves in with him in his mansion outside of Paris. While there, she falls in love with one of Balsan's British acquaintances, Arthur Capel (Alessandro Nivola). The affair spurs Chanel to leave Balsan and move into the city, where she sets up a shop selling hats and dresses. By the onset of World War I, she has become one of the most respected figures of France's fashion industry.
A lot of screen time is devoted to the romantic triangle that develops between Chanel, Balsan, and Capel. Perhaps to avoid the appearance of soap opera sudsiness, Fontaine elects to leech the material of all sense of melodrama. This results in scenes that are as free of manipulation as they are of emotion. Coco before Chanel is beautiful to look out but antiseptic in the way it approaches the characters. The thing that keeps the movie from becoming a complete bore are the details it provides about how the title character developed from a seamstress at the orphanage to the legend she was becoming in the final scene.
Although short of two hours in length, Coco before Chanel seems overly long, in part because the movie lacks dramatic tension and focus. The final 30 minutes in particular, once the triangle has been bisected, drag without apparent direction. One can see where the story might be of great interest to fans and devotees of Chanel, but for casual viewers who have never seen her as more than the face behind an empire, there's too little in this movie to provide more than a casual diversion. Technically, it's superbly made; dramatically, it fails to achieve escape velocity.
---
Coco before Chanel (France, 2009)
Run Time: 1:45
U.S. Release Date: 2009-09-25
MPAA Rating:
"PG-13" (Sexual Situations)
Genre:
DRAMA
Subtitles: English subtitled French
Theatrical Aspect Ratio: 2.35:1
---
Three...better movies of this genre
worse movies of this genre
Three...better movies of Audrey Tautou
worse movies of Audrey Tautou
(There are no more worst movies of Audrey Tautou)
Three...better movies of Benoit Poelvoorde
(There are no more better movies of Benoit Poelvoorde)
worse movies of Benoit Poelvoorde
(There are no more worst movies of Benoit Poelvoorde)
Three...better movies of Alessandro Nivola
worse movies of Alessandro Nivola