Five Nights at Freddy's (United States, 2023)
October 27, 2023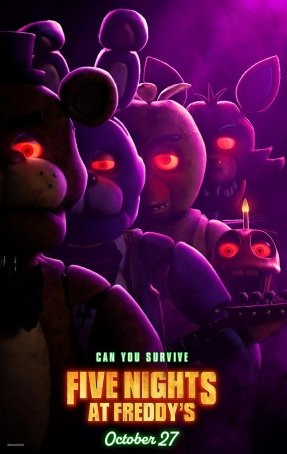 When it comes to making a movie based on an established IP, like a video game, filmmakers can use one of two approaches: attempt to broaden the scope with the goal of attracting a wider audience or hew close to the source material, which is more apt to thrill die-hards. Without question, Five Nights at Freddy's opts for the latter. It is 110 minutes of pure fan service. That's not necessarily a bad thing, and I have been told by several committed gamers that it's an excellent way to advance the brand, but unless you have a history with one of the various video game iterations of "Five Nights at Freddy's," the movie is unlikely to work for you. I have never played the game and I felt like I was on the outside looking in. My son, on the other hand, who is familiar with the franchise, enjoyed himself. (Afterwards, he was able to point out to me all the things I had missed, like the cameos of various Youtubers.)

Jason Blum knows his business model: make cheap horror movies that come with sufficiently low budgets that they don't require massive box office receipts to break even. Five Nights at Freddy's is a classic Blumhouse project, coming with a $25M price tag. It features no big-name stars – the most recognizable faces belong to Josh Hutcherson, Matthew Lillard, and Mary Stuart Masterson. There are no expensive CGI effects – the animatronics at Freddy's were designed by Jim Henson's Creature Shop, effectively making them oversized Muppets. And the action is mostly confined to two locations: Mike's house and the pizza place. By making the movie PG-13 instead of R, the gates have been opened to younger viewers – a necessary concession considering how laser-focused Five Nights at Freddy's is on wooing the gaming community. This is HINO (Horror in Name Only). Oh, there are a couple of jump-scares and a few atmospheric moments, but it often feels more like an unintentional parody of PG-13 horror movies than a legitimate entry into the genre.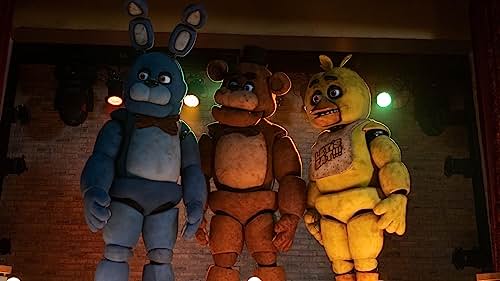 The plot is nonsensical in ways that makes something like Halloween seem grounded. Mike Schmidt (played by Hunger Games contestant Josh Hutcherson; no relation to the greatest player ever to put on a Phillies uniform) is a newly-hired security guard at Freddy Fazbear's Pizza, a defunct family restaurant in the mold of Chuck E. Cheese's. Desperately needing work and advised by his career counselor, Steve Raglan (Matthew Lillard), that there's only one available position, Mike has no choice but to accept. Freddy's, which hasn't been open for at least a decade, has fallen into disrepair but remains the "home" of four giant animatronic mascots - Freddy Fazbear, Bonnie, Chica, and Foxy – that come to life every night and kill anyone on the premises. A local cop, Vanessa (Elizabeth Lail), offers a cryptic warning to Mike after giving him a guided tour of a place where she had many happy experiences as a child. When circumstances force Mike to bring his young sister, Abby (Piper Rubio), with him to work, the mascots decide they want her as a new friend.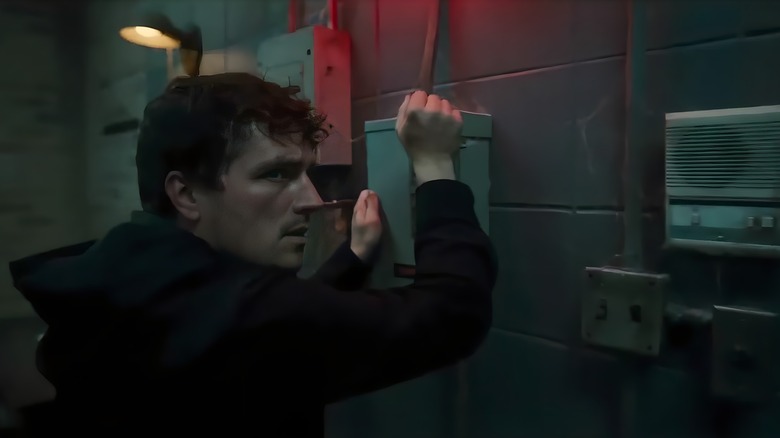 As someone lacking a history with the game, it's difficult for me to assess the movie beyond recognizing that it wasn't made for outsiders. I can appreciate the set design and the creepy-cuddliness of the mascots but there's not much else to grab onto. I was more bored than scared. The narrative is dumb and the writing cringe-worthy. The acting is amateurish – over-the-top for veterans Mathew Lillard (who has always been pretty bad even at his best) and Mary Stuart Masterson (who was delightful in the 1980s and 1990s but has pretty much slipped into obscurity since then), and understated by Josh Hutcherson. Piper Rubio is a generic too-cute-for-her-own good child actor.

Yet none of this really matters. The movie's box office success is baked-in, much as it was for Super Mario Brothers and Barbie. It exists not as a standalone multiplex experience but as part of a marketing campaign determined to move beyond video games and toys. The movie lacks the nostalgia factor of those other two properties (the games have only been around for nine years, debuting in 2014) so it's unlikely to find the level of interest with older viewers that exists for Mario and Barbie, but fans will be all-in. As a motion picture (in the traditional sense of the term), Five Nights at Freddy's is disjointed and ultimately unsatisfying but as part of a larger cog in a cross-platform franchise, it does everything (and more) that is expected from it.
---
Five Nights at Freddy's (United States, 2023)
Run Time: 1:50
U.S. Release Date: 2023-10-27
MPAA Rating:
"PG-13" (Violence)
Genre:
Horror
Subtitles: none
Theatrical Aspect Ratio: 2.00:1
---
Three...better movies of this genre
worse movies of this genre
Three...better movies of Josh Hutcherson
worse movies of Josh Hutcherson
Three...better movies of Piper Rubio
(There are no more better movies of Piper Rubio)
worse movies of Piper Rubio
(There are no more worst movies of Piper Rubio)
Three...better movies of Elizabeth Lail
(There are no more better movies of Elizabeth Lail)
worse movies of Elizabeth Lail
(There are no more worst movies of Elizabeth Lail)