Barbie (United States/United Kingdom, 2023)
July 21, 2023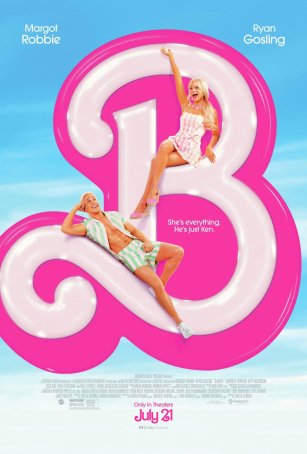 For roughly one hour, Barbie is a delightful journey into a satirical world of pastels and fluorescents, where everything is awesome and pink rules. With its Lego Movie inspired approach to bridging the "real world" with that of dolls and toys, the film takes jabs at franchising and marketing while being ultra careful not to turn off true fans or bite the hand that feeds it (that would be toymaker Mattel). Some of the humor has the Noah Baumbach (screenplay co-writer) touch, which at times makes this skew in the direction of a Wes Anderson film without quite getting there. However, shortly past the mid-point, Barbie loses its way. The second half is unfocused and becomes in-your-face with its feminist message. The ending is mushy and unformed, a kind-of riff on Pinocchio.
It has been said the when director Greta Gerwig went looking for her all-American doll, she couldn't have picked a better choice than Australia-born Margot Robbie. Robbie certainly looks the part and there's not a lot of acting required – at least not compared to the heavy lifting she has done in other recent films (like 2022's Babylon). She is often upstaged by Ryan Gosling's delightfully vacuous Ken. The only one to match Gosling blow-for-blow with over-the-top comedic instincts is Kate McKinnon, playing "Weird Barbie." Michael Cera (as Allan, the only non-Ken male in the doll world) and Will Ferrell (at the Mattel CEO) do their usual schticks. American Ferrera and Ariana Greenblatt, as the human mother-daughter duo of Gloria and Sasha, mostly play is straight.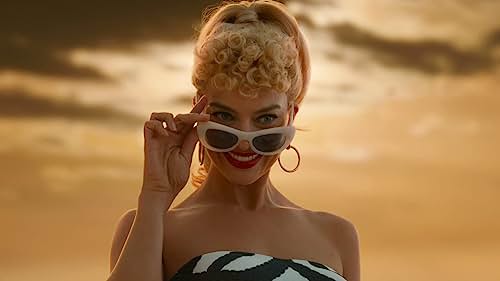 The movie starts out in Barbieland, a world where every day is bright and shiny, the various Kens pine for attention from the various Barbies, and all is right…until the Original Barbie (a.k.a. "Stereotypical Barbie") begins to suffer an existential crisis. It is deemed that the only way for her to regain her sunny outlook is to venture through a portal into the Real World and seek out the human who is playing with her (yes, those actual words are used). Accompanying her on this journey is one of the Kens. Once in Santa Monica, they seek out "owners" Gloria and Sasha. Cue fish out-of-water humor. However, rather than regaining her previous obliviousness, Barbie is thrown even deeper into uncertainty. Ken, meanwhile, discovers that perhaps there's another kind of existence than subservience. When, with the help of Gloria and Sasha, the two dolls return home, they discover a changed world. Ken has preceded them back to Barbieland and implemented a patriarchal society where the Barbies assume roles as maids, housewives, and girlfriends.
An argument can be made that the real star of Barbie isn't Robbie or Gosling, but the production design. Loving, day-glow recreations of Barbie playsets, the setups match the rambunctious energy that infuses the movie's first half. Gerwig starts the films off with a cheeky parody of 2001 (complete with "Also Sprach Zarathustra") before taking viewers on a tour of Barbieland. Along for the ride (although never seen) is Helen Mirren, who delivers a witty and at times barbed narration that reminds us not to take all this seriously…until suddenly we're supposed to.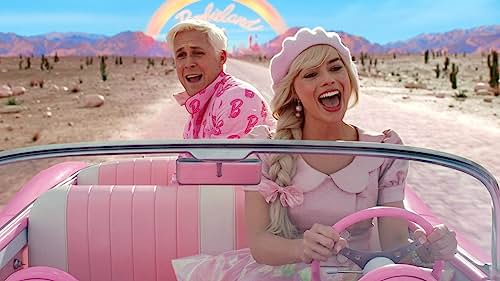 One of the themes behind Barbie is to illustrate how the doll originally worked within the rigid structure of a patriarchal society while simultaneously recognizing that the evolution of Barbie over the years has inspired girls to set their sights higher. This is baked into Barbie's DNA and comes across clearly without the need to bring everything to a screeching halt for a minute-long monologue that delivers this message with sledgehammer subtlety. Everything in this speech is true but the manner in which it is presented feels awkward. Coincidentally or not, this represents the point when Barbie loses its footing. The storyline – thin even at the film's strongest – frays as Gerwig struggles to figure out how to wrap things up and, although the ending offers closure, it left me shrugging my shoulders. In the end, I enjoyed the laughs and the visuals but didn't care even a little bit about the characters or their fates.
In making Barbie, Gerwig faced a potentially insurmountable challenge: craft a fan-friendly fantasy that soft-peddles the satire while simultaneously paying homage to Barbie and making a socially aware statement. It's perhaps more than any movie could reasonably be expected to do, especially one produced by the toymaker and restricted to the family friendliness of a PG-13 rating. (No South Park approach here.) A degree of unevenness is expected and that's what Barbie delivers: a delightful confection at its best, an unfocused jumble at its worst.
---
Barbie (United States/United Kingdom, 2023)
Director:
Greta Gerwig
Cast:
Margot Robbie
,
Will Ferrell
,
Ariana Greenblatt
,
America Ferrera
,
Michael Cera
,
John Cena
,
Ncuti Gatwa
,
Kate McKinnon
,
Issa Rae
,
Ryan Gosling
,
Helen Mirren
Screenplay:
Greta Gerwig & Noah Baumbach
Cinematography:
Rodrigo Prieto
Music:
Mark Ronson, Andrew Wyatt
U.S. Distributor: Warner Brothers
---
Three...better movies of this genre
worse movies of this genre
Three...better movies of Margot Robbie
worse movies of Margot Robbie
Three...better movies of Will Ferrell
worse movies of Will Ferrell
Three...better movies of Ariana Greenblatt
(There are no more better movies of Ariana Greenblatt)
worse movies of Ariana Greenblatt
(There are no more worst movies of Ariana Greenblatt)