Spider-Man: Across the Spider-Verse (United States, 2023)
May 31, 2023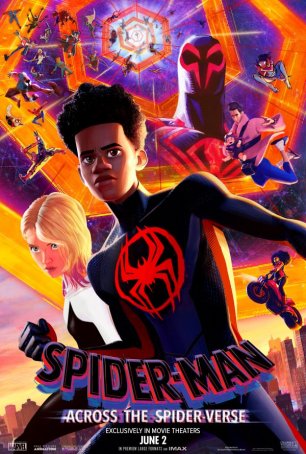 Across the Spider-Verse, the middle installment of the "Spider-Verse" trilogy (following 2018's Into the Spider-Verse and ahead of 2024's Beyond the Spider-Verse), is just as rambunctious, psychedelic, and occasionally spastic as its precursor. Like Deadpool 2, however, it doesn't have quite the same impact because it's following in the footsteps of a trailblazer. Across the Spider-Verse maintains the "fresh air" quality that defined Into the Spider-Verse but a few things diminish it: the multiverse plot device is quickly becoming overused in comic book movies and, like far too many recent films, this production proves unable to tell an entire story, ending with an unsatisfying "To be continued…"
Using a wide variety of visual styles, freshman directors Joaquim Dos Santos, Kemp Powers, and Justin K. Thompson (replacing Bob Persichetti, Peter Ramsay, and Rodney Rothman), tell the often-intersecting stories of two alternate spider bite victims: Miles Morales (Shameik Moore), who goes by the moniker of "Spider-Man" in his universe, and Gwen Stacy (Hailee Steinfeld), a.k.a. "Spider-Woman." The two were friends (and Miles obviously carries a torch for Gwen – something everyone except her sees) until multiverse reparations forced them apart. The prologue shows how Gwen ends up involved with a group of Spider-beings (the "Spider Society") tasked with identifying and repairing problems to the multiverse structure. Led by the humorless Miguel O'Hara (Oscar Isaac), they move from universe to universe, making sure mandated events happen in parallel across all realities. When Gwen decides to visit her old friend Miles, his dogged persistence in following her creates unforeseen problems. Meanwhile, a seemingly innocuous bad guy called "The Spot" (Jason Schwartzman), proves to be far more dangerous than the "villain-of-the-week" he is initially assumed to be.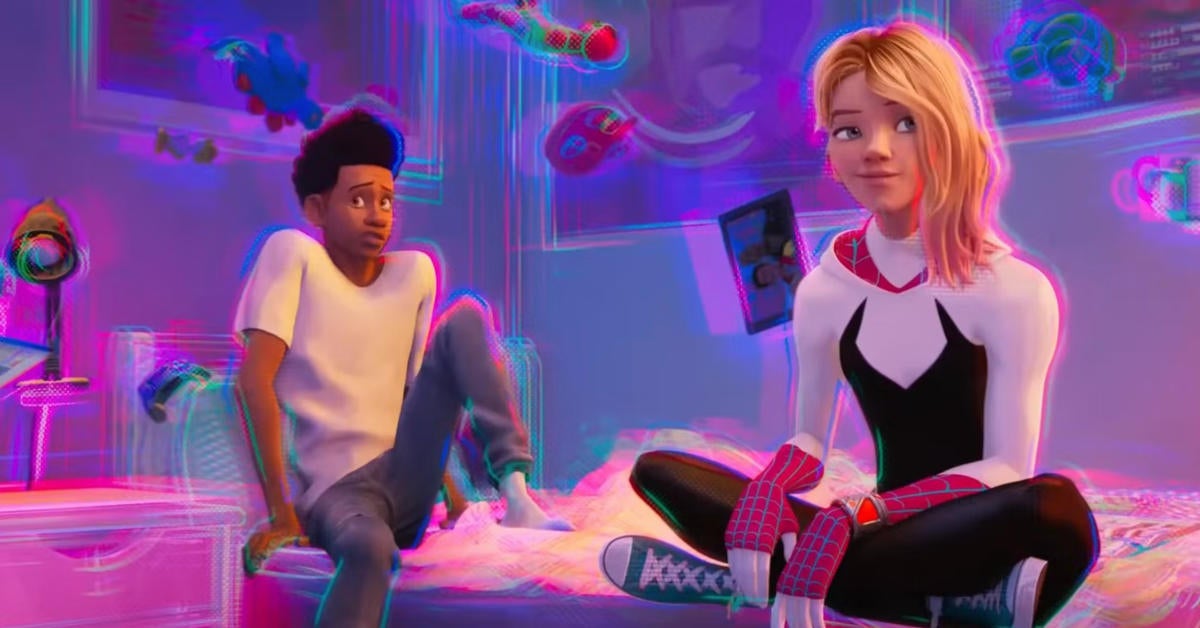 Across the Spider-Verse is a visually dynamic film with a variety of different styles used to represent alternate universes. In addition to the common generic CGI look, there's one that's impressionistic, another that offers an unfinished, almost-blurry aesthetic, and others that are dark, futuristic, and reflective of old-style comic books. The LEGO universe makes an appearance and there is a brief live-action sequence featuring a character from the Venom movies.
As kinetic as all the action sequences can be, the glue that holds the movie together relates to character interaction. Miles and Gwen dance around each other in the best teen rom-com tradition. Time is devoted to the relationships between Miles and his parents, Rio (Luna Lauren Velez) and Jefferson (Brian Tyree Henry), and Gwen and her father, Captain Stacy (Shea Whigham). Peter B. Parker (Jake Johnson) makes an appearance with his cute baby girl in tow (Mary Jane, again voiced by Zoe Kravitz, has a cameo). There are a plethora of alternate members of the Spider-Society, many of whom exist as fan service to those in the know. A few have significant roles: the pregnant motorcyclist Spider-Woman (Issa Rae), the punk rock-loving Hobie Brown (Daniel Kaluuya), the Indian Spider-Man of Mumbattan (Karan Soni), and the virtual reality-based Spider-Byte (Amandla Stenberg).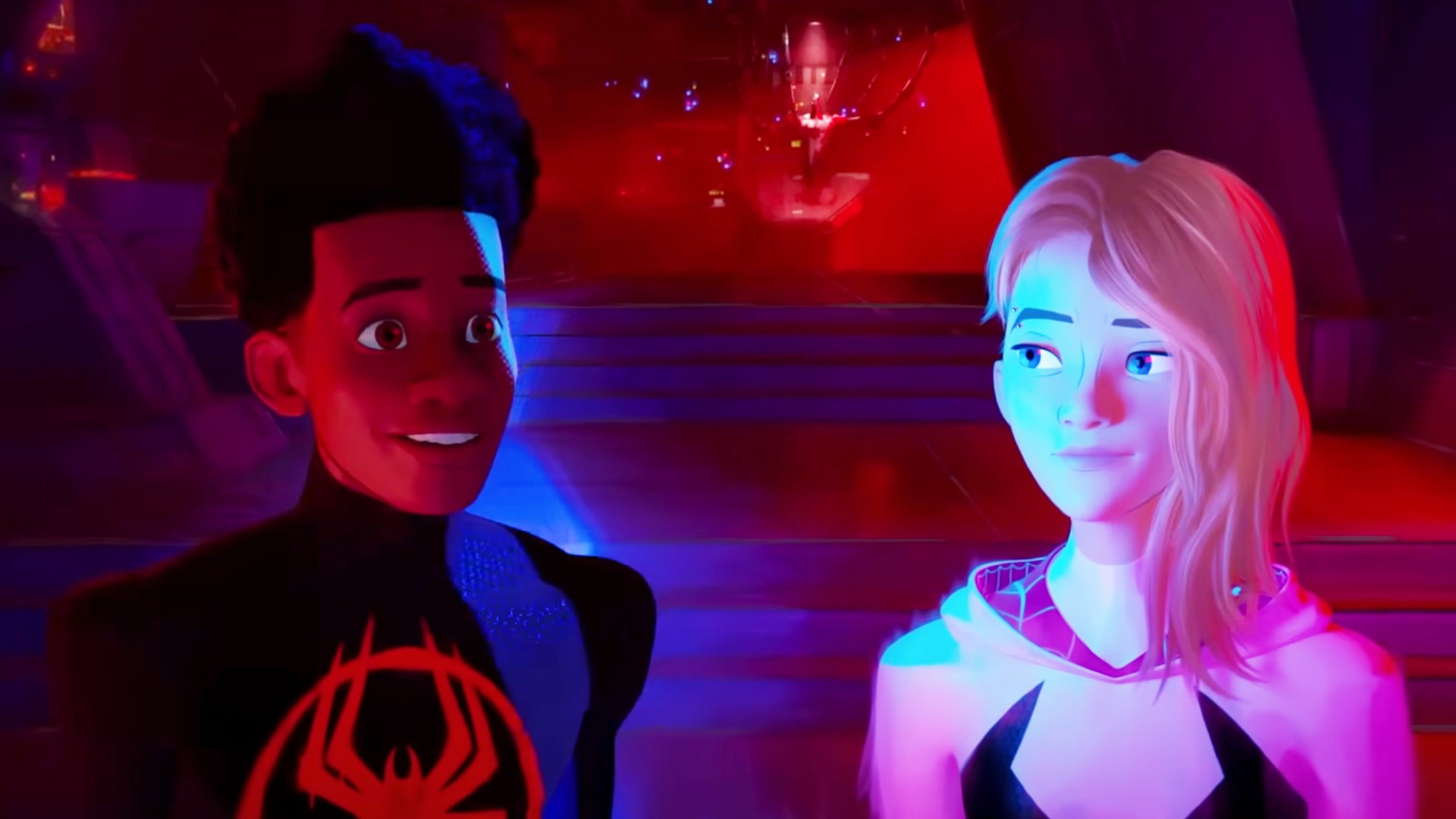 As for the cliffhanger ending, I'm of two minds about this. In an era when streaming series have encouraged creators to expand the canvas, movies have followed suit, often requiring multiple installments to tell the entire story. And, because the Spider-Verse films are part of an established series and the third part of the trilogy was developed in parallel with the second one, there's no danger that the whole story won't be told. However, there's a growing level of frustration associated with the seeming inability of every franchise movie to be self-contained. I don't go to the movies to see half a story then be told to wait another 9 months or a year for the rest. Admittedly, if one was to fast-forward a few years into the future when everything is available for streaming, this impediment goes away, but do producers really want audiences to bypass the initial release?
Although the filmmakers have made the claim that Across the Spider-Verse has its own arc, I'd dispute that. Without Beyond the Spider-Verse, this movie will feel incomplete in almost every way. Nothing is resolved. As such, it's difficult to assign anything more meaningful than an "incomplete" to Across the Spider-Verse on its own merits. There's plenty to like about the movie, chief among which are its energy and vivid imagery. The voice acting is top-notch and the attention to character development is laudable. Co-writers Phil Lord & Christopher Miller bring their trademarked unconventional approach to the story and that helps the movie stand-out in what is quickly becoming a wasteland of superhero sameness. But it's tough to call Across the Spider-Verse "great" without seeing whether the final chapter sticks the landing or falls on its sword.
To be continued…
---
Spider-Man: Across the Spider-Verse (United States, 2023)
Director:
Joaquim Dos Santos, Kemp Powers, Justin K. Thompson
Cast:
Shameik Moore
,
Hailee Steinfeld
,
Oscar Isaac
,
Jake Johnson
,
Issa Rae
,
Brian Tyree Henry
,
Luna Lauren Velez
,
Daniel Kaluuya
,
Jason Schwartzman
Home Release Date: 2023-09-05
Screenplay:
Phil Lord & Christopher Miller and Dave Callaham
Cinematography:
Music:
Daniel Pemberton
U.S. Distributor: Columbia Pictures
Run Time: 2:20
U.S. Home Release Date: 2023-09-05
MPAA Rating:
"PG"
Genre:
Animated/Action
Subtitles: none
Theatrical Aspect Ratio: 2.35:1
---

Three...better movies of this genre
(There are no more better movies of this genre)
worse movies of this genre
Three...better movies of Shameik Moore
(There are no more better movies of Shameik Moore)
worse movies of Shameik Moore
(There are no more worst movies of Shameik Moore)
Three...better movies of Hailee Steinfeld
worse movies of Hailee Steinfeld
Three...better movies of Oscar Isaac
worse movies of Oscar Isaac