Dope (United States, 2015)
June 19, 2015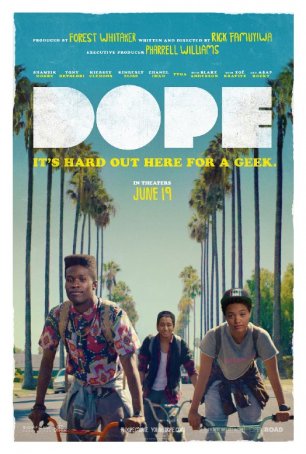 Dope, an unconventional coming-of-age story from writer/director Rick Famuyiwa (Our Family Wedding), posits the unlikely proposition of a straight-A student with nearly perfect SAT scores who builds a mini-drug empire as a stepping stone to get into Harvard. Criss-crossing genres like an out-of-control hip hop song, Famuyiwa dabbles in the teen sex comedy, the urban gangster story, and the fish out of water scenario. He gives us suspense, gross-out humor, a cute romance, and a sermon about the status of race in America.
Malcolm (Shameik Moore) lives in a single-parent household in the aptly-named "The Bottoms" neighborhood of Inglewood, California. A self-professed geek, Malcolm and his two friends, Diggy (Kiersey Clemons) and Jib (Tony Revolori), are ostracized in their school because they would rather do "white things" (like get good grades) than hang out with the local gangs. Malcolm's goal isn't just to get out of Inglewood but to make it all the way to Harvard - an objective decreed by his guidance counselor as "arrogant." Meanwhile, the flat topped lover of '80s hip hop falls for Nakia (Zoe Kravitz), the ex-girlfriend of drug dealer Dom (A$ap Rocky). This opens the door for him to an odyssey that might have been taken from Martin Scorsese's After Hours. Along the way, he meets a roster of odd, sexy, and/or dangerous characters. They include Lily (Chanel Iman), a girl who, despite limited screen time, may be the most memorable of Dope's rogues' gallery. Who's going to forget her version of "Mother May I"? (As a kid, I played the game once or twice but never like this.)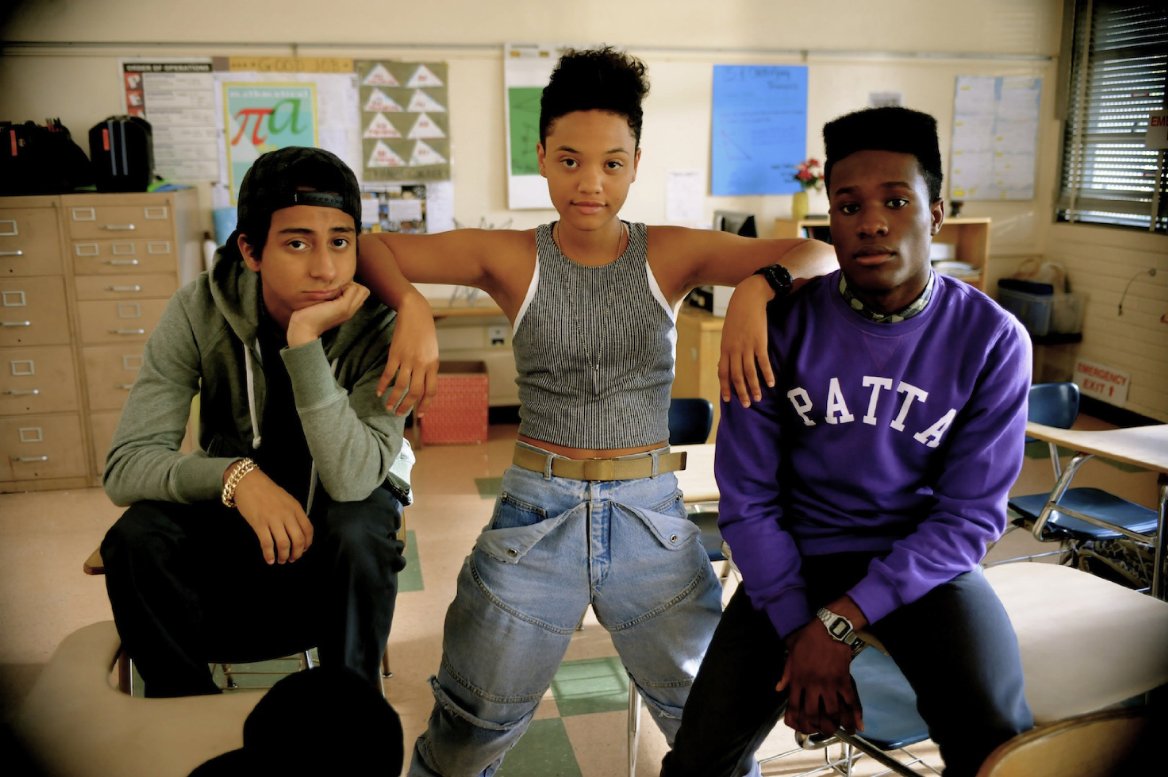 For much of Dope, Malcolm's story seems like an enactment of Murphy's Law at its most sadistic: everything that can go wrong to this good kid does go wrong. He goes to a party because he likes a girl and ends up with several bricks of dope (and a gun) hidden in his backpack. He gets seduced by a hot, topless girl only to have her vomit on him at an inappropriate moment. He thinks he has found a way out of a bad situation when a phone call scares the life out of him. But Malcolm is inventive and resourceful and figures out a way to turn these things to his advantage. Famuyiwa's script is clever in the way it configures these situations. It's also one of the first films to mention things like "Bitcoins" and "the Dark Net" as more than throw-away terms.
Likability is a key here. The narrative's twists and turns are so crazy that it's necessary to have a few grounded characters to latch onto. Malcolm is one. His two friends, the butch lesbian Diggy and the dweeb Jib, are two others. These three are believable as friends caught in the nexus of something they didn't plan or want. Yet, as the saying goes, they take the lemons given to them by life and make lemonade. In the end, the only chase that really matters is Malcolm's pursuit of Harvard.

Famuyiwa stumbles a bit late the proceedings with a needlessly preachy video essay provided by Malcolm. The thesis is that a person should be judged by the content of his character not the color of his skin, the circumstances of his birth, or the location of his home. Just because Malcolm is a black drug dealer living in Inglewood doesn't make him a violent gang-banger with no hopes or dreams. There's nothing wrong with a social conscience but Dope's coda clumsily and inelegantly restates ideas that have percolated to the surface throughout the entire movie. Famuyiwa doesn't need the speech but, because he provides it, the net effect is to weaken its impact.
Dope received deservedly positive notices when it premiered at the 2015 Sundance Film Festival. Late innings homily aside, it's a well-acted, absorbing story that ranks high both in terms of unpredictability and all-around appeal. The film's ability to confound expectations while delivering some big laughs may be its most crowd-pleasing characteristic but the anti-stereotype message rings clear as a bell throughout.
---
Dope (United States, 2015)
---
Three...better movies of this genre
worse movies of this genre
Three...better movies of Shameik Moore
(There are no more better movies of Shameik Moore)
worse movies of Shameik Moore
(There are no more worst movies of Shameik Moore)
Three...better movies of Kiersey Clemons
(There are no more better movies of Kiersey Clemons)
worse movies of Kiersey Clemons
Three...better movies of Tony Revolori
(There are no more better movies of Tony Revolori)
worse movies of Tony Revolori
(There are no more worst movies of Tony Revolori)