Romeo & Juliet (2013) (United Kingdom/Italy, 2013)
October 10, 2013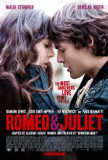 A staple of high school literature classes, Romeo & Juliet has proven no less popular with filmmakers, who return to this classic on a regular basis. The problem with making a new version of Shakespeare's most read romance is that, like Hamlet, there's little new territory to mine. It's not enough to assemble a group of good actors, spend some money on production design, and film the play. The Zeffirelli production, made in 1968, remains the "gold standard" against which traditional cinematic interpretations of the play are measured. When Baz Lurhmann decided to adapt it in 1996, his radical approach freshened the story. For the 2013 film, however, director Carlo Carlei has elected to pursue a straightforward adaptation. And, although the result is well-mounted, it offers little that's new or, frankly, interesting. This is a competent, technically proficient rendering that may find favor with those who have never seen Romeo & Juliet on the big screen but it's little more than a curiosity for those with a long history of watching Shakespeare's works translated to the cinema.
Although this Romeo & Juliet never displays much in the way of inspiration, it's not without its small pleasures. In a way, it's like the cover of a favorite pop tune - inferior, to be sure, but nevertheless pleasantly familiar. Carlei's production is good-looking even if his vision of Verona is largely depopulated. (I guess he had a problem attracting a large numbers of extras.) Abel Korzeniowski's score is suitably operatic, although there are times when it soars so loudly that it drowns out lines of dialogue. While that might improve a typical Hollywood blockbuster, it's not a good idea when the writer is Shakespeare.
Julian Fellowes is the credited adaptor although all he has done is trim the play as necessary to reduce the running time below the two-hour mark while maintaining a coherent narrative. Most of the choices of what to incorporate and what to elide were made long before Fellowes ever got to work on this. An unabridged Romeo & Juliet might have been interesting but its 3+ hour running length would challenge the stamina of most viewers, resulting in a release with zero commercial potential (as opposed to one with minimal prospects).
The acting varies from adequate to extremely good. The weak link, to the extent that there is one, is Douglas Booth, whose Romeo appears to have been distressingly influenced by films like Twilight. He's a soulful, brooding heartthrob. Booth's delivery of Shakespeare's lines is bearable although there are times when hints of stiffness creep in. His opposite, True Grit's Hailee Steinfeld, offers an enthusiastic but rather average Juliet. At times, she's too earnest. Surprisingly, her American accent isn't a distraction (at least not to the extent a faux, botched British one would have been). The strongest performance comes from Paul Giamatti, whose Friar Laurence attains a depth and believability beyond what's usual for the character, who is most often seen as a means to move the story forward.
Passion - doomed, romantic passion in particular - lies at the heart of Romeo & Juliet. The play is about what people will sacrifice in its name. Unfortunately, the stateliness often employed when staging Shakespeare diminishes this quality. Zeffirelli and Luhrmann recaptured it, but it's less evident here than it should be. Romeo and Juliet kiss and canoodle but their encounters are tame, lacking the heat one expects from teens caught in the grip of hormone-fueled ardor. Maybe it's nothing more than a lack of chemistry between Booth and Steinfeld but it's hard to believe these two are so desperate for each other that they end up dying for that love.
It may sound like I'm being unduly harsh on the film but that comes with the territory. Romeo & Juliet is among the English language's best-known love stories and there's no shortage of adaptions available on stage, TV, and film. Those tackling this play need to find a way to make it stand out. If Carlei's intention was to put his own stamp on the tragedy and create something that will endure for a generation, it hasn't happened. This is a prettily made motion picture and it held my attention for its running length. I was invested in the characters and their situations. Perhaps that's all we have the right to expect from Romeo & Juliet in 2013. But, like many Shakespeare adaptations, this one is likely to be relegated by history to the stable of average, barely remembered iterations.
---
Romeo & Juliet (2013) (United Kingdom/Italy, 2013)
Director:
Carlo Carlei
Cast:
Hailee Steinfeld
,
Ed Westwick
,
Tom Wisdom
,
Stellan Skarsgard
,
Lesley Manville
,
Natascha McElhone
,
Damian Lewis
,
Paul Giamatti
,
Douglas Booth
,
Christian Cooke
Screenplay:
Julian Fellowes, based on the play by William Shakespeare
Cinematography:
David Tattersall
Music:
Abel Korzeniowski
U.S. Distributor: Relativity Media
---
Three...better movies of this genre
worse movies of this genre
Three...better movies of Hailee Steinfeld
worse movies of Hailee Steinfeld
(There are no more worst movies of Hailee Steinfeld)
Three...better movies of Ed Westwick
(There are no more better movies of Ed Westwick)
worse movies of Ed Westwick
(There are no more worst movies of Ed Westwick)
Three...better movies of Tom Wisdom
(There are no more better movies of Tom Wisdom)
worse movies of Tom Wisdom
(There are no more worst movies of Tom Wisdom)