Movies starring Natascha Mcelhone Devil's Own, The
The advance word on The Devil's Own was, to put it mildly, not good. About a month ago, Brad Pitt went public with some extremely damaging statements about how, if he hadn't possessed an iron-clad contract, he would have bailed out on the prod... Laurel Canyon
One aspect that virtually assures a good motion picture is solid character development (sometimes referred to as a "character arc"). It doesn't matter if it's a mainstream movie or an offbeat indie - any narrative-based film benefits if the charact... Love's Labour's Lost
Love's Labour's Lost has always been regarded as one of the most enigmatic of Shakespeare's plays. In modern times, it is almost never performed, and, unlike the text of the Bard's major works, it fails to come alive on the printed page. In an in...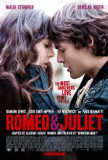 Romeo & Juliet (2013)
A staple of high school literature classes, Romeo & Juliet has proven no less popular with filmmakers, who return to this classic on a regular basis. The problem with making a new version of Shakespeare's most read romance is that, like Hamlet, the... Solaris
Solaris may be the first big budget science fiction motion picture that belongs in an art house rather than a multiplex. The movie bears a stronger resemblance to 2001: A Space Odyssey than to Star Wars, with an emphasis on ideas over action. Tho... Truman Show, The
Truman Burbank (Jim Carrey) is the star of the most popular show in the history of television. For 10,909 days, it has been on the air, using 5000 cameras to show every moment in every day of the life of one man. The public loves it -- there ...