Movies directed by Lisa Cholodenko High Art
I suppose High Art is as good a name as any for this pretentious melodrama, an often-diverting but ultimately pointless attempt to wed intellectual twaddle with a soap-opera-ish lesbian romance. Lisa Cholodenko's film, which had its world premiere...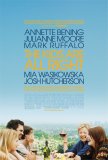 Kids Are All Right, The
The kids may be all right, but the adults aren't. That's the underlying premise of Lisa Cholodenko's unconventional family drama - a motion picture that uses wry humor and uncommon sensitivity to underscore some of the difficulties inherent in any... Laurel Canyon
One aspect that virtually assures a good motion picture is solid character development (sometimes referred to as a "character arc"). It doesn't matter if it's a mainstream movie or an offbeat indie - any narrative-based film benefits if the charact...