Movies starring Jim Carrey Ace Ventura: Pet Detective
Certain ideas are excellent material for short features on programs like Saturday Night Live or In Living Color. Properly padded, it's possible that a few of those premises could even make passable 1/2 hour television programs. However, stretchin... Batman Forever
It's lighter, brighter, funnier, faster-paced, and a whole lot more colorful than before. There's a new actor underneath the cape, a new girlfriend on his arm, and a new partner by his side. The director is different and the composer has changed.... Bruce Almighty
Are a few good laughs worth wasting 100 minutes of time? For me, the answer is a resounding "No!" There are far more promising avenues to explore in the quest for laughter than the dead-end represented by Jim Carrey's latest endeavor, Bruce Almig...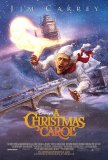 Christmas Carol, A
Review based on a 2-D (standard) screening. If I ever wanted to know what A Christmas Carol might look like as a high-end video game, I need search no farther than this motion picture, which takes the Dickens classic and converts it into somethi... Dumb and Dumber
Sometimes, a movie just can't live up to its advertising campaign (or its name, for that matter). Dumb and Dumber is one such case. Take the newspaper ad, for example, filled with all those fake, witty quotes. That's rather clever (although not o...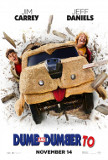 Dumb and Dumber To
What propels filmmakers to make a sequel to a 20-year old film? Is it nostalgia for the brand of comedy that characterized the original? Is it desperation on everyone's part to revive flagging careers? Or is it Hollywood's acceptance that recogniz... Fun with Dick and Jane
Have you ever gone through the painful experience of watching someone who was once good at something try to recapture their past glory? It can be in sports, acting, writing, or any number of vocations. That's the dubious opportunity Fun with Dick... Horton Hears a Who!
Admittedly, it's been about 35 years since I was reader of Dr. Seuss, but my memories of his books are that they're short and economical with words. Neither of those descriptions applies to this theatrical version of Horton Hears a Who!, which has... How the Grinch Stole Christmas
For more than three decades, How the Grinch Stole Christmas has been a holiday season television staple. The 22-minute cartoon, based on the book by Dr. Seuss and narrated by Boris Karloff, has enchanted multiple generations of children (not to me...
I Love You Phillip Morris
I Love You Phillip Morris begins by telling us that it's based on a true story. Then, as if we might be disbelieving of that claim, it reinforces it. Truth, as they say, is stranger than fiction. (Not really, but the phrase sounds good, so we use ...