Movies starring Carol Burnett Horton Hears a Who!
Admittedly, it's been about 35 years since I was reader of Dr. Seuss, but my memories of his books are that they're short and economical with words. Neither of those descriptions applies to this theatrical version of Horton Hears a Who!, which has...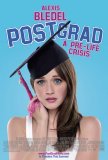 Post Grad
These tough economic times, with the national unemployment rate inching toward double digits, would seem to offer the perfect opportunity to release a movie about the difficulties faced by a recent college graduate in obtaining not merely the "perf...