Movies directed by Vicky Jenson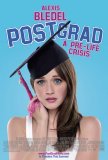 Post Grad
These tough economic times, with the national unemployment rate inching toward double digits, would seem to offer the perfect opportunity to release a movie about the difficulties faced by a recent college graduate in obtaining not merely the "perf... Shark Tale
The first salvo in the battle of the would-be autumn family blockbusters has been fired by Dreamworks. Beating The Incredibles to the screen by more than a month, Shark Tale represents the fourth digitally animated feature to come from the studio ... Shrek
Dreamworks Pictures' wonderful, whimsical Shrek proves to be the latest family film to live up to its billing. With its blend of high adventure, light romance, and double-layered dialogue (which will take on a slightly different meaning for the un...