Movies directed by Joel Schumacher Batman and Robin
With Batman and Robin, the fourth entry in the recent Batman movie series, the profitable franchise appears poised to take a nosedive. This film, which places yet another actor in the batsuit, has all the necessary hallmarks of a sorry sequel... Batman Forever
It's lighter, brighter, funnier, faster-paced, and a whole lot more colorful than before. There's a new actor underneath the cape, a new girlfriend on his arm, and a new partner by his side. The director is different and the composer has changed.... Falling Down
Bill (Michael Douglas) is having a bad morning. He's stuck in his car in a traffic jam, his air conditioner isn't putting out any cold air, his windows won't work, and there's a fly buzzing around his head. Taken as a whole, all of this is enough... Number 23, The
Since this is a thriller, there must be a twist. One goes into a movie like The Number 23 with this expectation. However, not only is the twist telegraphed early but it is presented in a clumsy and unconvincing manner. Other films have employed ... Phantom of the Opera, The
I have never been a fan of Andrew Lloyd Webber's phenomenally popular stage musical version of The Phantom of the Opera, so it will probably come as no surprise that the film adaptation, which is faithful to its inspiration, left me feeling underwh... Phone Booth
Phone Booth became one of a number of post-9/11 films to fall victim to an increasing reluctance on the part of motion picture studios to release movies where on-screen events echo real-world tragedies. Joel Schumacher's thriller was originally se...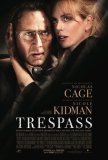 Trespass
Spoiler warning: Technically, this review contains spoilers. But does anyone really care? By writing this, I am reviewing a direct-to-DVD movie. True, Trespass is opening in a select number of theaters in mid-October 2011 (the word "select" bein...