Forty-Year-Old Version, The (United States, 2020)
October 08, 2020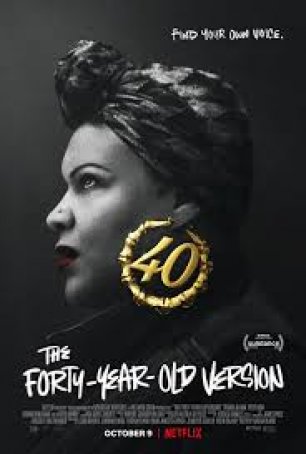 As one might deduce from its cheeky title, The Forty-Year-Old Version, Radha Blank's feature debut, isn't afraid to challenge sacred cows along the way to making its point and, more importantly, telling a story. The film works on two levels – a personal one, which offers a timeless tale about a down-on-her-luck woman who finds the courage to follow her dream – and a larger, more universal one that challenges notions of how people of color are portrayed in film and whether "black art" is sometimes guilty of pandering to white audiences.
If this sounds oh-so-serious, don't worry. Blank uses humor to make her points and they are all-the-more memorable as a result. She doesn't preach, preferring instead a combination of self-deprecation and standup. The film is too long – there are times when the momentum flags and an unnecessary romance is hampered by a lack of chemistry – but the infectious sense of energy and passion that infuses every frame gets the viewer through the slow parts. Despite the punny association of the title, The Forty-Year-Old Version is a closer cousin to Blank's fellow New Yorker Spike Lee's She's Gotta Have It. (She functioned as a producer and writer for the 2017 TV series spin-off, which is available on Netflix.)
The semi-autobiographical story introduces us to Radha Blank, a woman of a certain age (hint: the title gives a clue) whose once-promising career as a playwright (she won an award called "30 Under 30") came to a halt a decade ago. Since then, she has been dabbling in writing while teaching a high school drama class. (Hey, you have to pay the bills, right? And, judging from what we see of her living quarters, she's not in a Woody Allen film.) Opportunity comes knocking in the form of a rich white theater producer named Josh Whitman (Reed Birney), whose "woke" reputation piques his interest in bankrolling Radha's play "Harlem Ave.," the story of a black couple coping with the gentrification of their neighborhood. But the offer to take Radha's baby to the big-time comes with strings attached – a white director, changes to the text to increase accessibility, and playing nice with the media. Radha's longtime agent and gay best friend, Archie (Peter Y. Kim in a scene-stealing supporting performance), is over-the-moon but she's stuck in a downward spiral, worrying about selling out and compromising her vision. To distract herself, she starts writing rap lyrics and, with the help of "D" (Oswin Benjamin), a D.J. she finds via Instagram, she records "Poverty Porn," a scathing attack on the clichés of "black life" that are inhaled by white audiences. Radha discovers a freedom in rapping that she can no longer find in writing plays but, when an open mic appearance goes bad and "Harlem Ave." targets Broadway, Radha loses her courage and capitulates.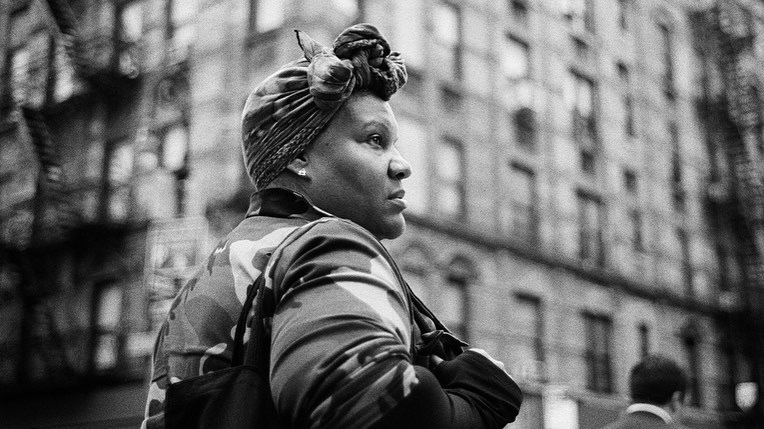 Black-and-white cinematography is so rare these days that, on those occasions when a filmmaker goes that route, it arrests the attention and incites the imagination. In The Forty-Year-Old Version, it imparts a guerilla, documentary feel (with the lighting and shot selection working in concert). There are instances when Blank switches to color (during several inserts and toward the end) but I found these to be more distracting and disconcerting than successful. (I'm not sure what she was trying to achieve.) The black-and-white also gives the movie a timeless feel despite the contemporarily relevant subject matter.
There's a lot to unpack in The Forty-Year-Old Version. Blank's interweaving of the main character's personal story – her fears of being a sellout and not staying true to her artistic vision – is used as a jumping-off point for her criticism of how (some) black artists are forced to capitulate in order to be heard by more than a small audience. In making this film, Blank has strayed from the "accepted" format for a Black Film, supplanting the Angry Black Woman stereotype with a more humane and universally recognizable character. No one in the movie is shot. No one pulls out a gun. No one dies of an overdose or a drive-by. Blank avoids most of the expected Black Film tropes except when she showcases them in the excerpts we see of her compromised play.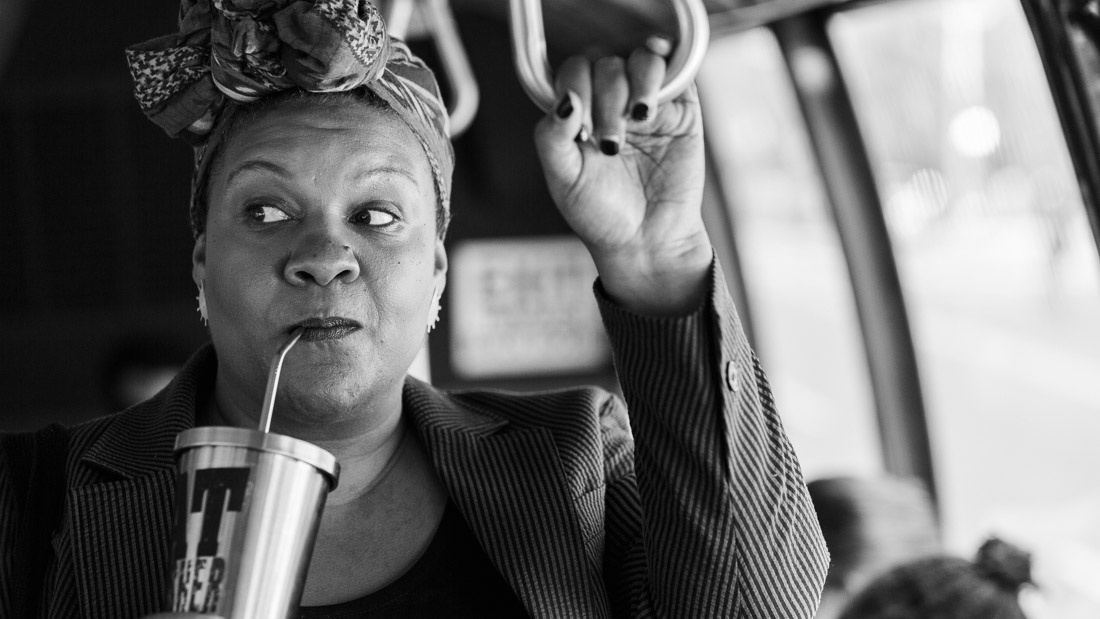 Some of Blank's stylistic flourishes work better than others. The best are arguably her "interview" inserts, which are witty, snarky, and sometimes very funny. They function as a sort-of Greek Chorus to provide commentary on various life decisions that Radha makes – quite often castigating her when she does something rebellious or unpopular.
The Forty-Year-Old Version provides a megaphone for a new voice in cinema. When the film debuted at the 2020 Sundance Film Festival, it earned Blank the Directing Award. Its availability on Netflix guarantees wide access and should provide a larger audience than she would have gotten had the movie gone the more traditional indie route of art house-to-VOD. Now it's a question of whether this was a one-off or the beginning of a new chapter in Blank's varied and versatile career.
---
Forty-Year-Old Version, The (United States, 2020)
---
Three...better movies of this genre
worse movies of this genre
Three...better movies of Radha Blank
(There are no more better movies of Radha Blank)
worse movies of Radha Blank
(There are no more worst movies of Radha Blank)
Three...better movies of Oswin Benjamin
(There are no more better movies of Oswin Benjamin)
worse movies of Oswin Benjamin
(There are no more worst movies of Oswin Benjamin)
Three...better movies of Peter Y. Kim
(There are no more better movies of Peter Y. Kim)
worse movies of Peter Y. Kim
(There are no more worst movies of Peter Y. Kim)