House of Gucci (United States/Canada, 2021)
November 25, 2021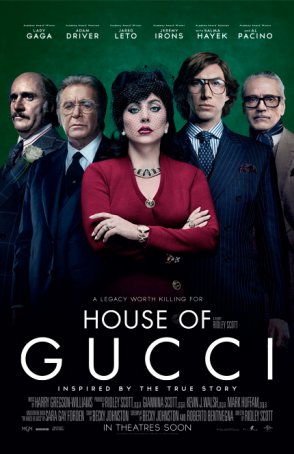 When it comes to the world of fashion, I don't know the difference between Armani, Versace, and Gucci. To me, Tom Ford is better-known as a director. Perhaps if I had come to Ridley Scott's House of Gucci with a stronger background in the field, I might have enjoyed the film a bit more. At over 2 ½ hours long, it's a bit of a slog, with a lot of seemingly unnecessary details and a pace that could best be described as uneven. Despite  excellent performances and isolated moments of limited brilliance, the movie is undone by its low-energy approach and lack of zest. There's no edge to the proceedings; Scott approaches the material with an understated approach and, although numerous little details are changed from the historical record, the result plays out more like a straightforward chronology and less like the black comedy lurking just beneath the surface. It's a misstep for the veteran director that's partially salvaged by his actors.
After mostly disappearing for many years, Al Pacino has come roaring back recently with high-profile turns in Quentin Tarantino's Once Upon a Time…in Hollywood and Martin Scorsese's The Irishman. He and Lady Gaga represent a highlight here. Pacino is in fine form and Scott gives him something we haven't seen in a while – an "Al Pacino moment" when he lets the lion come out to roar. For her part, Lady Gaga beguiles with a sometimes-serious, sometimes-campy performance (not on quite the same level as the one in A Star Is Born) as she guides her character of Patrizia Reggiani in a transformation from a starstruck, ambitious young woman into an angry, manipulative shark in an ocean of mostly placid fish.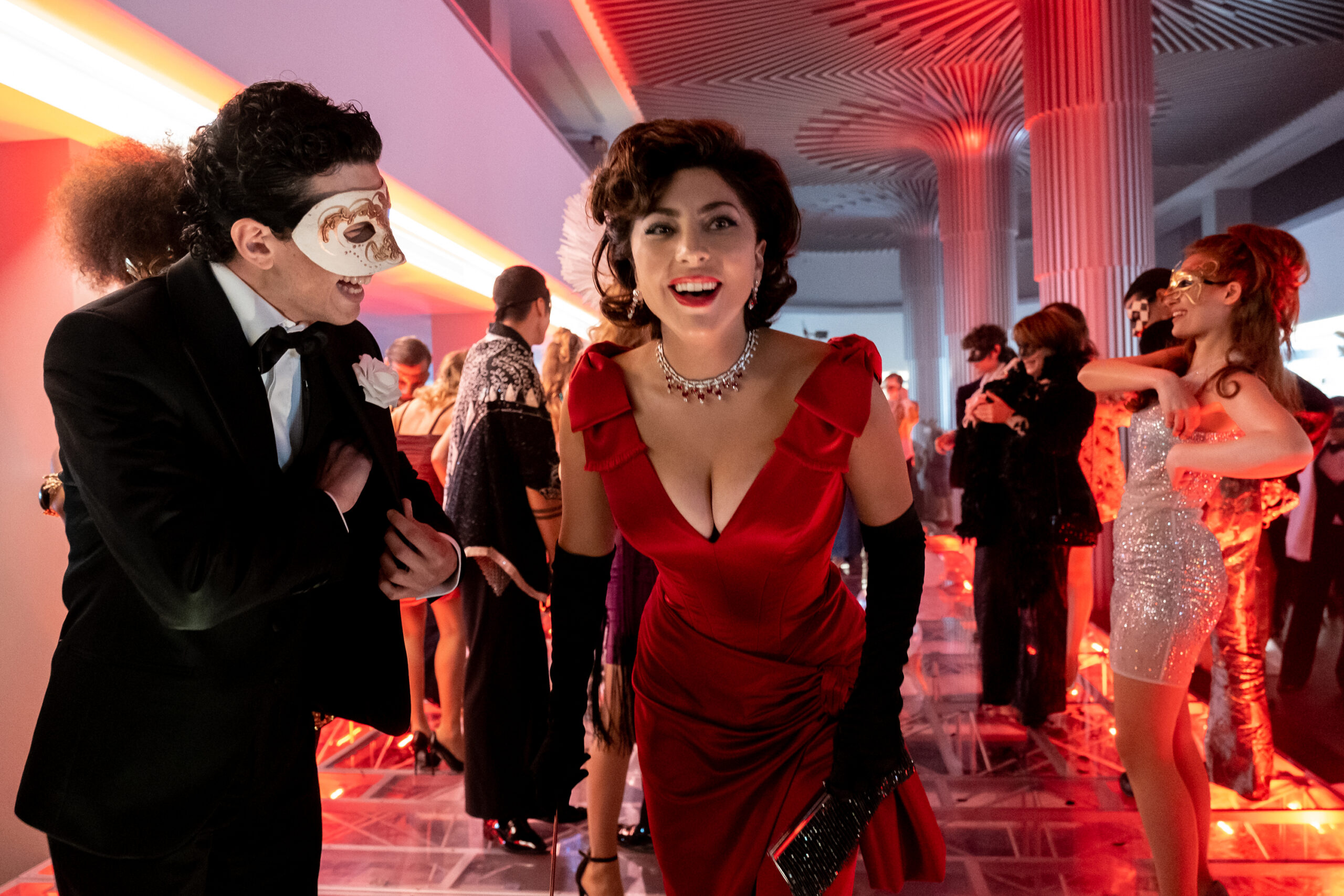 The curtain rises in 1978 with the meet-cute between Patrizia and Maurizio Gucci (Adam Driver), a young would-be lawyer with a famous name. The whirlwind romance isn't favored by Maurizio's father, Rodolfo (Jeremy Irons), who perceives Patrizia as a gold-digger. When his son persists in wanting to marry his paramour, Rodolfo cuts him off and Maurizio goes to work for his in-laws at a trucking company. Eventually, his uncle, Adolfo (Pacino), pulls him back in and grooms him to take over his father's role in the family fashion business. Adolfo is disappointed in his own "idiot" son, Paolo (Jared Leto), and more than happy to have a Gucci with a head for business in the mix. But betrayal and treachery accompany Maurizio's ascension, due in no small part to the take-no-prisoners approach embraced by the power-and-wealth-hungry Patrizia.
There's an expectation that, because this is a Ridley Scott film, there's going to be a jolt somewhere. If that happens, it isn't until the very end. House of Gucci is an effective dissection of a dysfunctional family but the only reason it is worthy of a cinematic treatment is because of the familiarity of the family name and the way the saga ends. After 157 minutes, however, it's evident that the story probably works better in print (the screenplay, credited to Becky Johnston and Roberto Bentivegna, is based on a book by Sara Gay Forden) than it does on screen.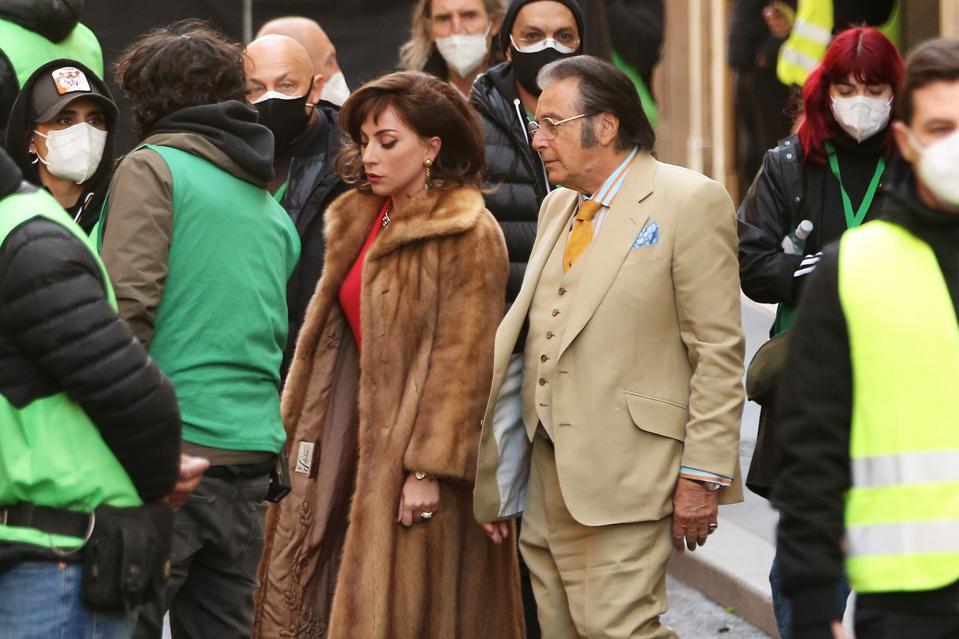 The soundtrack is odd and eclectic, anachronistically using George Michael's "Faith" and the Eurythmics' "Here Comes the Rain," (both staples of the 1980s) to establish scenes set in the late 1970s. In a hint of what might have been had Scott opted a more satirical take on the material, he uses Andy Williams' classic Christmas song, "It's the Most Wonderful Time of the Year," for a surprising (and atypical) purpose.
In addition to the performances given by Pacino and Lady Gaga, there are more-than-competent portrayals from a restrained Adam Driver, Jeremy Irons, and an unrecognizable Jared Leto. (Leto's off-the-wall interpretation of Paolo is yet another indication of a direction Scott could have chosen – the actor often seems to be in a different movie.) Salma Hayek also has a small role although her character is poorly realized and there's reason to wonder until late in the proceedings why she's in the movie at all.
Scott is by no-means a "can't miss" filmmaker. Although this is far from the worst films he has made, House of Gucci is among his most disappointing. With such a strong cast and the pedigree of a high-profile true crime story, viewers are likely to expect something with more octane. But the movie is too long and starts to spin its wheels long before it reaches its destination.
---
House of Gucci (United States/Canada, 2021)
---

Three...better movies of this genre
worse movies of this genre