L'Atalante (France, 1934)
May 18, 2019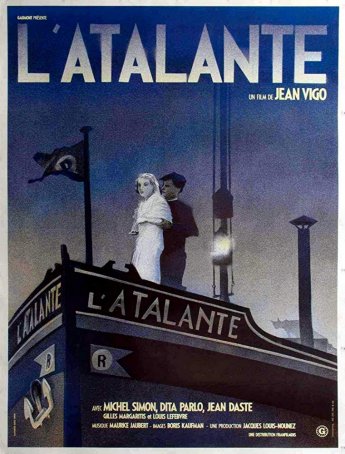 This review contains spoilers, if that term can be used for a movie that has been around for 85 years!
While I'll admit that Jean Vigo's 1934 feature, L'Atalante, is charming, I won't be among those who label it as one of the great cinematic releases of the 20th century. The movie is no doubt important and influential, but the same can be said about D.W. Griffith's Birth of a Nation. (Note: I am not making a moral equivalency.) Content cannot be ignored no matter how stylistically distinctive a motion picture is. One of the best single-word descriptors for L'Atalante may be "poetic" and, like all films of that nature, its effectiveness is tied to its ability to enfold and enrapture the viewer. 85 years removed from its release, the movie proved unable to exert that power on me. I watched it with mild fascination – like many older films, there's a quasi-documentary element of extrapolating what's on screen with the era in which it was made – and was engaged by the characters and their interaction. But, although I wouldn't hesitate to recommend L'Atalante to anyone interested in film history, it fell short of my personal criteria for a "masterpiece."
Vigo's reputation is built on L'Atalante – it's the only feature film he made. Dead at age 29 from tuberculosis, he was gone before a truncated version of the movie opened in France. Besides this movie, his legacy includes the controversial 44-minute short, Zero for Conduct, and two documentaries. Although L'Atalante was deemed a commercial failure during its original release, it was "discovered" years later by many of the founders of the French New Wave (Francois Truffaut in particular was lavish in his praise). Aspects of the film and the techniques employed by Vigo and his cinematographer, Boris Kaufman, were influential in the movement that swept through worldwide cinema during the 1950s and 1960s. For that reason alone, L'Atalante stands taller than one might expect from a seemingly minor work by a director with the thinnest of resumes.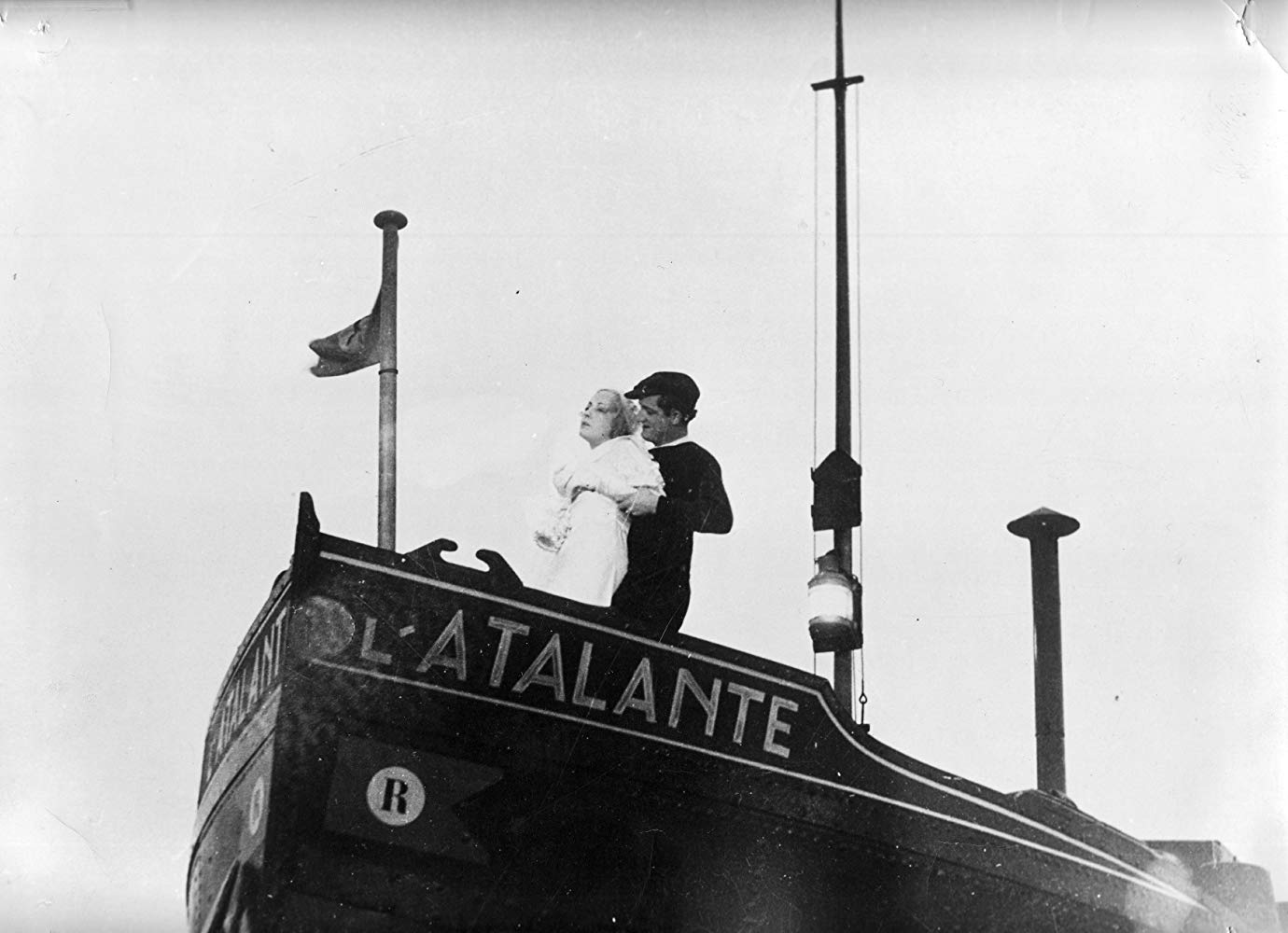 Most of the movie transpires on a barge (called L'Atalante, hence the title) that traverses the Seine, moving from port to port, offloading and onloading cargo. There are four people aboard: the Skipper, Jean (Jean Daste); his new wife, Juliette (Dita Parlo); the old, rumpled deckhand, Jules (Michel Simon); and the nameless cabin boy (Louis Lefebvre). For Jean and Juliette, the trip serves as a honeymoon of sorts – they are married at a stop where she leaves behind her village to be with her new husband – and it's not going well. She's bored and soon discovers that Jean is short-tempered, unimaginative, and prone to fits of jealousy. She spends her time doing laundry, getting to know Jules, and becoming morose. There's an evocative scene where she sits and stares forlornly into a heavy fog.
The arrival of the barge at Paris represents Juliette's first opportunity to see a big city, but circumstances conspire to keep her trapped on the barge. Later, Jean takes Juliette to a dance hall where a chance encounter with a peddler awakens Jean's jealousy. He takes his wife back to the boat and orders her to remain there while he again goes ashore. Wanting to experience the city's night life, she sneaks off the boat. When Jean returns and finds Juliette gone (and thinking she has run off with the peddler), he orders Jules to cast off. The remainder of the film shows their parallel efforts to affect a reunion – something Jules has no small part in bringing about.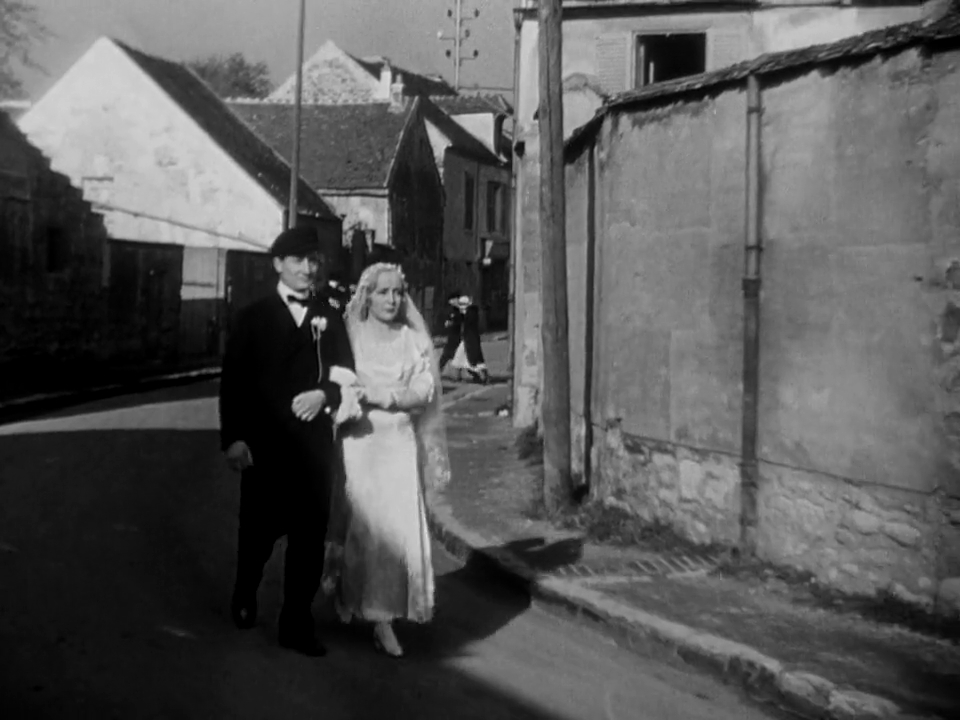 To tell his story, Vigo intermixes different styles; rough, semi-documentary footage gives way to moments of lyrical beauty – the scene in the fog being one example. Another is when Jean dives into the water, seeking to see an image of his "beloved" and finds an avatar of Juliette. There's also something of the feeling of a silent film in L'Atalante's DNA (perhaps not surprising considering that the movie was made not that long after the emergence of talkies). Many scenes are quiet, featuring only background music and no dialogue. Other times, when there is talking, the essence of the conversations could have been conveyed using intertitles.
Vigo uses imagery rather than emotional manipulation to reach the viewer and that's one reason why, across such a gulf of time when it's no longer possible to watch the film in a theater, L'Atalante lacks potency. One can appreciate Vigo's technique and composition but the characters lack depth and resonance. The meat of narrative is rushed. While Vigo takes his time with the barge trip, he isn't as patient once Juliette and Jean are separated. Rather than filling in details, he sketches moments from their parallel journeys. During these sequences, we observe the overwhelming sense of remorse experienced by Jean. Juliette, however, loses her personality, becoming a pawn of the plot. The conclusion offers the satisfaction of a happy ending.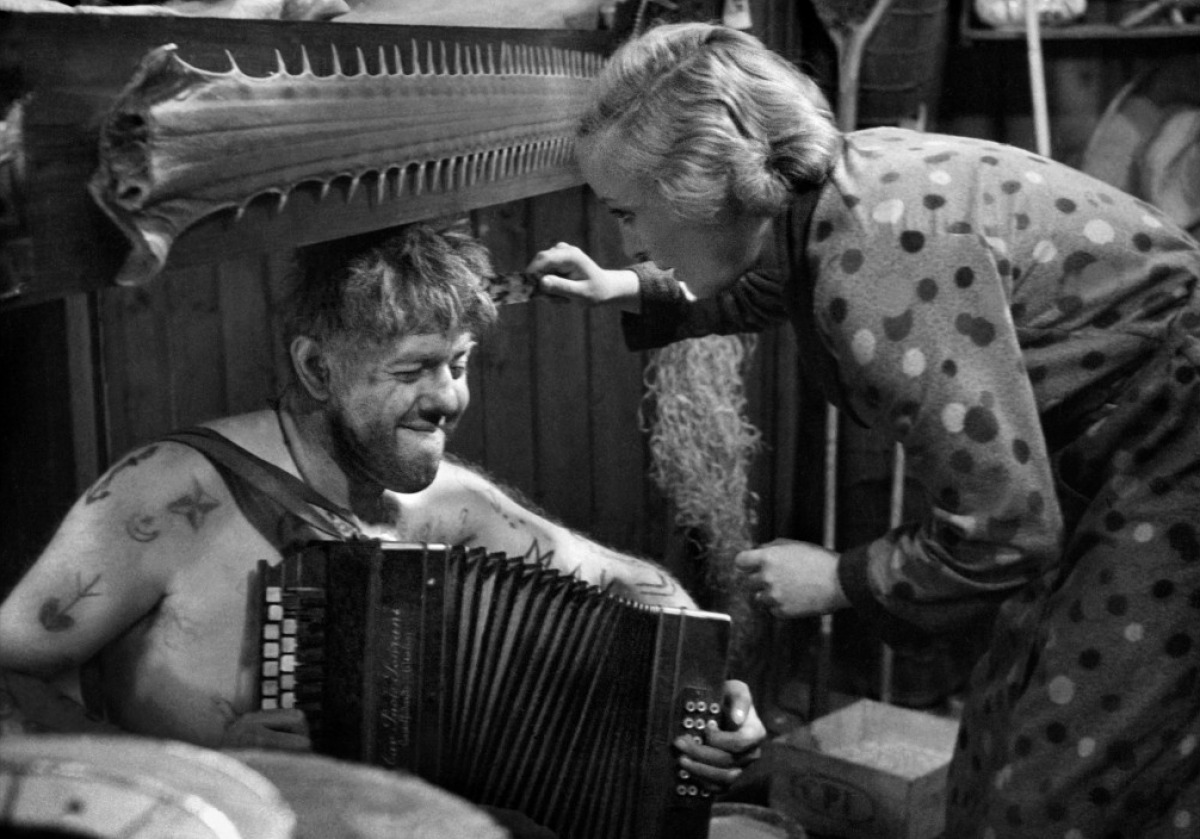 For his cast, Vigo worked with two men with limited experience in front of the camera (both of whom appeared in Zero for Conduct): Jean Daste and Louis Lefebvre. Daste, who leaves a strong impression as the handsome, brooding Jean, would go on to have a healthy screen career. Lefebvre, who barely registers in L'Atalante, never made another film. The film's two established actors, Dita Parlo and Michel Simon, show their experience. Parlo is radiant and Simon, with his roguish charm and semi-comedic performance, steals nearly every scene in which he appears.
The film's financiers were unhappy with what Vigo delivered and took scissors to it. The director, in failing health, was unable to fight the changes and the 65-minute edit dumped posthumously into French theaters represented a bastardization of his vision. The forgotten movie lay buried until after World War II, when it made its way to the international market (it had its U.S. debut in 1947 – 13 years after it was completed). Two restorations – one in 1990 and another in 2001 (supervised in part by Vigo's daughter) – have brought the film closer to the director's original cut. The one currently available for home viewing is the most complete version likely to be released.
My feelings about L'Atalante – admiration rather than rapturous ecstasy – represent a minority opinion in the critical community. Although the film left me emotionally unmoved, I recognize its importance to a generation of future filmmakers. We will never know whether Vigo's talent, cut short by his untimely demise, would have flourished or withered in future years but L'Atalante offers a glimpse of promise and provides an important piece in the jigsaw puzzle of the early history of motion pictures.
---
L'Atalante (France, 1934)
---

Three...better movies of this genre
worse movies of this genre
Three...better movies of Dita Parlo
(There are no more better movies of Dita Parlo)
worse movies of Dita Parlo
(There are no more worst movies of Dita Parlo)
Three...better movies of Jean Daste
(There are no more better movies of Jean Daste)
worse movies of Jean Daste
(There are no more worst movies of Jean Daste)
Three...better movies of Michel Simon
(There are no more better movies of Michel Simon)
worse movies of Michel Simon
(There are no more worst movies of Michel Simon)