Mrs. Miniver (United States, 1942)
May 18, 2010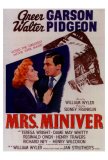 Mrs. Miniver began life in 1937 as a series of newspaper columns in The Times - reflections by Jan Struther on everyday life in the U.K. With the onset of World War II, Struther's work took on a darker hue, and the columns were collected and published as a book in 1939. When Mrs. Miniver reached U.S. shores, it was credited by both FDR and Churchill as influencing American sentiment away from neutrality and toward a pro-British position. When the movie went into production in 1941, the United States was still officially unaligned. That changed on December 7, 1941, the "day that will live in infamy," and, by the time the cinematic version of Mrs. Miniver opened on screens during the summer of 1942, the United States was at war.
Although the film captures the general tone, character names, and some of the anecdotes from the book, it is not strictly an adaptation in that the plot is a contrivance of the screenwriters. Mrs. Miniver is interesting in a number of ways. It's one of a few highly regarded contemporaneous motion pictures to deal frankly with the domestic aspects of World War II. Mrs. Miniver isn't about politics or Hitler or battlefield engagements; it's about the impact of the conflict on the non-combatant civilian population. Also, at the time of its production, the war's outcome was uncertain so, of necessity, a neat resolution was impossible. Most of the best surviving World War II films were produced after 1945; they were made with hindsight. Such was not the case with Mrs. Miniver. It represents a snapshot taken in the moment and can be viewed thus decades after the fact.
Director William Wyler, one of the great filmmakers of the '30s, '40s, '50s, and '60s, acknowledged that Mrs. Miniver was designed as propaganda. Despite his German heritage, Wyler was staunchly anti-Nazi and wanted to stir pro-Allied sentiments. This was the last film he would make before joining the war effort. Viewed many years later, Mrs. Miniver's agenda is evident but not intrusive. The film is more about the horrors and tragedy of war than it is specifically about demonizing Germany. The one sequence in which a German soldier appears, he is represented as a frightened, confused individual - a cornered, injured animal, so to speak, rather than a bellicose caricature. Wyler wants the viewer to sympathize with the plight of the Miniver family and the community in which they live and how the specter of war has transformed everything. Because it stays on the ground, away from London, and far from the front lines, Mrs. Miniver offers a perspective of the conflict not often seen in movies. This aspect elevates the picture above the level of the slight-but-entertaining melodrama it initially appears to be. The genius of Wyler is that he starts the production off innocuously, with a lighthearted sense of familiarity, before gradually darkening the situation. The final scene, which transpires at a funeral inside a bombed-out church, says as much through its visuals as in its dialogue.
When the film begins, war is on the horizon but has not yet broken out. Kay Miniver (Greer Garson) and her husband, Clem (Walter Pidgeon), are the middle-class parents of three children: Vin (Richard Ney), Judy (Clare Sandars), and Toby (Christopher Severn). Although Clem makes a nice salary as an architect, both he and Kay have a penchant for spending above their income level. Early in the story, Kay purchases an expensive, trendy hat and Clem drops a boatload of money on a fancy new car. While on vacation from school, university student Vin becomes involved in a romance with 18-year old Carol Beldon (Teresa Wright), the granddaughter of the crusty Lady Beldon (Dame May Whitty), whose chief concern in life is that her prize roses win an annual competition. The first meeting between Vin and Carol is contentious, but those sparks of discord transform into something more intimate before catching fire. Then war arrives to separate families and lovers. Bombs start falling on a regular basis. Vin joins the R.A.F. Clem takes his boat to Dunkirk to rescue trapped soldiers. And Kay must confront a downed, injured German flier in her own kitchen.
Although Mrs. Miniver is designed primarily as a drama, it features two scenes in which the tension is thick enough to quicken the pulse. One transpires in a bomb shelter where the Minivers and their two younger children have sought refuge during a raid. Outside, explosions are occurring with alarming regularity; the screams falling bombs can be heard punctuated by detonations. There's also the sequence in which Kay squares off against the gun-toting German in a test of wills. He is frightened enough that one senses it wouldn't take much for him to pull the trigger; she must pacify him and convince him that she doesn't mean him harm.
Mrs. Miniver was a huge success upon its release, receiving raves in both the United Kingdom and the United States. It was equally applauded by critics and average movie-goers, who pushed the total box office take over $5 million. Mrs. Miniver was nominated for 12 Academy Awards and took home six, including Best Picture and Best Director. A sequel was commissioned but due in part to the war and later to schedule conflicts, it was not released until 1950. Although many of the key cast members returned, the story has little connection to the writing of Struther and was generally regarded as more of a standard-order melodrama. While Mrs. Miniver can be considered required watching for those with a love of '40s and '50s cinema, The Miniver Story is, at best, a curiosity.
In any discussion of the greatest Hollywood directors of the 20th century, William Wyler's name would be mentioned. Between 1936 and 1965, he was accorded 12 Best Director nominations, of which he won three: Mrs. Miniver; his post-war elegy, The Best Years of Our Lives; and the epic Ben-Hur (all of which also won Best Picture Oscars). Wyler's 12 nominations is easily a record - second place belongs to Billy Wilder. Wyler's three victories stands at second on the all-time list, tied with Frank Capra and trailing John Ford's four. By the time he made Mrs. Miniver, Wyler was already an established and respected filmmaker, but the two films he made bookending World War II (Mrs. Miniver and The Best Years of Our Lives) elevated him to a new creative peak that lasted throughout the '40s and the '50s. Of all the directors working within the studio system during Hollywood's Golden Age, perhaps only Alfred Hitchcock was as consistently "on" as Wyler.
Mrs. Miniver was the second of eight joint ventures with frequent collaborators Greer Garson and Walter Pidgeon. Both were nominated for their efforts here, with Garson winning and Pidgeon losing to James Cagney for Yankee Doodle Dandy. At the time Mrs. Miniver was made, Garson's popularity was greater than Pidgeon's, although his career, which had been in a slump until How Green Was My Valley, was in an upswing. The easy chemistry the two share throughout the movie was evident to movie-goers and filmmakers and fueled their on-screen partnership for more than a decade. There was no off-screen liaison, although romance did blossom for Garson during the making of Mrs. Miniver - she married Richard Ney (nine years her junior, who plays her son) shortly after the completion of production, but the union lasted only three years.
Garson was not the only acting Oscar recipient for Mrs. Miniver. Teresa Wright won Best Supporting Actress for Carol (defeating fellow nominee Dame May Whitty). It's evident from her first scene that Wright is a natural - her fresh, unforced portrayal is in contrast to the somewhat stiff and amateurish turn given by Ney. Most of the chemistry that exists between the characters is a credit to Wright, who deserved her accolades for this portrayal. For her career, Wright received three nominations. One of those was in the Lead Actress category in 1943 for The Pride of the Yankees (she lost to Garson); the other was a year earlier as a Supporting Actress for Little Foxes, which was her feature debut. She worked for only about ten years in motion pictures before switching to television, where she was a fixture from the mid-1950s until the 1980s.
Dame May Whitty, perhaps the most respected member of the cast at the time, was relatively new to film when Mrs. Miniver was made, having not begun to seriously pursue screen acting until 1937. For most of her life, she was a theatrical standout; this only changed when she moved to Hollywood as part of the large group of international performers congregating in Southern California during the Great Depression/pre-World War II era. Another notable participant in Mrs. Miniver is Henry Travers, as the rose-growing Mr. Ballard. For many, the character actor is remembered for one of his last roles, as the angel Clarence in It's a Wonderful Life.
Mrs. Miniver stands taller than many of its Oscar-winning contemporaries because it has withstood the passage of time and is as effective and moving a drama today as it was when it first appeared on screens during the early days of World War II. Furthermore, its snapshot representation of the uncertainty associated with a global conflict enhances the immediacy of the film. Despite being filmed far from where it is set, the authenticity of the situations and emotions is unmistakable. Of the ten Best Picture nominees honored at the 1943 Oscar ceremony, it's hard to argue that any of the other nine was more worthy of the winning citation.
---
Mrs. Miniver (United States, 1942)
---
Three...better movies of this genre
worse movies of this genre
Three...better movies of Greer Garson
(There are no more better movies of Greer Garson)
worse movies of Greer Garson
(There are no more worst movies of Greer Garson)
Three...better movies of Walter Pidgeon
(There are no more better movies of Walter Pidgeon)
worse movies of Walter Pidgeon
(There are no more worst movies of Walter Pidgeon)
Three...better movies of Teresa Wright
(There are no more better movies of Teresa Wright)
worse movies of Teresa Wright
(There are no more worst movies of Teresa Wright)