Movies starring Teresa Wright Best Years of Our Lives, The
Wars, no matter when they are fought or which weapons are employed, share many common characteristics. One is that the cheapest currency is human life. Another is that even the winners pay a toll. And a third is that many soldiers, upon returnin...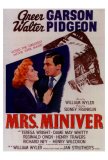 Mrs. Miniver
Mrs. Miniver began life in 1937 as a series of newspaper columns in The Times - reflections by Jan Struther on everyday life in the U.K. With the onset of World War II, Struther's work took on a darker hue, and the columns were collected and publi... Rainmaker, The
It has been several years since I've read a book by John Grisham (I believe the last one was The Client). After three or four of Grisham's novels, I grew tired of the predictable repetitiveness and contrived suspense of the narratives. As a resul...