Muppet Christmas Carol, The (United States/United Kingdom, 1992)
December 15, 2017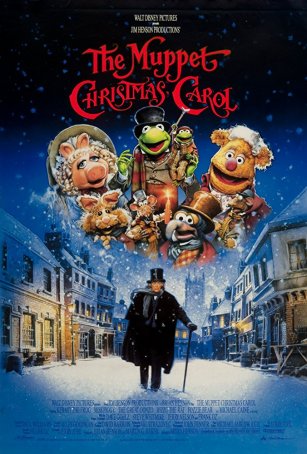 What do Alistair Sim, Albert Finney, George C. Scott, Jim Carrey, Patrick Stewart, Bill Murray, and Michael Caine (among others) have in common? They have played the part of Ebenezer Scrooge in an adaptation of Charles Dickens' A Christmas Carol. Sim has been the gold standard since he appeared in the classic 1951 Scrooge. Scott, who headlined a 1984 made-for-TV movie, comes in a close second. Albert Finney sang and danced his way through a 1970 musical. Bill Murray offered an updated take on the legend in the 1988 misfire, Scrooged. Jim Carrey got animated and Patrick Stewart did a one-man stage show. And Caine? Caine tried gamely to play opposite a bunch of puppets. A Christmas Carol may be versatile but it's not that versatile.
The problem with The Muppet Christmas Carol isn't Caine. His Scrooge is arguably among the four or five best screen interpretations of the infamous miser. But forcing him to play against the Muppets not only diminishes his efforts but lowers the entire production to the level of pantomime. I suppose that's the intention but A Christmas Carol deserves better. To an extent, so do the Muppets. They aren't well used in this movie, making the marriage between Dickens and Henson an uneasy one at best.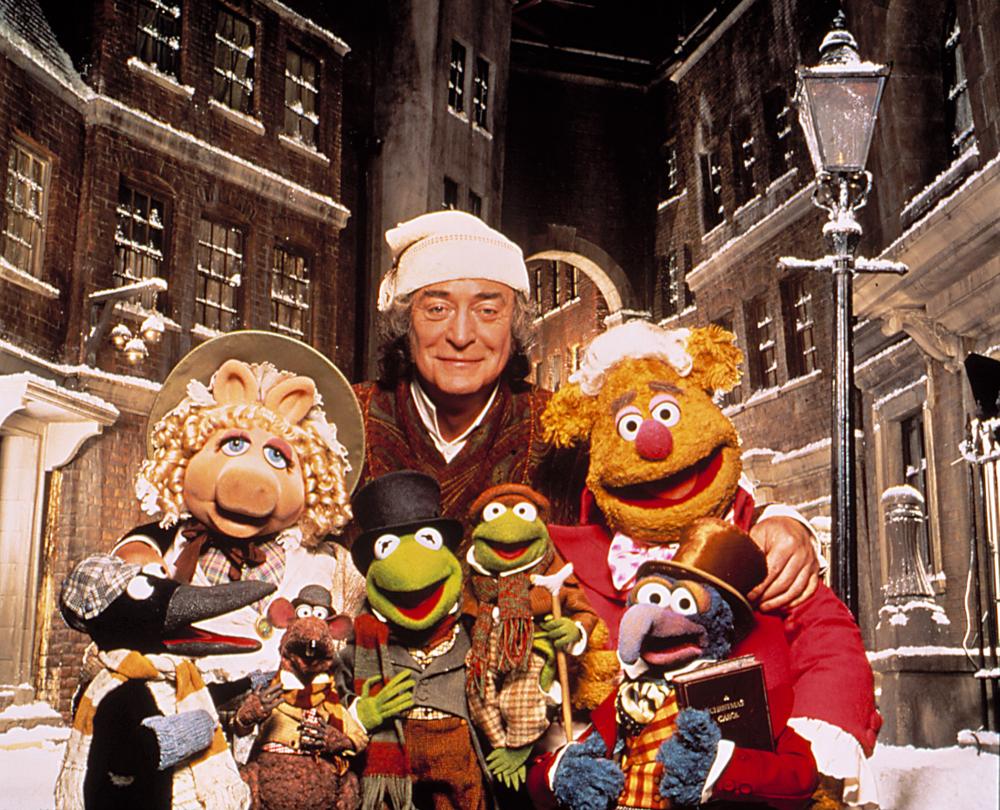 With Scrooge being played by a living, breathing actor, it's up to the Muppets to round out the rest of the cast. Kermit the Frog (voice of Steve Whitmire) plays the part of Bob Cratchit, Scrooge's beleaguered assistant. Miss Piggy (voice of Frank Oz) gets little more than a cameo as Mrs. Cratchit. The Great Gonzo (voice of Dave Goelz) plays Charles Dickens, who narrates using passages from the novel. The ghosts of Jacob Marley (and his hitherto unknown brother, Robert), Christmas Past, Christmas Present, and Christmas-Yet-To-Come are all Muppets.
A Christmas Carol is all about Scrooge so Caine is able to carry the production on his own, at least to an extent. One of the reasons why Patrick Stewart's one-man stage show was so successful is because, as long as one has a strong Scrooge, there's not much need for anyone else. The Muppets, as a result, serve little purpose and, because they are so well-known, they become distractions. The movie might have worked better had this been an all-Muppet affair (perhaps with Kermit as Scrooge). The script also cuts the nighttime visitations heavily, presumably to avoid boring children and others with short attention spans. While this accelerates the story's pacing (and allows the movie to come in at under 90 minutes), it diminishes Scrooge's character. In the novel, the Christmas Past segments were designed to transform Scrooge from a sour-faced villain to a tragic figure. In the movie, they are perfunctory and don't effectively do the job. Absent is the powerful sense of loss we feel when reading A Christmas Carol and recognizing what Scrooge has misplaced.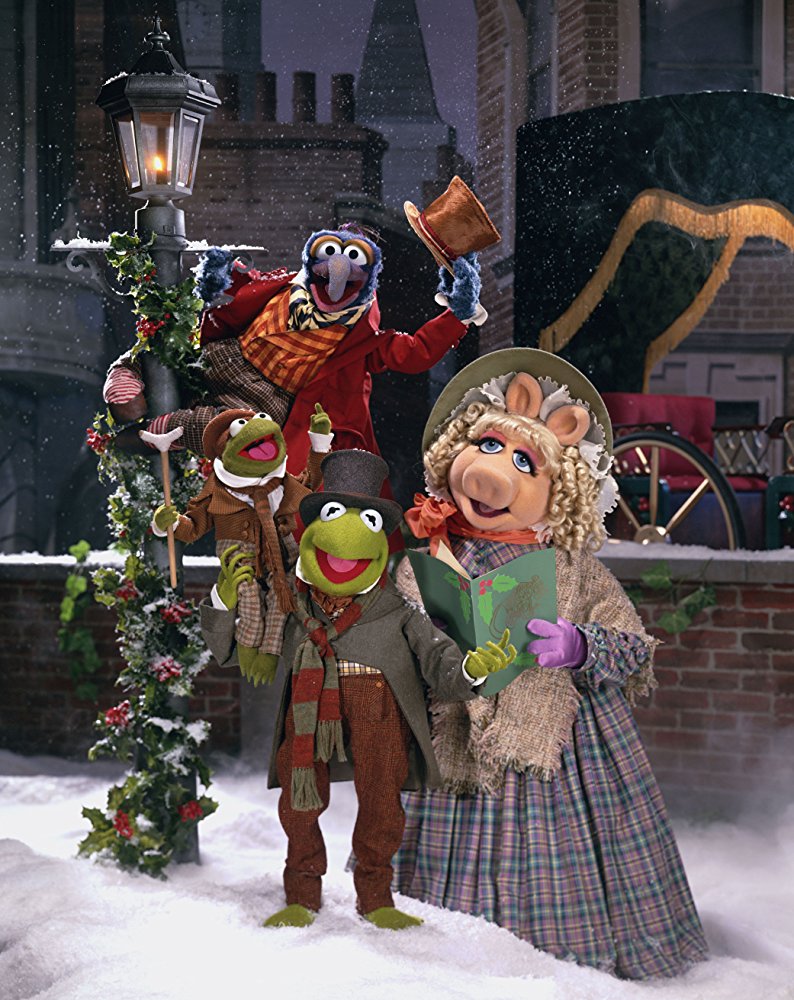 The Muppet Christmas Carol was released during a "down time" for Jim Henson's creations. This was their first movie following his death (his son, Brian, directed); it was the fourth Muppet screen outing but the first in eight years. It was followed by two more tepid releases, Muppet Treasure Island (in 1996) and Muppets in Space (1999). After that, the iconic characters were retired from movie theaters for a dozen years until their triumphant return in 2011.
Like Albert Finney's 1970 Scrooge, The Muppet Christmas Carol is a musical. Unlike the live action film, which boasted the hummable song "Thank You Very Much", none of this movie's eleven original tunes (written by Paul Williams) are memorable. They work well enough within the context of the production but The Muppet Christmas Carol's tepid box office (it made a scant $27M, or about double that in 2017 dollars) was testimony to the limited appeal that the recipe of Muppets + A Christmas Carol + musical had in 1992.
Although The Muppet Christmas Carol doesn't really work as an adaptation of the beloved Dickens novel or as a Muppet movie, it nevertheless works on its own terms for a niche audience. It's the kind of high concept family film that can be carted out every Christmas season and enjoyed in the same way as "Frosty the Snowman", "Rudolph the Red-Nosed Reindeer", or "The Year without a Santa Claus."  Holiday favorites don't subscribe to the same rules that govern seasonally-unshackled fare so it's perfectly reasonable to enjoy The Muppet Christmas Carol as part of a larger celebratory experience. Still, if you want the story, there are the Sim and Scott versions. If you want the songs, there's Albert Finney. And if you want the Muppets, they have at least four better films and a lot of TV episodes. The Muppet Christmas Carol is a curiosity for those desperate to have a dash of Kermit to go along with their mug of Scrooge.
---
Muppet Christmas Carol, The (United States/United Kingdom, 1992)
---
Three...better movies of this genre
worse movies of this genre
Three...better movies of Michael Caine
worse movies of Michael Caine
Three...better movies of Dave Goelz
(There are no more better movies of Dave Goelz)
worse movies of Dave Goelz
(There are no more worst movies of Dave Goelz)
Three...better movies of Steve Whitmire
(There are no more better movies of Steve Whitmire)
worse movies of Steve Whitmire
(There are no more worst movies of Steve Whitmire)