My Fair Lady (United States, 1964)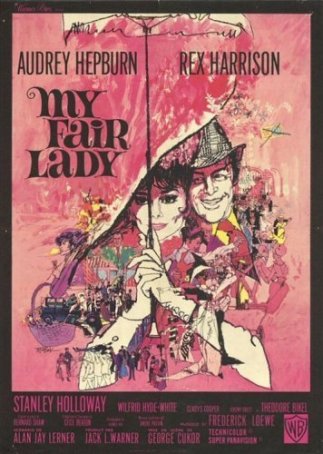 Consider this possibility: a romantic comedy with no nudity, no sex, and no kissing. In fact, there aren't even any declarations of love. The closest the female character comes to admitting her feelings is saying that she could have danced all night with the man; the closest he gets is remarking that he's grown accustomed to her face. Could such a project lift off the pad in today's climate? Almost certainly not - no studio would greenlight the film without assurances that elements would be added to spice things up. So it's fortunate that circumstances and expectations were different in 1964, when My Fair Lady reached the screen. More than three decades later, the movie, which won the Best Picture Oscar, remains a musical favorite.
The film's origins go back to George Bernard Shaw's "Pygmalion" (1912), which was subsequently adapted into a Broadway musical by the incomparable team of Alan Jay Lerner and Frederick Lowe (Gigi, Camelot). The play debuted in 1956. It took seven years before the Warner Brothers-produced motion picture adaptation, with George Cukor at the helm, began filming. There was controversy even before the first frame was committed to celluloid. While both Rex Harrison and Stanley Holloway were brought on board to re-create the roles they had essayed on the stage, the part of Eliza Doolittle, played in the Broadway production by a then little-known Julie Andrews, was given to Audrey Hepburn. In a richly ironic twist, Andrews won the Best Actress Award that year for Mary Poppins, while Hepburn was snubbed by the Academy.
It could easily be argued that My Fair Lady is one of the richest and most intelligent romantic comedies ever produced. The dialogue, adapted by Lerner from Shaw's material, is brilliant: a perfect amalgamation of well-honed wit and barbed satire. The verbal jousting between Eliza and Professor Henry Higgins (Harrison) is a delight, as is that between the various other characters. Perhaps the best exchange occurs when Eliza's father, Alfred P. Doolittle (Holloway) visits Higgins' house to determine his daughter's whereabouts. His real interest isn't confirming her well-being; it's obtaining some money. At one point, Higgins' colleague, Colonel Pickering (Wilfred Hyde White), shocked by Doolittle's callous attitude, inquires, "Have you no morals, man?" To which Doolittle calmly replies, "Nah. Can't afford none. Neither could you, if you were as poor as me."
The basic storyline concerns Eliza, a poor Cockney from Covent Garden who is transformed into a lady under the tutelage of Higgins. When he first encounters her, an unwashed girl with a grating voice selling flowers, he forms an opinion: "A woman who utters such disgusting and depressing noises has... no right to live. Remember that you're a human being with a soul and the divine gift of articulate speech. Don't sit there crooning like a bilious pigeon." He also calls her, among other things, a "squashed cabbage leaf" and an "incarnate insult to the English language." His conviction has not changed when, the next morning, she shows up at his house, asking him to teach her how to speak properly and be a lady. Although at first reluctant, Higgins, intrigued by the challenge of re-making a woman, agrees. "Eliza," he informs her, "You are to stay here for the next six months learning to speak beautifully, like a lady in a florist's shop. At the end of six months you will be taken to an embassy ball in a carriage, beautifully dressed. If the king finds out you are not a lady, you will be taken to the Tower of London, where your head will be cut off as a warning to other presumptuous flower girls! If you are not found out, you shall be given a present of six and seven to start life with in a lady's shop. If you refuse this offer, you will be the most ungrateful, wicked girl, and the angels will weep for you."
Higgins is ruthless in pushing Eliza. In addition to cleaning her up, teaching her how to behave in society, and instructing her about what to wear, he completely re-shapes her language skills. By depriving her of sleep and forcing her to repeat phrases like "The rain in Spain falls mainly in the plain," he hopes to rid her of her ghastly accent. "Think what you're trying to accomplish," he tells her. "Think what you're dealing with. The majesty and grandeur of the English language, it's the greatest possession we have. The noblest thoughts that ever flowed through the hearts of men are contained in its extraordinary, imaginative, and musical mixtures of sounds. And that's what you've set yourself out to conquer Eliza. And conquer it you will."
Not only does My Fair Lady feature an involving story with compelling characters, but there's not a dud to be found on the roster of more than a dozen songs, the best-known of which, "I Could Have Danced All Night," is familiar to almost everyone (even those who haven't seen the movie). Holloway and Harrison do their own singing. (Harrison, who insisted on performing his numbers live, wore a portable microphone in his tie.) Despite her best efforts, Hepburn lacked the necessary vocal range, so Marni Nixon was brought in to dub her songs. Hepburn's singing voice can still be heard during the parts of "Just You Wait" that are as much spoken as sung. Also dubbed was Jeremy Brett, who plays Eliza's suitor, Freddy Eynsford-Hill. Freddy's one song, "On the Street Where You Live," was performed by Bill Shirley.
Rarely has a movie been as well-cast than this one. Rex Harrison was born to play Higgins, and he delivers every line with the snap and zing of one who relishes the chance to speak (and sing) such delicious dialogue. Audrey Hepburn is luminous as Eliza, and makes a convincing transition from guttersnipe to genteel lady. It's unfortunate that Nixon's dubbing of Eliza's songs nixed Hepburn's chances for a Best Actress nomination. The supporting cast is equally wonderful, and features such names as Holloway, Brett (during the '80s and '90s, he would become known to television viewers as the "definitive" Sherlock Holmes), British veteran Wilfrid Hyde-White (whose career spanned six decades), and a delightful Dame Gladys Cooper (Hitchcock's Rebecca) as Higgins' mother - a woman with an even more acerbic tongue than her offspring. (Her greeting to him at Ascot: "Why Henry, what a disagreeable surprise.")
It's impossible to discuss My Fair Lady without mentioning the film's unique and unmistakable look. From the sumptuous costumes to the gorgeous set designs, this is a movie into which a world of care and effort was invested. The behind-the-scenes crew included Academy Award winner Cecil Beaton as production designer and costume designer, and 14 time Best Cinematographer Oscar nominee Harry Stradling Sr. as director of photography. Both were recognized with gold statuettes for their work on this picture.
During the '70s and '80s, the brilliant Technicolor that characterized My Fair Lady's original theatrical presentation faded to the point where, during the brilliantly stylized Ascot scene, the blacks and whites looked beige. For the 30th anniversary release in 1994, the film was painstaking restored (by Robert Harris and James Katz, who also resurrected Lawrence of Arabia, Spartacus, and Vertigo), returning the colors to their original grandeur. At the same time, the soundtrack was remastered in a 5.1 channel digital format.
Few genres of films are as magical as musicals, and few musicals are as intelligent and lively as My Fair Lady. It's a classic not because a group of stuffy film experts have labeled it as such, but because it has been, and always will be, a pure joy to experience. It's also one of a very few 3-hour films (actual length, 2:50) that justifies the seemingly long running time. Rarely have so many minutes in a theater been passed this enjoyably.
---
My Fair Lady (United States, 1964)
Ranked #24 in Berardinelli's Top 100
---
Three...better movies of this genre
worse movies of this genre
Three...better movies of Audrey Hepburn
worse movies of Audrey Hepburn
(There are no more worst movies of Audrey Hepburn)
Three...better movies of Rex Harrison
(There are no more better movies of Rex Harrison)
worse movies of Rex Harrison
(There are no more worst movies of Rex Harrison)
Three...better movies of Stanley Holloway
(There are no more better movies of Stanley Holloway)
worse movies of Stanley Holloway
(There are no more worst movies of Stanley Holloway)