Roma (Mexico/United States, 2018)
December 11, 2018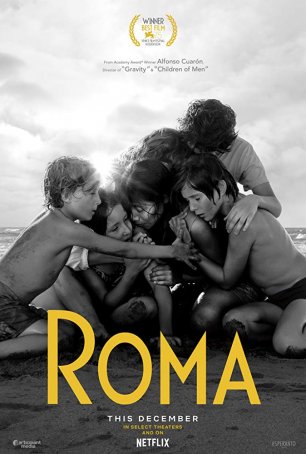 For Roma to attain its full power, a viewer must exhibit not only patience but fortitude. The movie's leisurely, borderline-somnambulant pace during its first hour allows writer/director Alfonso Cuaron to gradually immerse us into this ordinary world with ordinary characters and ordinary situations. He limits camera movement and cuts so as not to distract from the principals. He anchors our perspective to that of the lead, Cleo (Yalitza Aparicio), and eschews the simple shortcuts of melodrama. Narratively, not a lot happens during the opening 60-70 minutes, but Cuaron is marinating us so that later events have an uncommonly strong impact.
I won't talk in specifics about anything that occurs past the halfway point except to say that Cuaron rewards viewers who stay with the movie. Two scenes in particular are among the most powerful I have seen in recent cinema – in part because of the way they are shot (long takes, precise camera positioning) and in part because of the unforced, naturalistic manner in which they are acted. But their effect is multiplied by the bond forged between characters and audience during the less active, more laid-back early portions of the film. Without that connection, those great scenes would simply be examples of technical aptitude.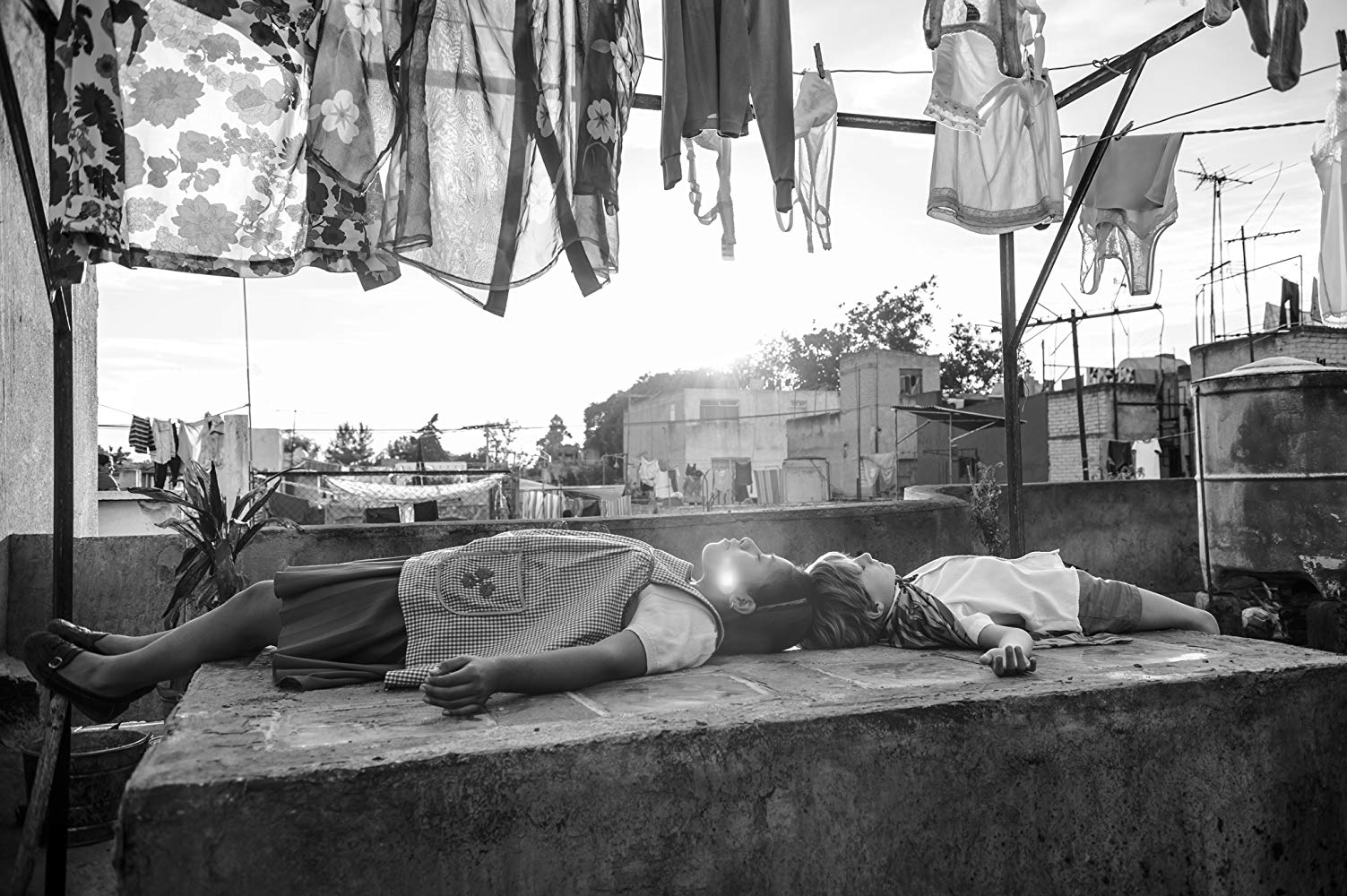 The story unfolds in the Roma neighborhood of Mexico City during the early 1970s. According to Cuaron, although aspects are fictionalized, there are strong autobiographical elements, with many scenes extracted from his memories of the era. Cleo is one of two maids working for the middle-class family consisting of Sra. Sofia (Marina de Tavira), Sr. Antonio (Fernando Grediaga), and their four children. Roma chronicles the day-to-day minutia of living. For Cleo, that means cleaning the house, taking care of the children, and (in her free time) seeing her martial arts-loving boyfriend, Fermin (Jorge Antonio Guerrero). Things don't stay the same, however, and Cleo's life is rocked by two nearly simultaneous changes: the sudden departure of Sr. Antonio and her own, unplanned pregnancy.
Fermin's unsuitability as a father-figure for Cleo's baby becomes clear at the time of conception. In a surreal sequence, he is depicted doing a complex martial arts routine in the nude while Cleo waits patiently for him in bed, under the covers. Later scenes in which the character appears point to darker, more radical aspects of his personality and political beliefs, all of which culminate in a chilling scene that unfolds against the backdrop of the June 10, 1971 Corpus Christi massacre, in which more than 100 people (mostly students) were killed. Sr. Antonio's disappearance is presented almost as a mystery since it is many months before Cleo and the children became privy to what happened.
Roma, which Cuaron shot in black and white (this is his first credit as a cinematographer), contains its share of starkly beautiful scenes (the most memorable of which occur at the seaside, recalling Y Tu MamaTambien). The film opens and closes with images of an airplane flying high in the sky – a symbolic representation of how small this one story is in the overall scope of things.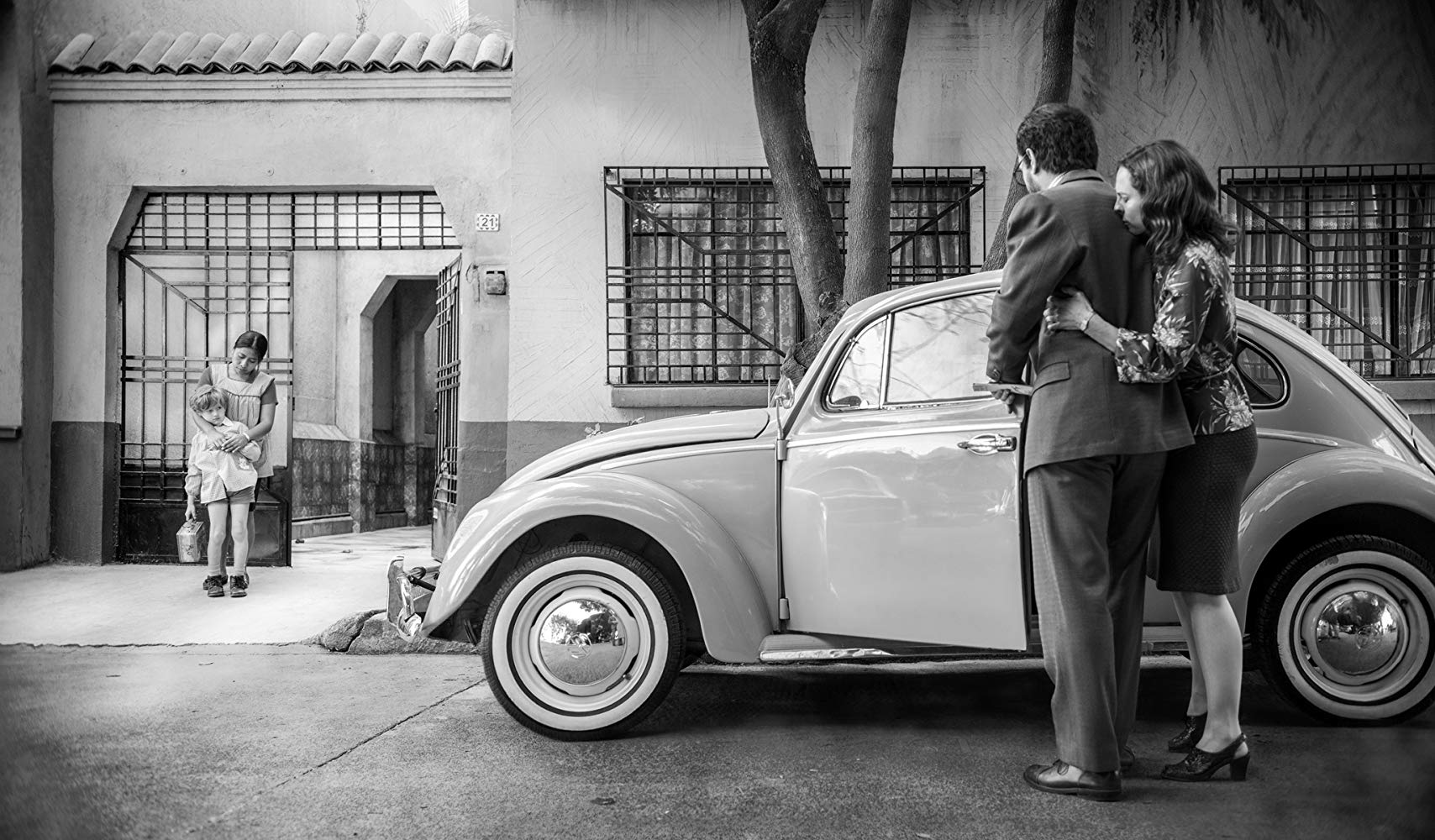 For such a personal and meaningful story, Cuaron rejected using big-name international stars. Although Marina de Tavira has a long list of credits to her name (mostly Mexican TV series), she is the exception. Nearly everyone else is a non-professional and the lack of motion picture experience results in a genuine sense of being there. Especially remarkable is Yalitza Aparicio, whose unaffected turn as Cleo is as strong and polished as one might expect from a seasoned professional, not a young woman appearing for the first time in a major motion picture.
There's an irony associated with Netflix distributing Roma. If ever there was a recent film whose experience is at least in part dependent upon it being seen in a theater, this is it. Roma needs to be seen in one sitting (the length, 135 minutes, is not excessive for this) without breaks. The mood it establishes is enhanced by being seen on a large, wide screen rather than the compressed viewing window of a mobile device. (Netflix was so aggressive in wanting me to see it theatrically rather than on a screener that they arranged a private theatrical showing to ensure it would happen.) Seeing Roma on a TV or even a tablet is better than not seeing Roma at all, but it won't be the same. (This is from someone who champions home viewing in many cases.)
Many movies, even the most entertaining, fade quickly from the memory, leaving behind impressions and individual distinct images. Roma's imprints are deeper and more permanent. My opinion improved the more I ruminated about the story and the manner in which Cuaron has chosen to tell it. There's no doubt that Roma is challenging. Its deliberate pace will drive away those viewers who demand the immediate satisfaction of quick cuts and early action. Those going to Roma expecting to see a Children of Men, Harry Potter and the Prisoner of Azkaban, or Gravity will be surprised at how different an experience this offers. But the rewards are worth the investments of time and patience.
---
Roma (Mexico/United States, 2018)
Ranked #3 in Berardinelli's Top 10 of 2018
Run Time: 2:15
U.S. Release Date: 2018-12-14
MPAA Rating:
"R" (Nudity, Profanity)
Genre:
Drama
Subtitles: In Spanish with English subtitles
Theatrical Aspect Ratio: 2.35:1
---

Three...better movies of this genre
worse movies of this genre
Three...better movies of Yalitza Aparicio
(There are no more better movies of Yalitza Aparicio)
worse movies of Yalitza Aparicio
(There are no more worst movies of Yalitza Aparicio)
Three...better movies of Marina de Tavira
(There are no more better movies of Marina de Tavira)
worse movies of Marina de Tavira
(There are no more worst movies of Marina de Tavira)
Three...better movies of Nancy Garcia Garcia
(There are no more better movies of Nancy Garcia Garcia)
worse movies of Nancy Garcia Garcia
(There are no more worst movies of Nancy Garcia Garcia)