RRR (India, 2022)
December 30, 2022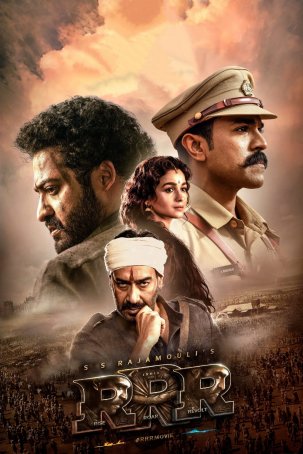 Although some aspects of RRR may seem foreign to mainstream North American movie-goers, the meat of the tale – an epic adventure featuring two mighty figures – is the kind of thing that American motion pictures used to do well. RRR tosses aside cynicism, "gray areas," and ambiguity for sheer exuberance. Is it cheesy? Sometimes. Is it over-the-top? Almost always. Is it rousing? Without a doubt. The movie does everything LARGE, whether it's an action sequence or an emotional connection. By the time the 3-hour running time has expired, most viewers will be exhausted from the nonstop energy of the experience.
As is the case with any spectacle, the best way to see RRR is in theater with a large screen, a top-line sound system, and an engaged audience. However, considering the film's somewhat inconsistent distribution pattern, that may not be possible. I'm happy to say that RRR still works in a smaller format. There are times when it's easy to forget the subtitles (there's also a dubbed version available) and luxuriate in the frenetic energy that infuses nearly every scene. Certain elements, such as the use of treacly songs (a staple in Indian cinema – one that unfortunately doesn't translate well for many North American audiences) seem out-of-place but that's as much the result of a cultural schism than a cinematic commentary. With a movie as outrageously over-the-top as this one, who's going to complain about a little crooning?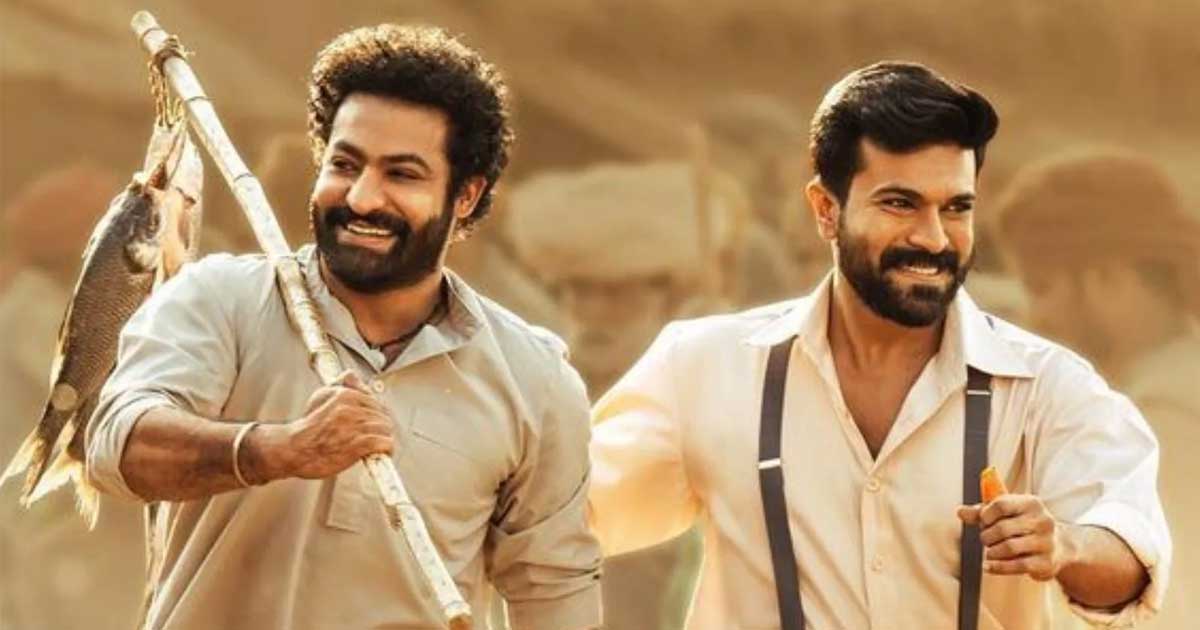 The title RRR was originally a behind-the-scenes reference to director S.S. Rajamouli and lead actors Ram Charan and Rama Rao. It was given the more "story appropriate" meaning of "Rise Roar Revolt" in English. (There are other associated titles for the Telugu, Tamil, Kannada, and Malayalam versions.) A little patience is required for those waiting for the name – it doesn't appear until 40 minutes into the running time.
The movie transpires in 1920 India during the British Raj. Governor Scott Buxton (Ray Stevenson) and his wife, Catherine (Alison Doody) kidnap a young girl from the Gond tribe. This pushes the tribe's legendary warrior-protector, Komaram Bheem (N.T. Rama Rao Jr) into action. He goes to Dehli to rescue the girl. When sources close to Buxton learn that danger is coming, Catherine seeks out the help of Rama Raju (Ram Charan), a valorous and loyal officer in the Indian Imperial Police. His duty: head off Bheem and kill or capture him. We learn that Raju is actually an anti-Raj revolutionary who is deep under cover. In order to protect his identity, he must pursue Bheem, even after the two become friends while each is masquerading as someone else. This sets up the inevitable conflict pitting them against one another.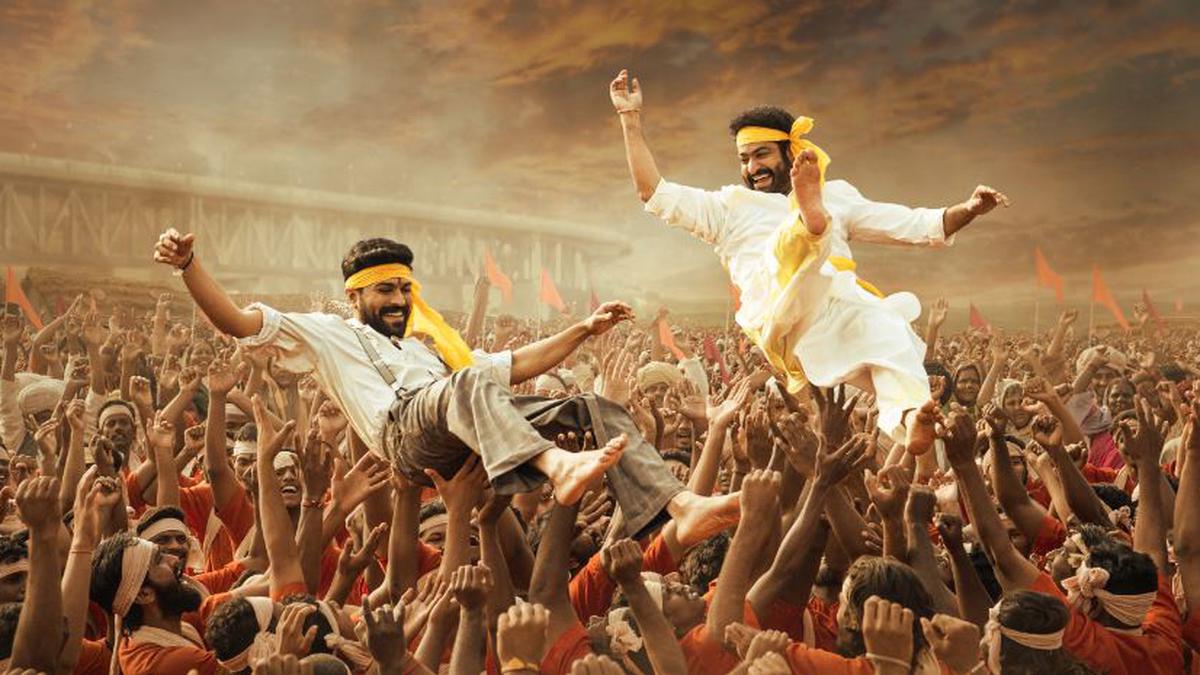 As one might anticipate from a movie that tips the scales with a running length greater than three hours, there's a fair amount of narrative complexity, much of which has to do with shifting loyalties and the price of friendship. Bheem's arc is relatively unambiguous. Although he at one point takes on an alternate identity, his goal is straightforward and honorable. Raju, on the other hand, is more complicated and conflicted. His entire life has been devoted to bringing down the Raj and, in order to potentially achieve that goal (stealing a shipment of weapons and arming the rebels), he may have to sacrifice a man who shares many of his core beliefs and whom he has come to think of as a compatriot. How Raj resolves this leads to some uncomfortable scenes and, although the ending is satisfying, the film takes some short cuts to get there. Those are more readily accepted in the context of grand mythology and legend-building than it would have been in a more grounded, historically true epic.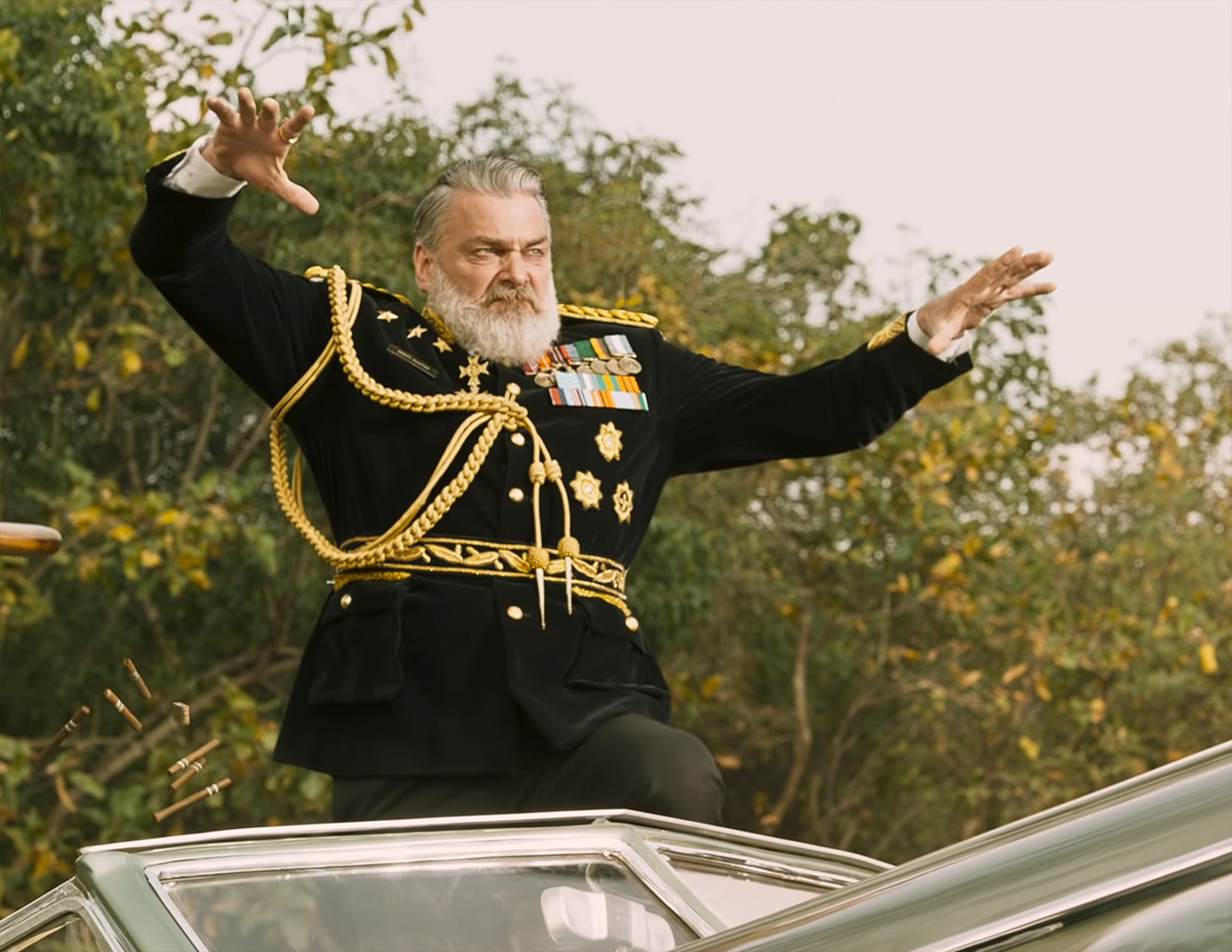 Much has been written about the technical proficiency of RRR and therein lies one of the film's strengths. The score fits the material: bombastic but never to a fault. The special effects are sufficient to do their job and the world-building is capable. Although Bheem and Raju are figures in a Tall Tale, they are sufficiently humanized for viewers to empathize with them even when they are on opposite sides. The battle scenes are capably choreographed to emphasize the heroism of the characters and present clean, high-octane action. The sequence that introduces Raju is emblematic of this as he plows though a massive force of inferior enemies to achieve his objective.
As Raju, Ram Charan has the most demanding acting job; the performance requires that he cover the full spectrum of emotions from resolve to grief and he is convincing. N.T. Rama Rao Jr's role is more in line with that of a traditional hero and he is capable as such. The two have excellent chemistry both as bosom buddies and deadly foes. Irish actors Ray Stevenson (Volstagg in the MCU Thor movies) and Alison Doody (who started her acting career as a Bond girl in A View to a Kill) are frothing-at-the-mouth evil and make viewers yearn for their deaths. A dash of romance comes to Raju through Alia Bhatt's Sita and for Bheem through Olivia Morris's Jennifer.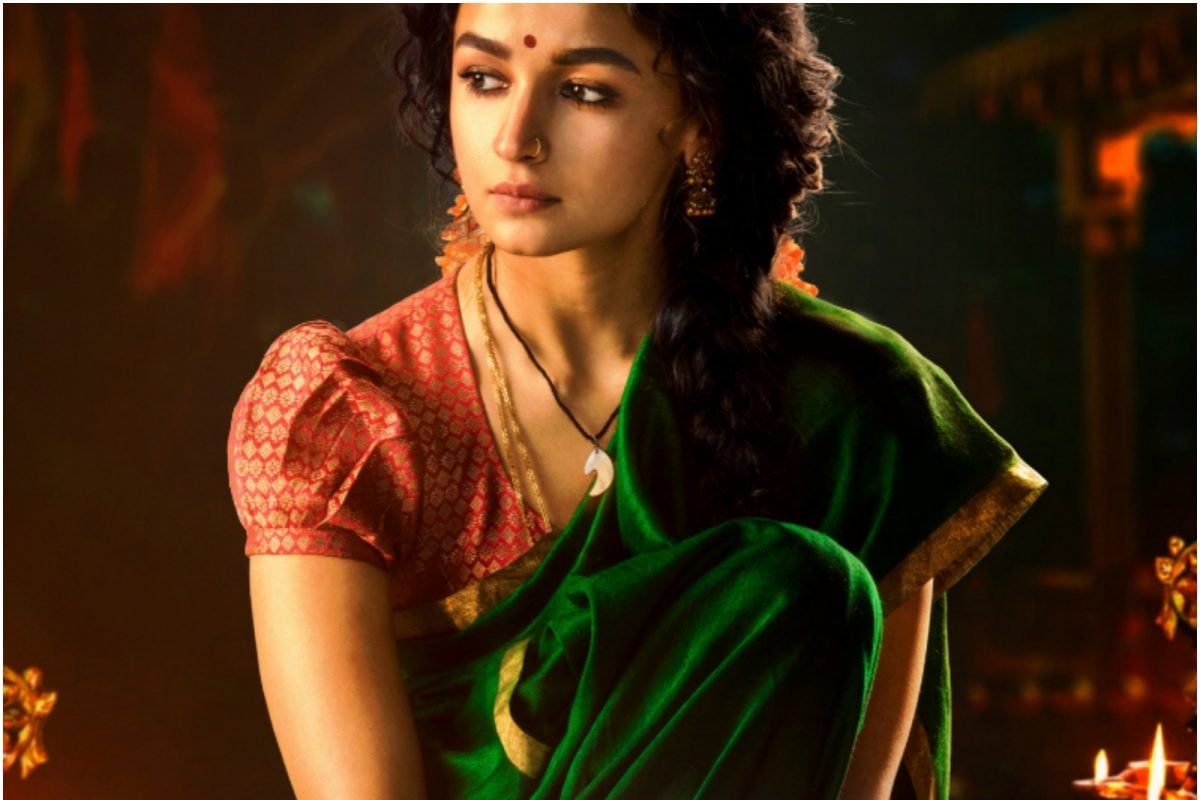 The film's mixture of storytelling and blockbuster-type ingredients proved to be a combustible combination worldwide. With a production budget of $72M, RRR became the most expensive Indian film to-date and it had a distribution to match, showing on 10,000 screens across the globe (2300 of those in India, another 1000 in the U.K., and well over 1000 in the U.S.). Its total box office of $150M put it well into the black and its $14.5M earning in the United States made it one of the highest grossing Indian films ever in the country. Strong word-of-mouth and critical acclaim made it a must-see movie; when Netflix began streaming it, it became one of the most popular titles for several weeks. RRR serves as a reminder that it's possible for a movie made on a reasonable budget to find mass appeal. It taps into many of the basic emotional centers that have always made movies of this sort popular and, in the process, offers hope that there may still be room for non-IP epics to exist side-by-side with Hollywood's overbranded franchises.
---
RRR (India, 2022)
Run Time: 3:07
U.S. Home Release Date: 2022-03-25
MPAA Rating:
"NR" (Violence)
Genre:
Fantasy/Adventure
Subtitles: In Telugu and English with subtitles
Theatrical Aspect Ratio: 2.35:1
---
Three...better movies of this genre
worse movies of this genre
Three...better movies of N.T. Rama Rao Jr.
(There are no more better movies of N.T. Rama Rao Jr.)
worse movies of N.T. Rama Rao Jr.
(There are no more worst movies of N.T. Rama Rao Jr.)
Three...better movies of Ram Charan
(There are no more better movies of Ram Charan)
worse movies of Ram Charan
(There are no more worst movies of Ram Charan)
Three...better movies of Alia Bhatt
(There are no more better movies of Alia Bhatt)
worse movies of Alia Bhatt
(There are no more worst movies of Alia Bhatt)