Sparkle (United States, 2012)
August 17, 2012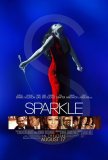 Sparkle is a remake; the original was released theatrically in 1976. I have never seen that version, but that didn't stem a powerful sense of déjà vu while sitting through this one. That's because Sparkle is an assembly of parts and pieces from other, better movies - an overly familiar jumble of clichés mashed together. The only time Sparkle evidences energy is during the song performances, of which there are too few. The half-baked melodrama provides an unappealing and overlong buffer between them that fails to justify the nearly two-hour running time.
Sparkle represents the second major motion picture to highlight an ex-American Idol contestant. Jordin Sparks, who won the singing contest, is no match for Jennifer Hudson when it comes to acting chops. She's okay - I have seen worse debuts from singers who want to play at acting - but her readings of lines are sometimes flat. No one's going to argue against the strength of her voice, but she fails to generate a compelling character. Then again, at least a part of the blame can be laid at the feet of writer/director Salim Akil. Meanwhile, this is the final screen appearance of the late Whitney Houston, who gets a chance to belt out one last song. Houston was never a great actress but, at the height of her popularity, she had presence. That's gone and we're left with a shadow of someone who once lit up the screen. In real life, of course, even the shadow is gone.
Sparkle follows the misadventures of the title character (played by Sparks), a young aspiring singer/songwriter living in Detroit in 1968. She writes for her eldest sibling, Tammy (Carmen Ejogo), who is the prettiest and sexiest of the three Anderson sisters. She meets an up-and-coming manager, Stix (Derek Luke), who convinces Sparks and her other sister, Dolores (Tika Sumpter), to form a girl band with Tammy as the lead singer. The group has some success, even opening for Aretha Franklin, but Tammy's drug use and relationship with an abusive husband, Satin (Mike Epps), cause her to be unfit for performing. A record deal collapses and the group disbands. But, despite the objections of Sparks' church-going mother, Emma (Houston), the young woman refuses to give up her dream and pursues stardom on her own.
The movie sounds like every other rags-to-riches movie ever made and it comes across as a threadbare knockoff. Without an acting performance of any note, the characters never achieve life. And Akil (Jumping the Broom) shows little skill in conveying key moments. A scene in which Satin is shown chasing Sister with a belt provoked open laughter at the screening I attended. Ditto for a later sequences in which one character is struck in the back of the head with a poker and falls to the ground in slow motion. While there's life in the performance sequences, this isn't Dreamgirls, either. And at least one of the songs sounds like it was written for contemporary singers rather than for '60s groups. Period piece details in general are superficial. Sparkle wants to get away with re-creating the era through wardrobe, hairstyles, and clips of Martin Luther King on TV.
Sparkle can boasts a rousing climax but the predictable resolution is hardly worth the investment necessary to get to it. To the extent there's anything to recommend about this movie, it's the music, but the songs can be downloaded. Everything else is wearily familiar; even the most inexperienced movie-goer will be able to plot the story's trajectory after the first few minutes. Not having seen the first iteration of Sparkle, I can't offer an opinion about whether this is a good or faithful remake. But I can say that, standing on its own, it isn't worth the price of admission.
---
Sparkle (United States, 2012)
---
Three...better movies of this genre
worse movies of this genre
Three...better movies of Jordin Sparks
(There are no more better movies of Jordin Sparks)
worse movies of Jordin Sparks
(There are no more worst movies of Jordin Sparks)
Three...better movies of Whitney Houston
(There are no more better movies of Whitney Houston)
worse movies of Whitney Houston
(There are no more worst movies of Whitney Houston)
Three...better movies of Derek Luke
worse movies of Derek Luke