Still Alice (United States, 2014)
January 16, 2015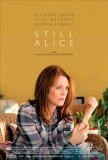 There's no shortage of literature and cinema about human beings afflicted with Alzheimer's or some form of dementia. The near universality of the caregiver's experience, one of the most painful trials any person can be asked to endure, is one reason for this. Yet, for all that has been written and filmed about this, few stories can claim to do what Lisa Genova accomplished in her novel Still Alice: tell the tale from the perspective of the disease's victim. The movie adaptation, by directors Richard Glatzer and Wash Westmoreland, retains this aspect while supplanting the usual sentimentality of "Alzheimer's films" with a clear-eyed honesty. Still Alice is heartbreaking but it doesn't earn its tears through easy emotional manipulation.
The film's highlight is the performance of Oscar-nominated (and likely winner) Julianne Moore, whose turn as Dr. Alice Howland captures all the nuances of a brilliant woman slowly losing herself. Moore plays the part without histrionics; it's a controlled, contained portrayal that can rival Eddie Redmayne's in The Theory of Everything. The actress fully inhabits the body and personality of someone being diminished by a condition over which she has no control. The rest of the cast of Still Alice is comprised of recognizable names playing supporting roles: Alec Baldwin as Alice's supportive-yet-fearful husband, John; Kristen Stewart as Lydia, the youngest of the three Howland children and her mother's eventual caregiver; Hunter Parrish as Tom, the only son; and Kate Bosworth as Anna, the mother-to-be who carries Alice's poison gene.
When the movie begins, Alice has a seemingly perfect life. A Columbia cognitive psychologist at the top of her field, she has a loving husband and three children with whom she shares good relationships. The downhill progression begins slowly: she stumbles over words she would normally be able to retrieve without a problem, becomes disoriented while out jogging, and fails to remember meeting her son's girlfriend. The diagnosis is ominous: early onset Alzheimer's, a rare genetic version of the disease. The majority of Still Alice chronicles the main character's deterioration as the pernicious influence of the condition chips away at Alice's memories, intelligence, and identity.
Still Alice is undoubtedly a tough movie; it contains life-affirming moments but its perspective is what makes it unique. The production takes us into Alice's mind and projects her changing circumstances through her eyes. It is often said that Alzheimer's is more difficult on the loved ones of a victim than on the afflicted individual. Still Alice challenges that belief. Alice is well aware of what's happening to her - how her world is closing in on her. Her frustration and despair are palpable. She remembers things she could do but no longer has the capacity to achieve. The final scene is poignant. Given today's level of medical technology, it's inevitable but that doesn't make it any less sad.
In addition to exploring the impacts of Alzheimer's on the lives of Alice and her family, the film also ventures into the uncertain territory of how society views the disease and its victims. While there is abundant sympathy for John and the children, Alice receives little more than pitying glances and obligatory condolences. At one point, she notes that she'd rather have cancer - at least then people would be more understanding. The medical profession's impotence is also highlighted: there's nothing they can do, no miracle drug that can arrest the disease's devastating track. In the end, John accepts a lucrative job offer in another city because he can't bear to spend his every waking hour with what his wife is becoming.
The film's co-directors, married couple Richard Glatzer and Wash Westmoreland, bring a unique perspective to Alice's struggles. Glatzer is afflicted with ALS. Although very different in nature from Alzheimer's, ALS can ultimately have a similarly devastating impact on a person's sense of identity (as can be seen in the aforementioned The Theory of Everything) and Glatzer brings his personal, intimate knowledge to this production. The lack of mawkishness in the directors' approach saves Still Alice from being an overwhelmingly depressing experience. The movie is melancholy, to be sure, but its straightforward approach allows it to effectively tell the story without resorting to cheap theatrics. As for Moore… if she wins the Oscar for this portrayal, it's well-deserved recognition.
---
Still Alice (United States, 2014)
---
Three...better movies of this genre
worse movies of this genre
Three...better movies of Julianne Moore
worse movies of Julianne Moore
Three...better movies of Alec Baldwin
worse movies of Alec Baldwin
Three...better movies of Kristen Stewart
worse movies of Kristen Stewart