Swingers Weekend, A (Canada, 2017)
July 10, 2018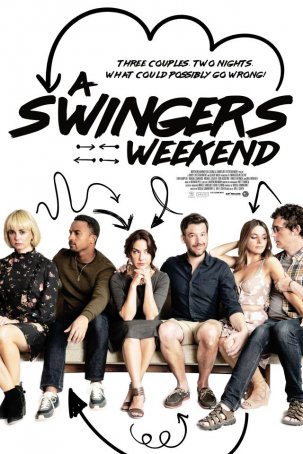 A Swingers Weekend, writer/director Jon E. Cohen's spouse-swapping tale, starts out with a strong sit-com vibe before taking an abrupt turn during the third act into Lifetime TV movie territory. For a movie that wants to explore truths about swinging and polyamory, A Swingers Weekend fails to shed its prudish skin. There's no nudity and no dialogue that could be considered frank. It's not even as graphic as the iconic 1969 swingers film, Bob & Carol and Ted & Alice, which seems more than a bit dated seen in 2018.
A Swingers Weekend seems (for lack of a better term) amateurish. The acting is superficial, which is fine for the lighter moments but causes a monumental fail when the narrative tries to navigate choppy waters. The tone is uneven and Cohen, making his feature debut, has trouble weaving the fatuous and serious moments into a seamless whole. There are some jarring transitions, making one wonder whether the production had sufficient coverage (or whether things were simply botched in the editing room). And there's an unseemly puritanism that shouldn't be present in a production about this subject matter. There's nothing wrong with a tame movie but it should be about something other than having sex with your friends' wives/husbands.
Some of the film's early moments are enjoyable as we are introduced to the main couple, Dan (Rancel Edwards, who reminded me a little of Jason Sudeikis) and Lisa (Erin Karpluk). Paired in business as well as romance, these two seem perfect together. However, in search of a little spice, they have rented a vacation home with one goal: sex with one of Dan's business associates, Teejay (Michael Xavier), and his hot fiancé, Skai (Erin Agostino). All four of the participants are ready and willing…but things become complicated with the unexpected arrival of Dan and Lisa's friends, Geoffrey (Jonas Chernick) and Fiona (Mia Kirshner, sporting a blond hairdo and a British accent). Geoffrey thinks spouse-swapping is just the thing to save his disintegrating marriage, except he hasn't told Fiona about the real reason for the get-together and she thinks they're just going for a regular weekend away from the kids.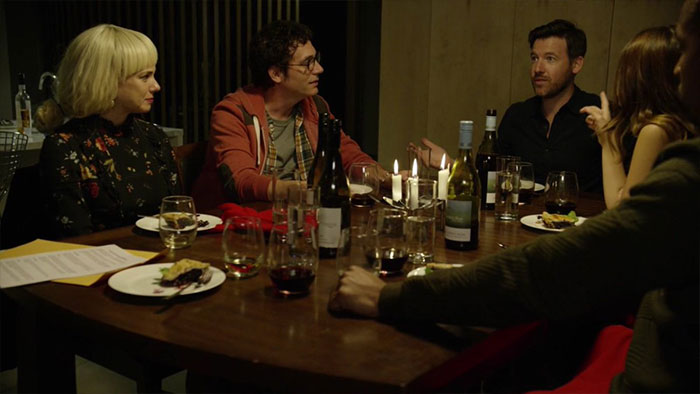 To the extent that there's any chemistry, it exists between Edwards and Karpluk, but even in their case, it's not strong. The basic storyline pairs off Dan and Skai, Lisa and Geoffrey, and Teejay and Fiona, and explores the different ways they spend their first nights together. The first couple exhausts themselves between the sheets. The second couple endures an awkward series of misadventures. The third couple works on overcoming her nervousness via some "chemical enhancement."
One reason why A Swingers Weekend is only intermittently engaging is because the characters are too thinly drawn for us to care about who's sleeping with whom. They're cardboard cut-outs defined primarily by the differences in how the actors look. There's also little depth when it comes to examining the psychological ramifications of swapping. Oh, there's a little dialogue but it's canned and unenlightening. Relationships are re-aligned on whims and one conversation in particular (between Dan and Lisa) rings false.
Perhaps the most disappointing thing about A Swingers Weekend is the way it bungles a solid set-up and good beginning. Spouse-swapping can be a rich and fertile ground for virtually any story along the cinematic spectrum from a thriller to a serious-minded drama to a raunchy comedy. Cohen's superficial and lightweight approach might make for adequate TV viewing but, when it comes to a theatrical experience, it functions more as a clumsy tease than a satisfying motion picture.
---
Swingers Weekend, A (Canada, 2017)
---
Three...better movies of this genre
worse movies of this genre
Three...better movies of Rancel Edwards
(There are no more better movies of Rancel Edwards)
worse movies of Rancel Edwards
(There are no more worst movies of Rancel Edwards)
Three...better movies of Erin Karpluk
(There are no more better movies of Erin Karpluk)
worse movies of Erin Karpluk
(There are no more worst movies of Erin Karpluk)
Three...better movies of Michael Xavier
(There are no more better movies of Michael Xavier)
worse movies of Michael Xavier
(There are no more worst movies of Michael Xavier)