Three Colors: White (France/Switzerland/Poland, 1994)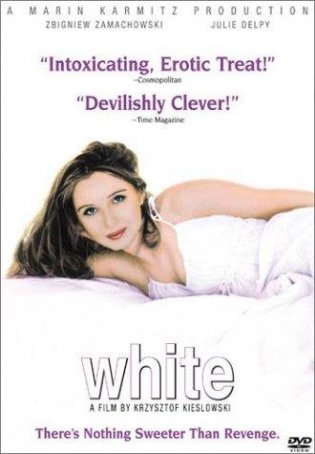 "Blue, liberty; White, equality; Red, fraternity... We looked very closely at these three ideas, how they functioned in everyday life, but from an individual's point of view. These ideals are contradictory with human nature. When you deal with them practically, you do not know how to live with them. Do people really want liberty, equality, fraternity?"
- Writer/director Krzysztof Kieslowski
White, the second chapter of Krzysztof Kieslowski's Three Colors trilogy, is different from Blue in more ways than the color it centers on and the ideals represented. Instead of the dark, somber tone adopted Blue, this film aims for something lighter. Additionally, while White possesses a sardonic quality never sought after by its predecessor, the emotional tapestry of this picture is not the other's equal.
Although White is self-contained, there is an intersection with Blue. In the previous film, the stars of this one, Julie Delpy and Zbigniew Zamachowski, make brief appearances; likewise, Juliette Binoche sticks her head through a courtroom door near the beginning of White (blink and you may miss her). Delpy, Zamachowski, and Binoche all turn up at the conclusion of Red (due to be released this fall), along with the featured performers of that movie, Jean-Louis Trintignant and Irene Jacob.
White begins in a Parisian courtroom with the arrival of a lonely, dejected Karol Karol (Zamachowski), clutching a summons and looking downtrodden. Shortly thereafter, his marriage has been dissolved by the court because of his inability to consummate the union, and his beautiful young wife Dominique (Delpy) has claimed that she no longer loves him. Karol is devastated, and decides to quit Paris for his native Poland. To make matters worse, he has no passport and no money to obtain one, and after Dominique sets fire to a beauty shop that he and she owned together, the police want him for arson. Fate, however, is not entirely working against Karol, and he finds a friend in his fellow countryman Mikolaj (Janusz Gajos), who helps him back to Warsaw, where he begins rebuilding his life and planning revenge against the woman he still loves.
White focuses mainly on Karol's life, and that's one of its possible flaws. While we are presented with a well-rounded picture of the Polish hairdresser, we see so little of his wife that the eventual resolution falls a little flat. The few glimpses we are afforded of Dominique reveal an intensely interesting character who is quite simply never given enough screen time. Another problem with White is that the plot occasionally leaps forward in a rather disjointed manner. At times, it seems that there are scenes missing. While none of these gaps cause permanent damage, they engender a momentary sense of confusion. Blue was seamlessly edited; the same cannot be said about White.
Nevertheless, despite its flaws, White is an excellent character study, and the presentation of a twisted love story is compelling. The Chaplinesque Zbigniew Zamachowski delivers a performance that displays the depth and breadth of his considerable talent. In addition to portraying desperation, pain, and triumph, Zamachowski gets an opportunity to do a little light comedy. Julie Delpy, who was so impressive as Sam Shepard's tragic girlfriend in Voyager (and also had roles in Europa, Europa and Disney's The Three Musketeers), is luminescent in limited exposure. She's very effective, and her cold portrayal of Dominique during the film's opening scenes does nothing to endear the character to the audience.
As was the case with Blue, the title color permeates the film. Kieslowski uses images of white to reinforce his theme of equality. Poland, with its cloudy winter skies and snowscapes, is a perfect setting, and the color shows up in dozens of other instances, including building facades, cars, pigeons, a porcelain bust, clothing, and the misty halo through which several scenes are filmed. Zbigniew Preisner, whose score was integral to Blue, is the composer for White, but in this case, his music serves a more normal function.
Kieslowski understands human nature, and his ability to breathe life into that understanding through these characters is what sets his films apart from those of many others. As Blue did for liberty, so White does for equality, giving a face to an abstract concept. White does not have the impact of its predecessor, but neither will its story or characters fade the moment the theater's lights go on.
---
Three Colors: White (France/Switzerland/Poland, 1994)
---
Three...better movies of this genre
worse movies of this genre
Three...better movies of Julie Delpy
worse movies of Julie Delpy
Three...better movies of Zbigniew Zamachowski
(There are no more better movies of Zbigniew Zamachowski)
worse movies of Zbigniew Zamachowski
(There are no more worst movies of Zbigniew Zamachowski)
Three...better movies of Janusz Gajos
(There are no more better movies of Janusz Gajos)
worse movies of Janusz Gajos
(There are no more worst movies of Janusz Gajos)