Tyson (United States, 2009)
April 20, 2009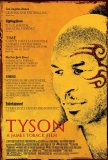 During the latter years of the 20th century, no sports figure was more compelling and controversial than Mike Tyson, who scaled the heights of unifying boxing's heavyweight championships and descended into the hell of scandal and crime. With Tyson, director James Toback has provided a forum in which Tyson can tell his story. Undoubtedly, some of what is presented in this documentary has been sanitized to improve Tyson's reputation, but the film's subject is surprisingly thoughtful and speaks frankly about his womanizing, alcohol and drug addiction, bouts of mental instability, and criminal activity.
The Tyson who narrates this movie (outside of archived footage, his is the only voice we hear) is different from the monster built up and torn down by the media during the '80s and '90s. Age often brings perspective, and that would seem to be the case here - either that, or Toback and Tyson have carefully crafted a sympathetic portrayal of the ex-boxer. In the post-Michael Moore era of "documentaries," it can be difficult to ascertain the reality of movies like this. For example, how much of Tyson's interview represents extemporaneous speaking by him and how much (if any) was scripted and/or rehearsed? Nevertheless, documentary filmmaking methods aside, there is fascinating and thought-provoking material to be found here.
The film is structured as an autobiography, with Tyson following a trail of memories through his life. Since much of the man's life took place in front of the camera (at least once he was on the fast track to his first championship bout), there is ample video to which Toback has access, and it is used liberally. In addition to segments of fights, there are archived interviews with Tyson and others, and various news clips detailing some of the less savory incidents during his time in the spotlight. From a stylistic standpoint, it's a straightforward documentary, although Toback occasionally employs visual ornamentation like split screens. Attempts of this nature are more distracting than effective.
It's interesting to consider the details from Tyson's life that are left largely untouched. For whatever reason, the marriage to Robin Givens is mentioned only in passing, with Tyson merely acknowledging he was too young to be married at the time. The issues of spousal abuse, gold digging, and other charges and counter-charges that came to light before and during the divorce proceedings are not discussed. Likewise, Tyson has little to say about Desiree Washington except to brand her a liar. He talks about what it was like in prison, but doesn't offer anything new regarding the conviction that put him there. These omissions are curious because they relate to two of the biggest negative cornerstones of Tyson's reputation and the film's unwillingness to address them makes one wonder why.
Areas the film is less reluctant to explore include Tyson's unfortunate childhood and unhappy early family life. The son of a "promiscuous" mother and an absent father, Tyson drifted into criminal activities (theft, drugs) while still a pre-teen in Brooklyn. He became interested in boxing while serving time in a juvenile detention center and, after being released, trained under Cus D'Amato, who would become a father figure. During the interview, Tyson breaks down several times when discussing his former mentor, indicating how important the relationship was to him. At the age of 20, only a year after D'Amato's death, he captured the WBC Heavyweight Championship by defeating Trevor Berbick. That's when the glare of the media spotlight began to shine its brightest. At first, Tyson was too driven to be fazed by it but, after a while, he bought into the myth of his own indestructibility.
The most controversial fight in Tyson's career - Tyson/Holyfield II, which featured the biting incident - is examined in some detail. Tyson doesn't offer a defense, saying only that he was "insane" at the time, having become enraged by Holyfield's head butting. In retrospect, he is ashamed at having lost his discipline. That bout ended Tyson's serious career - most of the fights he engaged in later were money-grabs. Having been swindled by unscrupulous managers and hanger-on-ers, whom he calls "leeches" (his terminology for Don King is even less flattering), he was near bankruptcy and needed income to support himself and his children.
The present-day Tyson who speaks to Toback's cameras comes across as more intelligent and articulate than he is given credit for - someone who has taken the time to examine his life and found it lacking. He faces an uncertain future away from boxing but, if he truly has made peace with himself as the movie leads us to believe, then Iron Mike may never again be in the news, which is how he would prefer it. While it's impossible to know how much of Tyson is fact, how much is carefully sculpted truth, how much is spin, and how much is invention, there's enough material here to form the skeleton of a modern-day tragedy. No matter how you may feel about Tyson - and, during his heyday, he generated opinions from adulation to scorn - Tyson at the very least offers a fresh perspective. Ultimately, this may be the closest we'll ever get to understanding how Mike feels about himself, and there's value in viewing that assessment.
---
Tyson (United States, 2009)
Run Time: 1:30
U.S. Release Date: 2009-04-24
MPAA Rating:
"R" (Profanity)
Genre:
DOCUMENTARY
Subtitles: none
Theatrical Aspect Ratio: 1.85:1
---
Three...better movies of this genre
worse movies of this genre
Three...better movies of Mike Tyson
(There are no more better movies of Mike Tyson)
worse movies of Mike Tyson
(There are no more worst movies of Mike Tyson)