Veronica Mars (United States, 2014)
March 13, 2014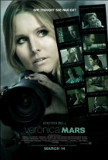 Veronica Mars is a delightful piece of fan service - a supersized TV reunion episode expanded for viewing in movie theaters. Warner Brothers, unsure of the film's box office potential, has chosen an unusual distribution model. Simultaneous with the theatrical opening (in a few hundred venues), the film is being made available for digital download. The hope is that Veronica Mars die-hards will pay for a ticket to see it on the big screen then go home and buy a copy for their collection. The success of this approach could determine not only whether there will be a Veronica Mars 2 but how studios approach other potential franchises with embedded fan bases.
The degree to which Veronica Mars works is proportional to the viewer's familiarity with the defunct 2004-2007 TV series. Funded by fans and directed by showrunner Rob Thomas, this is an unapologetic valentine. Those with limited exposure to Veronica Mars will see this as a bloated, unexceptional mystery/thriller with a charismatic lead and a lumbering plot. True believers, however, will love the seemingly endless stream of cameos (it seems like everyone who ever appeared in the series gets a least a few seconds of screen time) and the chance to spend a couple of hours with their favorite heroine. As with Star Trek: The Motion Picture, the television-to-movie pioneer, the film's flaws become increasingly apparent the farther back one steps.
The movie picks up six or seven years after the series ended so the real-time gap matches the one in the characters' lives. Veronica (Kristen Bell) has moved on from sleuthing. Now living in New York, she has completed law school and is vying for a competitive job at a high profile firm. She and her boyfriend, Piz (Chris Lowell) are tossing around the idea of committed couple-dom. That's when she learns that a former schoolmate from Neptune has been murdered and her One True Love, Logan (Jason Dohring), is the prime suspect. Of course, Veronica wants to help. At Logan's behest, she flies cross country to help him choose a lawyer. Her PI instincts tell her something isn't right and, despite some gentle dissuasion from her father, Keith (Enrico Colantoni), she starts to look into the killing. Her efforts uncover widespread police corruption and a secret pact among some people with whom she attended high school.
The faithfulness evidenced by Rob Thomas to the established fan base is laudable. Veronica Mars is their dream project. The film moves the title character's life forward, gives viewers a chance to reconnect with their favorites without bogging things down with too much narrative, and makes some significant changes to the overall Veronica Mars landscape. The ending leaves open the possibility of sequels or possibly a TV/web-based series. Unfortunately, if Thomas' goal was to expand the playing field and "open up" Veronica Mars to a larger audience, he has failed. There's little here to attract or interest non-fans. The mystery is tepid and often overwhelmed by callbacks to the series. The romance between Veronica and Logan works only for those familiar with the previous interaction between these two. And the police corruption angle is odd and underdeveloped.
Kristen Bell shines as Veronica, playing the character as a more mature version of her TV persona. While age may have softened some of Veronica's sharpest edges, it hasn't fundamentally altered her makeup. Although Bell's scenes with Jason Dohring's Logan lack a certain spark, there's real warmth and humanity when she shares the screen with Enrico Colantoni. In terms of interpersonal interaction, those father/daughter moments are among the film's best - genuine and heartfelt. Many original Veronica Mars cast members have returned, although there are a few re-casts. "Name" actors like Jamie Lee Curtis and James Franco add a little star power in small parts.
Regardless of how it performs at the box office and what the critics have to say about it, Veronica Mars offers a reminder that, at least for productions with devoted fans, TV cancelation isn't necessarily a graveyard. For those who participated in the Kickstarter campaign that resurrected Veronica Mars, this will be seen as an unqualified success. For everyone else, it's a made-for-TV quality product that probably isn't worth the price of admission.
---
Veronica Mars (United States, 2014)
---
Three...better movies of this genre
worse movies of this genre
Three...better movies of Kristen Bell
worse movies of Kristen Bell
Three...better movies of Jason Dohring
(There are no more better movies of Jason Dohring)
worse movies of Jason Dohring
(There are no more worst movies of Jason Dohring)
Three...better movies of Chris Lowell
(There are no more better movies of Chris Lowell)
worse movies of Chris Lowell
(There are no more worst movies of Chris Lowell)