Frozen II (United States, 2019)
November 27, 2019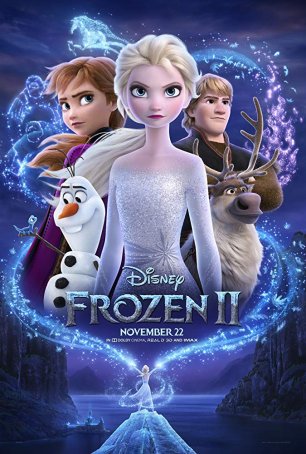 For many years, Disney resisted the urge to craft big-budget sequels to popular animated films. During the "second wave" years of the 1990s, a cottage industry was born whereby cut-rate direct-to-home video follow-ups were made but the studio considered these to be ancillary "products" designed to satisfy a consumer desire and make a few bucks. Modern realities eventually changed long-held policies and a second installment of the hugely popular Frozen franchise became inevitable. Two theatrically-released shorts weren't enough to sate demand. Frozen II became one of Disney's most eagerly-awaited animated sequels.
When Frozen was released in 2013, its mix of throwback elements and cutting-edge CGI animation made it Disney's second-most popular non-Pixar branded animated film of all-time (unadjusted for inflation). For the sequel, the decision was made to stick with the elements that made Frozen so popular: themes of sisterhood and family, dashes of romance and comedy, fantasy/adventure elements, and (most importantly) musical numbers. The songwriting team of wife-and-husband Kristen Anderson-Lopez & Robert Lopez and composer Christophe Beck were brought back to create a soundtrack that mimicked but didn't repeat that of Frozen. The result is eight new songs, seven of which recall the Menken/Ashman tunes of the late 1980s/early 1990s and one ("Lost in the Woods") which sounds suspiciously like something by REO Speedwagon.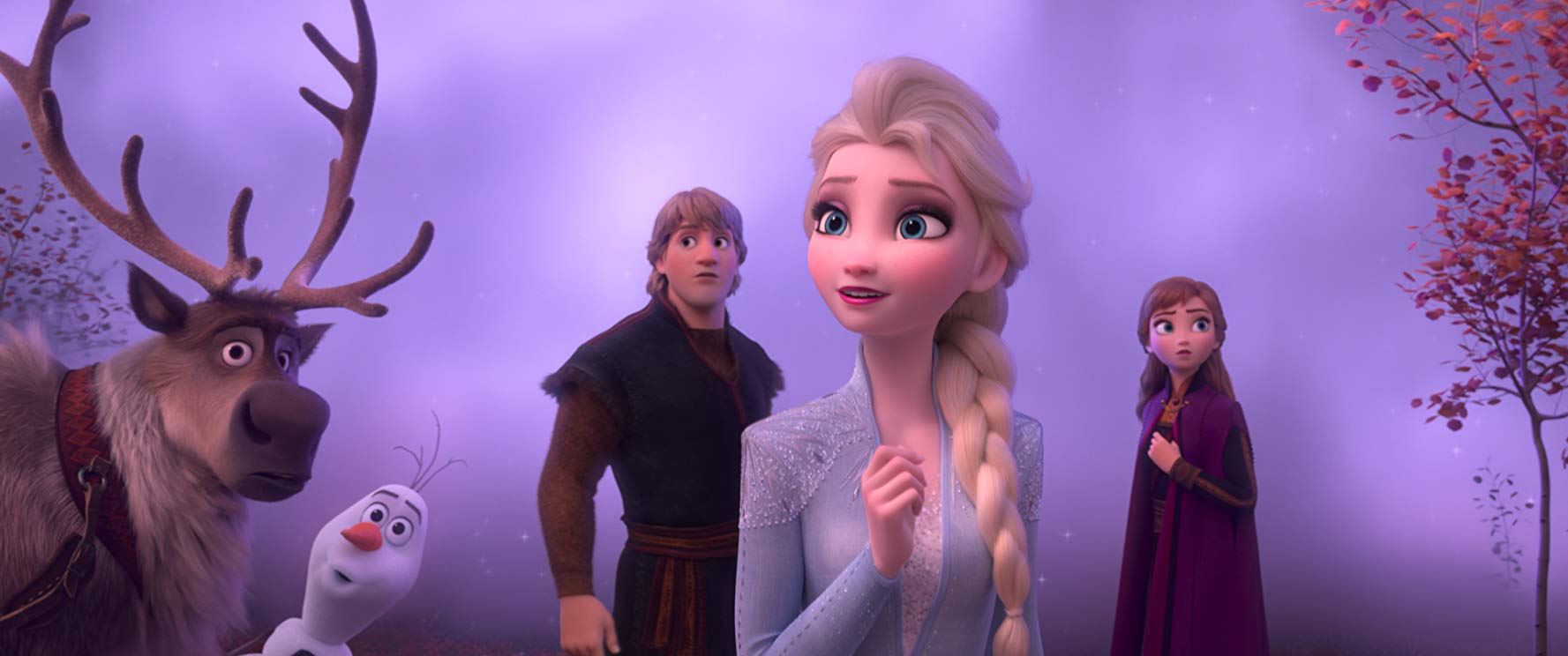 The greatest difficulty faced by writer/director Jennifer Lee and co-director Chris Buck was to tell a story that's new and interesting without relying on regurgitating elements covered by Frozen. It needed to be about going forward more than looking back. While the first movie was inspired by Hans Christen Andersen's "The Snow Queen," Frozen II appears to draw at least some of its inspiration (both in terms of creature design and plot elements) from the work of Hayao Miyazaki. That's not surprising since many of the animators at Disney have admitted admiration of the output of Studio Ghibli.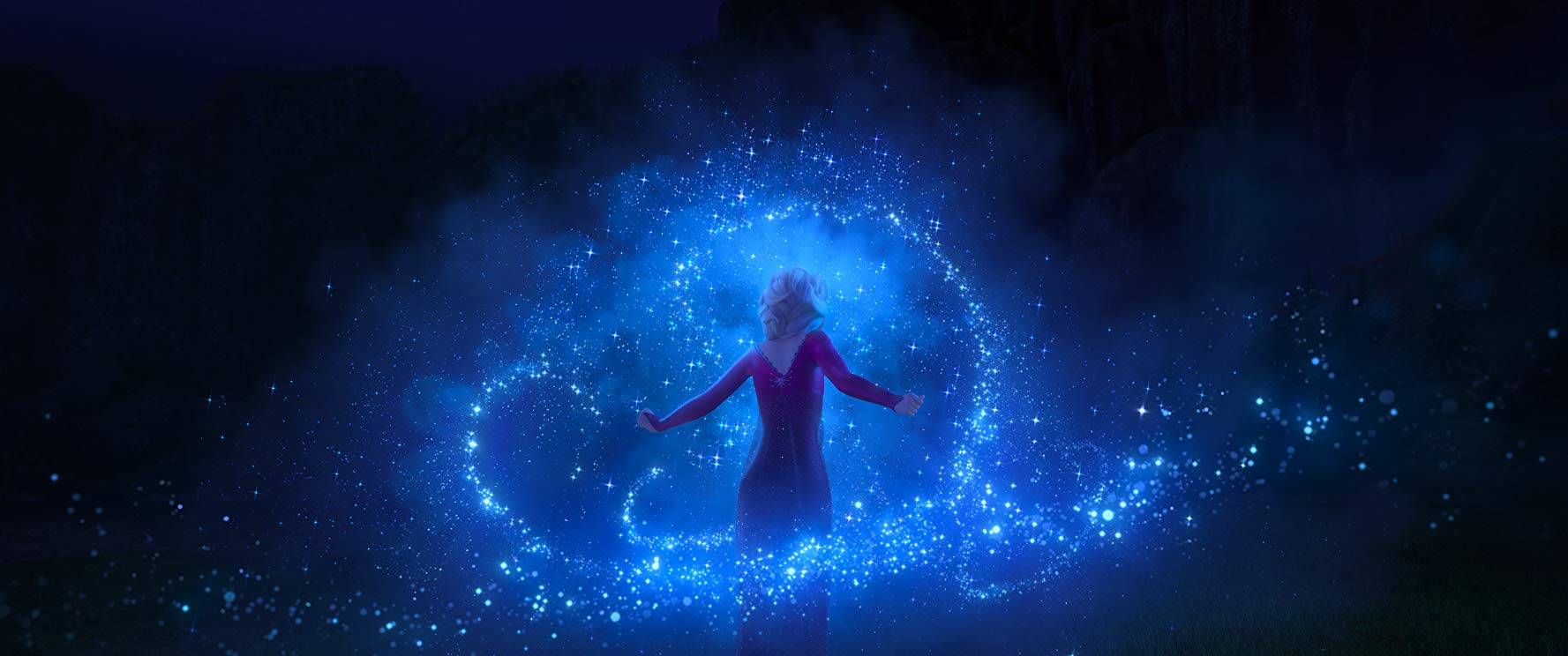 Frozen II opens in the comfortable terrain established by the ending of Frozen. Queen Elsa (Idina Menzel), having harnessed her magical abilities, rules over the peaceful and prosperous city of Arendelle. Her sister, Princess Anna (Kristen Bell), provides advice and support, as befits the beloved younger sibling of a ruler. Anna's beau, ice-cutter Kristoff (Jonathan Groff), has decided to ask his royal girlfriend for her hand in marriage but, every time he starts a proposal, he botches it. Finally, snowman Olaf (Josh Gad), now immune to melting (due to his "perma-frost"), provides on-going comic relief. However, although all seems well, Arendelle is threatened by forces from within a mysterious enchanted forest. Accompanied by her sister and friends, Elsa must penetrate the mist that surrounds the woods, tame the forces of air, water, fire, and earth, and discover the dark secret that threatens her kingdom.
Visually, Frozen II boasts the best photo-realistic imagery of any computer-generated Disney animated release (including those segregated on the Pixar side of the shop). Stunning, crystal-clear visuals are rendered with vibrant hues and just enough of an "animated" touch so as not to appear too realistic – this isn't an attempt to go toe-to-toe with this summer's The Lion King. The movie's fantastical scenes show a deftness of touch that bring life to the animators' imaginings. One problem with many of today's animated films is that, at least insofar as the visual elements are concerned, a plateau seems to have been reached. What was once eye-popping has become routine. Frozen II has a clarity and purity of appearance that moves the bar, if only by a little.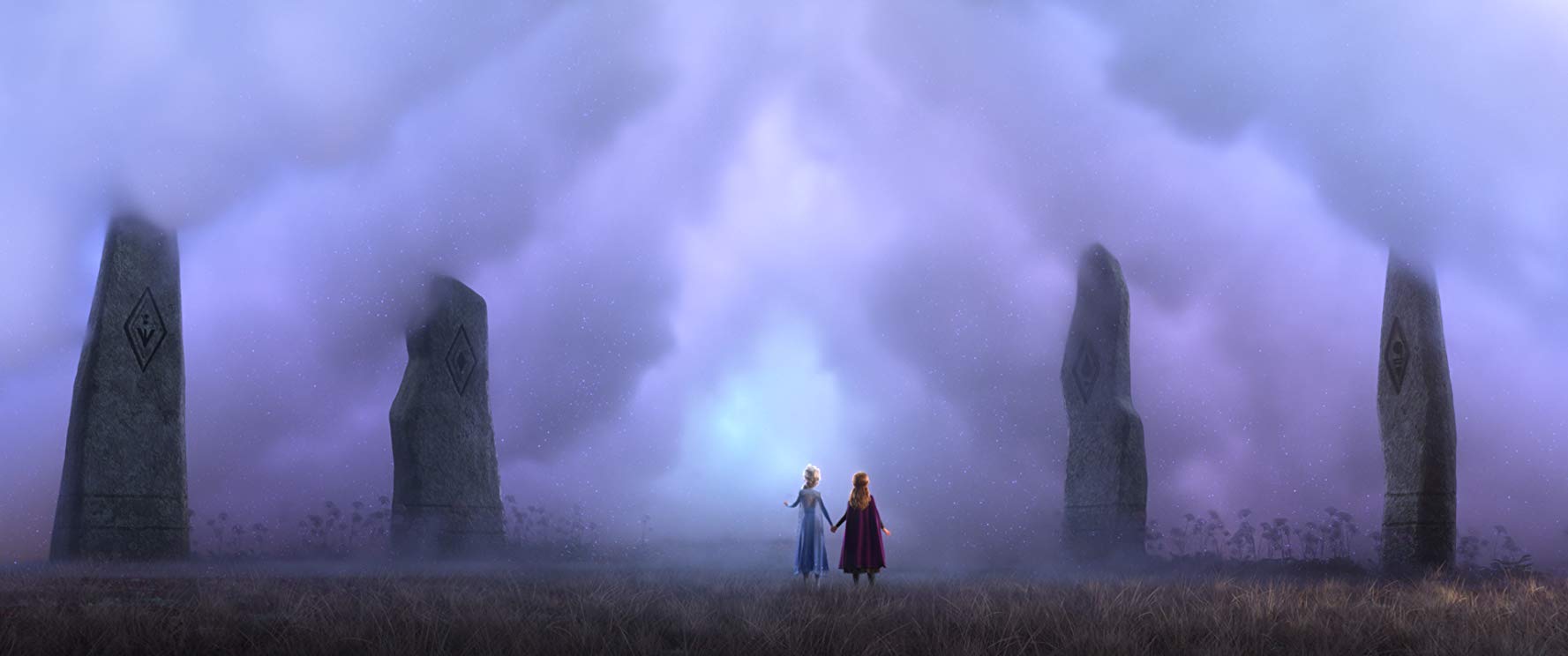 Musically, it's a little surprising that there weren't more obvious callbacks to the first film's songs. The new material, which will undoubtedly be marketed to the hilt by Disney, is in line with that of Frozen: appealing melodies that, although not immediate standouts, could become popular through pop culture saturation. While the Frozen II soundtrack falls considerably short of Disney's recent best (that of Moana), it's good enough to find favor with its target audience.
Although the movie introduces several new characters, including ones voiced by the likes of Sterling K. Brown, Evan Rachel Wood, Ciaran Hinds, and Alfred Molina, it's the returning quartet that most viewers will care about and each of the vocal actors – Kristen Bell, Idina Menzel, Jonathan Groff, and Josh Gad – slide seamlessly back into their roles, almost as if a day hadn't passed. However, while the characters' voices may have remained frozen in time, the same isn't true of those who fell in love with Frozen during its theatrical release and subsequent home video offering. For children, six years is a long time and it's an open question whether the passage of time will diminish the franchise's magic. (In acknowledgment of this, one of the movie's themes is dealing with the change that comes from growing up.) Frozen II is a worthy follow-up with enough heart, action, and music to entertain younger and older viewers alike. It deserves to be held in as high esteem as its predecessor and will hopefully open this world to a new group of youngsters while satisfying the slightly more mature demands of the original film's most devoted adherents.
---
Frozen II (United States, 2019)
---

Three...better movies of this genre
worse movies of this genre
Three...better movies of Kristen Bell
(There are no more better movies of Kristen Bell)
worse movies of Kristen Bell
Three...better movies of Idina Menzel
worse movies of Idina Menzel
(There are no more worst movies of Idina Menzel)
Three...better movies of Josh Gad
worse movies of Josh Gad