Moana (United States, 2016)
November 22, 2016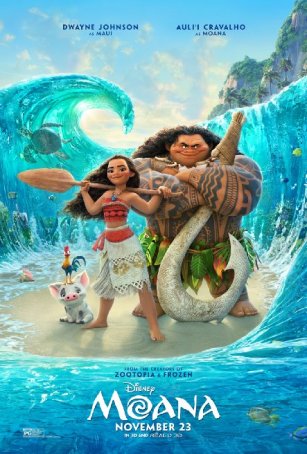 If Moana seems like a throwback to the animated Disney films of the late 1980s and early 1990s, it's not a coincidence. Consider that directors Ron Clements & John Musker have on their resumes both The Little Mermaid (the movie that revitalized the animation department after years of neglect) and Aladdin. For Moana, they have resurrected elements of the template that made those movies beloved: catchy tunes that advance the narrative, a lively young protagonist finding his/her way in the world, and cuddly animal sidekicks. The movie also bucks the recent trend in animated productions of making the main character an anthropomorphized animal or gadget. Zootopia, Finding Dory, The Secret Life of Pets - all of 2016's highest grossing animated films have featured animal leads. Here, Moana (voice of Auli'l Cravalho) is a 16-year human girl with hopes, dreams, and ambitions that many 16-year olds (and more than a few younger and older viewers) will identify with.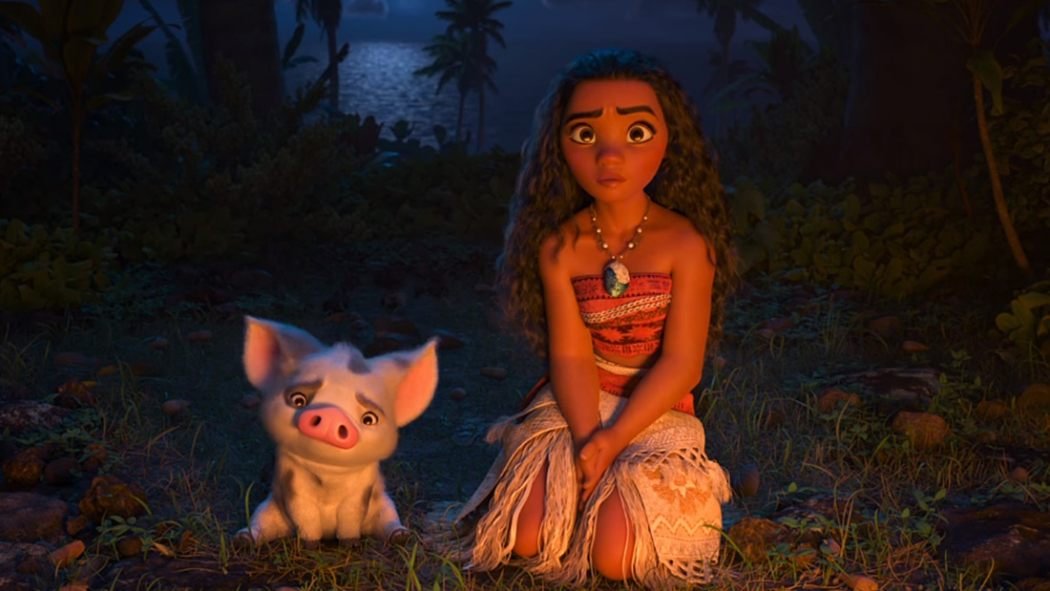 Moana is the daughter of Chief Tui (Temeura Morrison) and his wife, Sina (Nicole Scherzinger). Although Moana's people once voyaged the seas, they have stopped their wandering ways and established a home on a bountiful island. Now, however, their idyllic lifestyle is endangered. To save her people, Moana must defy her father's ban on travel "beyond the reef" and seek out the demigod Maui (Dwayne Johnson). Once that part of her quest is completed, Moana must set off alongside Maui to restore the heart he stole from a sleeping goddess. In order to accomplish that, Maui must retrieve his magical hook, which is guarded by the 50-foot long crab-like creature Tamatoa (Jermaine Clement) in the realm of monsters.
Moana becomes the first animated Disney film in years to return to the musical format that was popular two and one-half decades ago. Although Alan Menken isn't involved, his place has been filled by Mark Mancina (scoring) and Lin-Manuel Miranda (songs). Miranda's involvement predated his phenomenal success for Hamilton, making this something of a coup for Disney. His songs are fresh and catchy, recapturing the spirit of the Menken/Alan Ashman tunes from The Little Mermaid, Beauty and the Beast, and Aladdin. The standout of Miranda's contribution is Moana's signature song, "How Far I'll Go," which can stand alongside "Part of Your World", "Belle", "Whole New World", and "Can You Feel the Love Tonight" as memorable themes.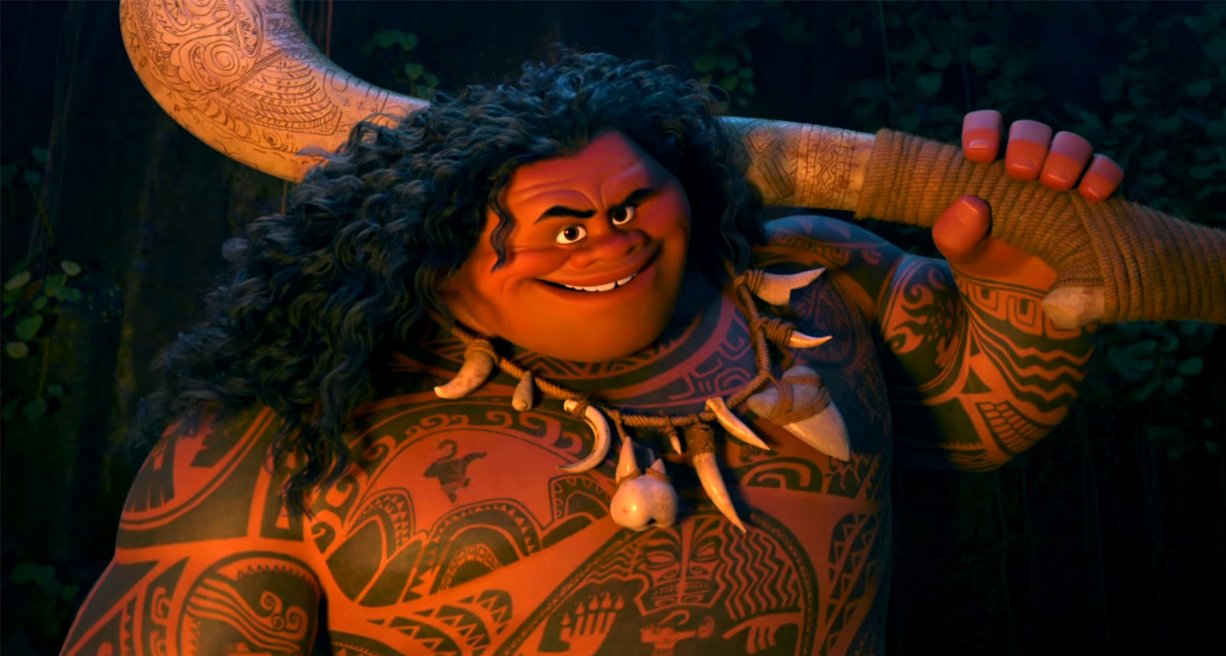 Although Clements and Musker may be reaching back to their earlier successes for inspiration, there are some notable differences. The most obvious is the style of animation. This is the first time these two men have embraced fully computer-generated imagery. Following Aladdin, they made Hercules, Treasure Planet, and The Princess and the Frog - all primarily hand-drawn. A second change-up is the lack of a romantic subplot. The relationship between Moana and Maui is platonic - a big brother/little sister kind of thing. By not giving Moana a love interest, the film is making a statement that Disney princesses don't need princes to define them.
The voice cast prioritizes unique vocal styles and singing ability over star power. The only legitimate A-list name is Dwayne Johnson, and his real-life image plays into his character's appearance (Maui bears a passing resemblance to the athlete-turned-actor). Hawaiian native Auli'I Cravalho, making her feature debut, has a sterling voice that serves her well when speaking and even better when singing. Temeura Morrison and Nicole Scherzinger have small roles as Moana's parents. Alan Tudyk voices Hei Hei the rooster, whose primary role is comedic. In The Huffington Post, Clements called Hei Hei "the dumbest character in the history of Disney animation" and I'm not about to argue with that assertion.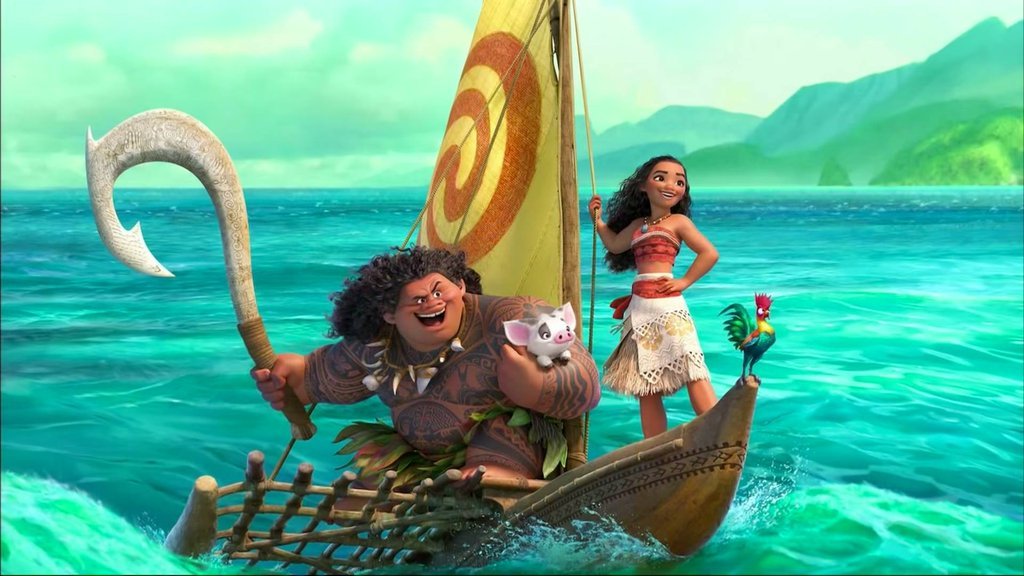 Although Clements and Musker are "new" to computer animation, it's not evident from the quality of their work. The film's visuals, many of which take place in or on water, are as good as anything from Finding Dory. The human characters are excellently rendered, with just enough exaggeration (especially where Maui's lively tattoos are concerned) to avoid the creepiness factor that accompanies too-accurate representations.
Moana is solid "retro Disney" - a new film that embraces older ideas, themes, and narrative approaches. Unlike many of the studio's best animated offerings, the movie doesn't try to push any envelopes or do anything new or surprising. It should be immensely popular with its core audience (which one would assume is similar to Frozen's) and will provide an enjoyable 1 1/2 hours for those outside of it. Moana is an entertaining and worthy way to close Disney's 2016 animated roster.
---
Moana (United States, 2016)
Director:
Ron Clements & John Musker
Cast:
Auli'I Cravalho
,
Dwayne Johnson
,
Jermaine Clement
,
Temeura Morrison
,
Nicole Scherzinger
,
Alan Tudyk
Screenplay:
Jared Bush, Ron Clements, John Musker, Pamela Pibon, Taika Waititi
Cinematography:
Music:
Lin-Manuel Miranda, Mark Mancina, Opetaia Foa'i
U.S. Distributor: Walt Disney Pictures
---
Three...better movies of this genre
worse movies of this genre
Three...better movies of Auli'I Cravalho
(There are no more better movies of Auli'I Cravalho)
worse movies of Auli'I Cravalho
(There are no more worst movies of Auli'I Cravalho)
Three...better movies of Dwayne Johnson
worse movies of Dwayne Johnson
Three...better movies of Jermaine Clement
(There are no more better movies of Jermaine Clement)
worse movies of Jermaine Clement