West Side Story (United States, 2021)
December 10, 2021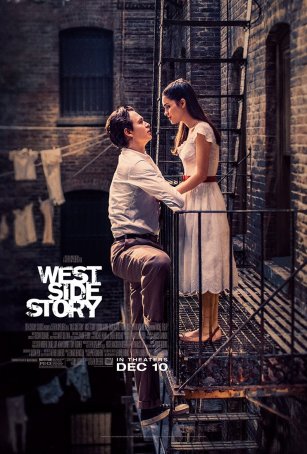 In his nearly 50 years of movie-making, Steven Spielberg has traveled along many different roads but West Side Story represents his first musical. A remake that draws on both of its classic inspirations – the 1961 Oscar-winning movie (directed by Robert Wise) and the 1957 Broadway stage show upon which it was based – West Side Story functions as both a loving homage and an update (in terms of its casting and some of its attitudes). It's one of those rare instances when a remake doesn't feel superfluous and there are aspects of the film (particularly in the acting department) where the 2021 version is superior to its predecessor.
A loose reworking of Shakespeare's Romeo and Juliet, the movie transpires in New York's Upper West Side during the late 1950s. The feuding Montagues and Capulets are represented by rival gangs: the Jets and the Sharks. The former group is comprised of first-generation New Yorkers whose parents came across on boats during the early decades of the century. Their rivals are Puerto Rican immigrants who are newly arrived in the United States. The constant skirmishing of the Jets and the Sharks is primed to explode into an open war, but not before Tony (Ansel Elgort), a founder of the Jets (who is no longer with the gang – once released from a stint in prison, he has gone straight and gotten a job), falls in love with Maria (Rachel Zegler), the sister of the Sharks' leader, Bernardo (David Alvarez). In true Romeo and Juliet fashion, these two defy conventions and risk everything, including their lives, to be with one another. And, also as in Shakespeare's play, there are no happy endings.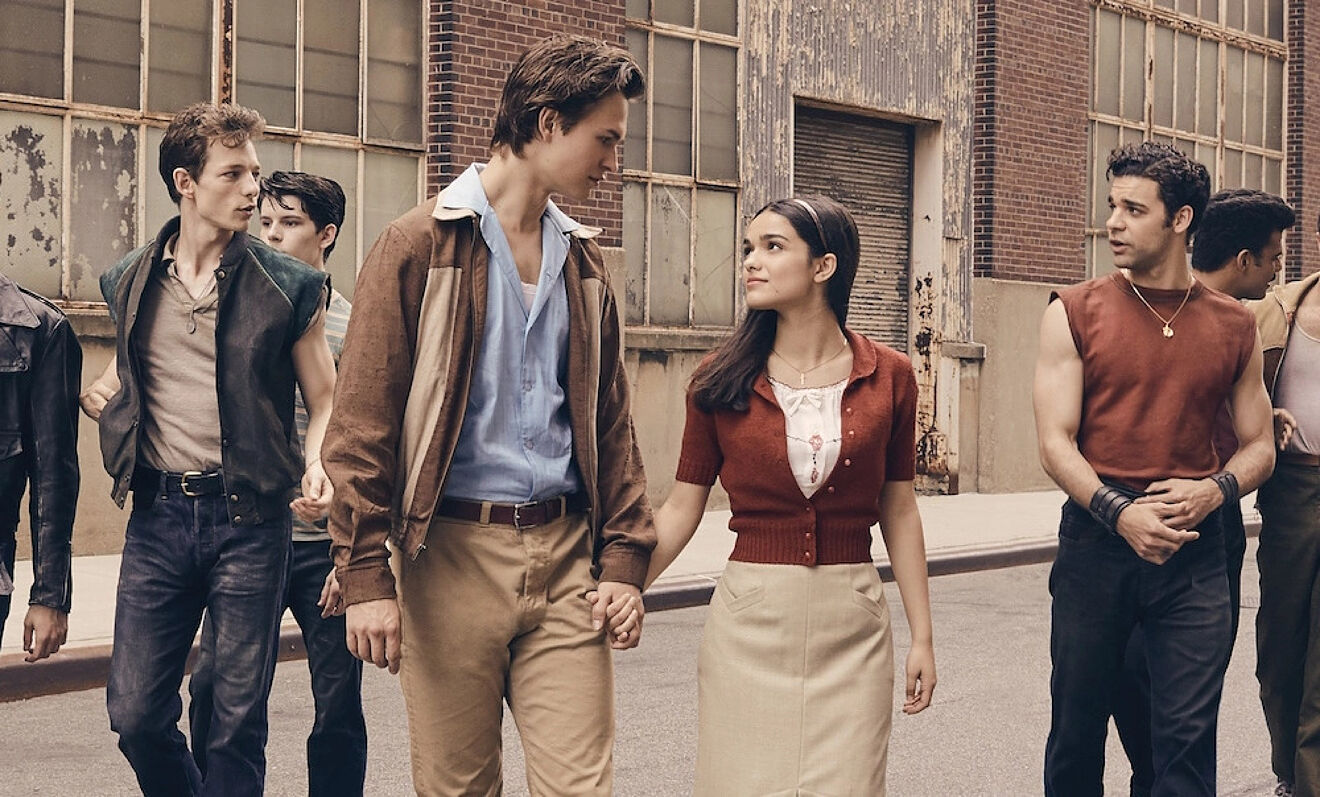 One of the most notable changes made by Spielberg is to cast Latino/Latina performers as the Sharks – something that wasn't necessarily the case when the first film was made. To be fair to Wise, that was an era when racially accurate casting was rarely observed and box office appeal was a deciding factor in whose name topped the marquee. Spielberg has replaced lily-white Natalie Wood with Rachel Zegler, and the film is all the better for it. (Apologies to Wood fans but her acting wasn't that great and she didn't do her own singing.) Rita Moreno, the original Anita, is in the new film playing Valentina, a reworked and expanded version of Doc. In addition to providing a concrete connection to the 1961 production, Moreno is given the opportunity to sing one of the play's best-known songs, "Somewhere."
Another alteration is the manner in which violence is portrayed. For his film, Wise relied on the choreography of Jerome Robbins to convey brutality without showing it. As I wrote in my original review, "West Side Story is almost bloodless… All the fights are highly stylized and divorced from reality. The characters dance around each other while in the process of stalking and attacking. Yet there's a real sense of menace to some of these scenes... We end up feeling the violence more than seeing it. It doesn't always work… but it enables a grittier story to be told within the musical framework." For the remake, Spielberg has done away with the posturing and opted for a more straightforward and conventional approach. There is blood and the movie earns its PG-13 rating because of those scenes. The rumble in particular is harrowing.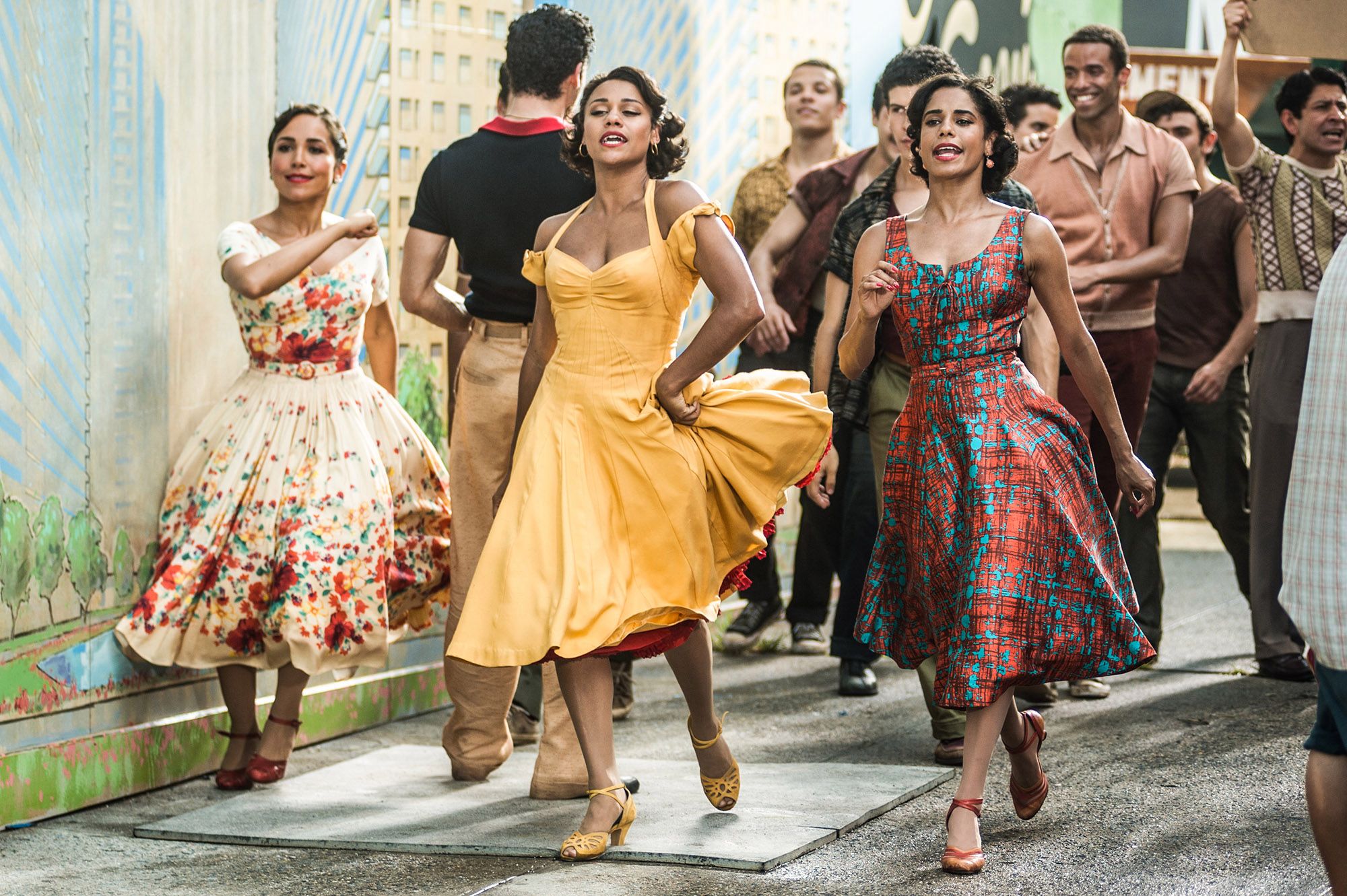 It's in the casting of the five major characters that Spielberg's West Side Story asserts a superiority. As Tony, Ansel Elgort is a far better performer than Richard Beymer, whose primary qualification related to his looks. Newcomer Rachel Zegler exhibits star quality and there's genuine chemistry between her and Elgort (unlike with Wood and Beymer, who often seemed to be faking it). Ariana DeBose matches Rita Moreno for vivacity and energy. And David Alvarez's Bernardo and Mike Faist's Riff are better-rounded than their 1961 counterparts.
Choreographer Justin Peck opts not to recreate Jerome Robbins' work, preferring instead to fashion new dance numbers that at times pay homage to the originals without being blind copies. Leonard Bernstein's score, arranged and adapted by David Newman with an assist from John Williams, is perfectly matched to Peck's contributions. The songs, both those that have become standards ("Tonight" and "Somewhere") and those that are less known but still memorable ("I Feel Pretty", "Maria", and especially "America"), are all present and accounted for. The upbeat songs are robust and exuberant; the more introspective ones are passionate.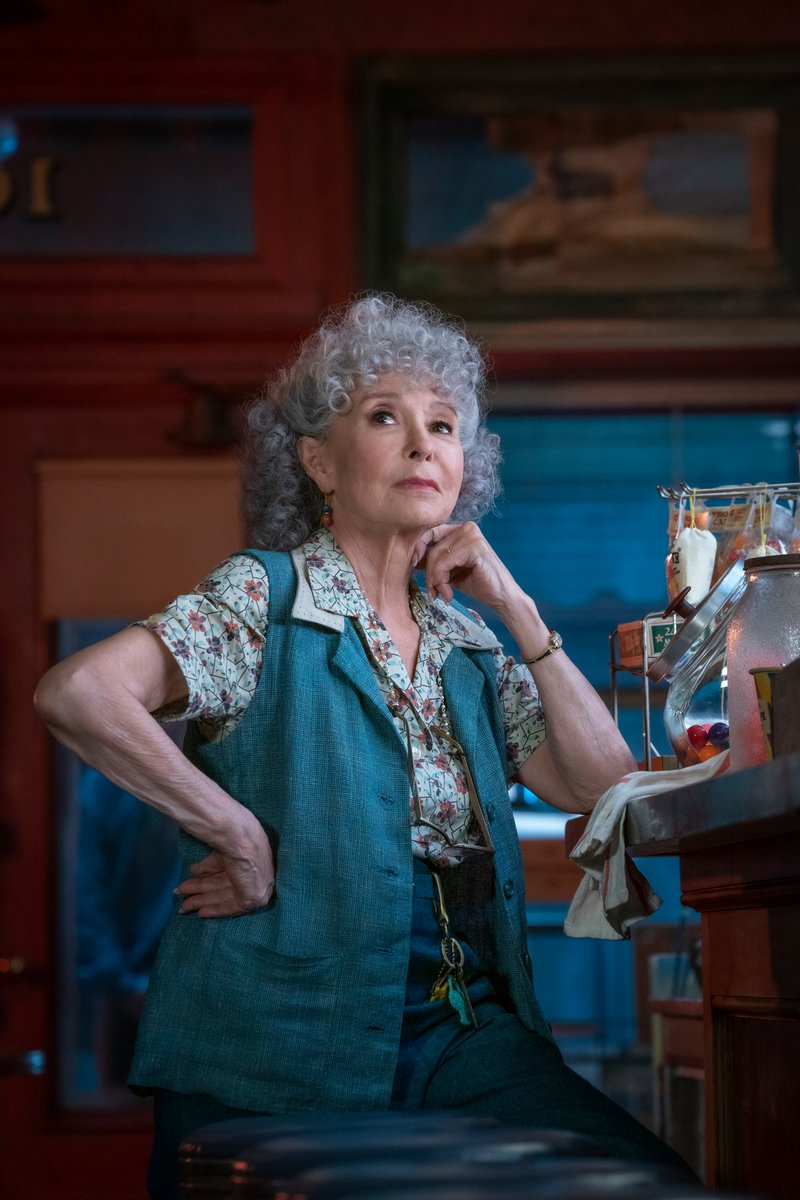 Thematically, one can make the argument that West Side Story is more relevant in 2021 than during its late-1950s Broadway run or when the film version won its Oscar in early 1962. It explores both the senselessness of gang strife and the prejudice faced by immigrants. The anger and hatred on both sides of the divide (the White Jets vs. the Puerto Rican Sharks) exists as an allegory in 2021 in ways that might not have been envisioned when the play was developed. It's a microcosm of the strife currently tearing at the fabric of American society. No one "wins" or emerges unscathed from this sort of corrosive situation.
The road to the new West Side Story had its roots in Spielberg's love of the 1961 movie. The decision to make the new version wasn't without its dangers – oftentimes, director's "pet projects" underwhelm (including two of Spielberg's previous ones, Always and Hook). This one, however, defies that trend. Watching West Side Story is a little like reconnecting with a good friend after they have undergone a makeover. Most of the worthy qualities remain but some of the more awkward and/or dated ones have been re-sculpted. This is no soulless cash-grab. Spielberg's West Side Story is a resplendent entertainment and a reminder that at least some of cinema's great classics can in fact find new life in the hands of a master director who is more concerned about crafting a movie than making a blockbuster.
---
West Side Story (United States, 2021)
Director:
Steven Spielberg
Cast:
Ansel Elgort
,
Rachel Zegler
,
Ariana DeBose
,
David Alvarez
,
Mike Faist
,
Rita Moreno
,
Brian d'Arcy James
,
Corey Stoll
,
Josh Andres Rivera
,
Iris Menas
Home Release Date: 2022-03-15
Screenplay:
Tony Kushner, based on the play by Arthur Laurents, Leonard Bernstein, Stephen Sondheim, Jerome Robbins
Cinematography:
Janusz Kaminski
Music:
Leonard Bernstein
U.S. Distributor: 20th Century Studios
---

Three...better movies of this genre
worse movies of this genre
Three...better movies of Ansel Elgort
worse movies of Ansel Elgort
Three...better movies of Rachel Zegler
(There are no more better movies of Rachel Zegler)
worse movies of Rachel Zegler
(There are no more worst movies of Rachel Zegler)
Three...better movies of Ariana DeBose
(There are no more better movies of Ariana DeBose)
worse movies of Ariana DeBose
(There are no more worst movies of Ariana DeBose)