Movies starring Alice De Lencquesaing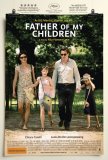 Father of My Children, The
Spoiler Alert: This review mentions a key event that occurs mid-way through the movie. Those wishing a "virgin viewing experience" for The Father of My Children are urged to stop reading here and return to the review once they have seen the film. ...
Summer Hours (L'Heure d'ete)
Summer Hours is about death, but not death in the way that it is often packaged and sold to us in movies. Defining grief is a difficult thing. Why do we mourn? Do we grieve for the person who has died or for the ones he (or she) has left behind?...