Movies starring Chiara Mastroianni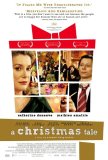 Christmas Tale, A
Christmas movies and dysfunctional families go together like hands and gloves. Whether a comedy or a drama, from the absurd to the sublime, Christmas trees are often coupled with family divisions. While films like National Lampoon's Christmas Vaca... My Favorite Season (Ma Saison Preferee)
Despite having taken three years to make the trip across the Atlantic, Andre Techine's My Favorite Season is surely one of the best films of the summer, if not the year. After its release in France, My Favorite Season was unable to acquire an Amer...