Movies starring Dan Byrd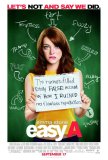 Easy A
Most movies about teenagers come in one of two flavors: romantic comedies or sex comedies. Then there are films like Easy A - smart, satirical jabs at aspects of popular culture that defy simplistic classification. These may be set in schools but... Hills Have Eyes, The
One could make a solid argument that the 2006 remake of The Hills Have Eyes is superior to the 1977 original. The story has been tightened up, the acting is better, and the blood-and-gore effects aren't as hokey. Unfortunately, the biggest stumbli...