Movies starring Hector Elizondo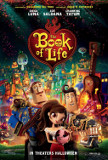 Book of Life, The
The Book of Life represents Guillermo del Toro's most hands-on foray (to date) into the realm of family friendly entertainment; this is closer in tone and sensibility to one of Tim Burton's offbeat animated films than one of Pixar's more "vanilla" ... Dear God
At least after seeing this movie, I understand where the title came from -- starting about thirty minutes into this interminable, unfunny feature, I began looking at my watch every few minutes and thinking, "Dear God, is this ever going to end?... Runaway Bride
For years now, there have been discussions about a sequel to the surprise 1990 romantic comedy blockbuster, Pretty Woman. Aside from once again propelling Roy Orbison's title tune up the pop charts, that film had the distinction of establishing Ju...