Movies starring Joy Bryant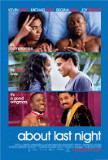 About Last Night
About Last Night, a remake of the 1986 Edward Zwick film which was in turn an adaptation of David Mamet's play, Sexual Perversity in Chicago, manages the difficult task of being faithful to the original while taking things in a new direction. The t... Welcome Home Roscoe Jenkins
On the surface, Welcome Home Roscoe Jenkins is just another Martin Lawrence comedy, filled with slapstick, crude sexual shenanigans, and cruelty to animals. But, looking a little deeper, one discovers a surprisingly dark undercurrent. There's a p...