Movies starring Nicholas D'Agosto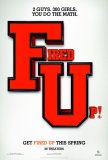 Fired Up!
They might as well have called this Cheer Movie. About the only thing to differentiate this dud of a comedy from the likes of Date Movie, Epic Movie, and Disaster Movie is the absence of the names Aaron Seltzer and Jason Friedberg on the credits.... Rocket Science
Rocket Science is the feature debut of director Jeffrey Blitz, whose previous big-screen exposure was with the documentary Spellbound. In that one, Blitz looked at the highly competitive world of spelling bees. In this one, he places his fictional...