Movies starring Paz De La Huerta Fierce People
Fierce People starts out as a satire-tinged, jocular drama that undergoes a jarring shift in tone to the dark side. While the film successfully makes light of such subjects as drug addiction and coma victims during its first half, the event that o...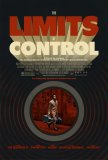 Limits of Control, The
The Limits of Control is a modern fable set within the approximation of a thriller. The slow, repetitious nature of the film, as well as the lack of a strong narrative, limits the level of suspense writer/director Jim Jarmusch is capable of genera...