Movies with cinematographer Antonio Calvache In the Bedroom
In the Bedroom is arguably one of the year's most anticipated independent releases - a movie whose incessant buzz at Sundance carried it at the crest of a wave to Toronto, then placed it in theaters before the end of the year. For those unable to ... Little Children
It's not necessary to look at the color of the leaves to determine the season of the year when movies of this power come along. Little Children, the second feature from director Todd Field (In the Bedroom), is the rarest of movies - a literary mul...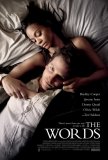 Words, The
Nicholas Sparks wasn't involved with the development of The Words, but he might as well have been. There's a distinctly "Sparks-ian" feel to the movie, and its awkward framing device recalls the one from The Notebook. In fact, structure more than t...