Movies with cinematographer Phil Abraham Annapolis
It is said there's nothing new under the sun, but watching Annapolis created a powerful sense of déjà vu the likes of which I rarely experience while watching a movie. Not only did I know everything that was going to happen from start to finish,...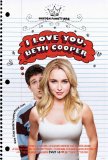 I Love You, Beth Cooper
I Love You, Beth Cooper contains a share of effective elements wrapped around the core that, overall, isn't very good. Although masquerading as a generic teen romantic comedy, the film touches on topics that are atypically introspective for this s...