Movies directed by Don Coscarelli Bubba Ho-Tep
If you're tired of conventional horror movies, try Bubba Ho-Tep, a cinematic oddity from director Don Coscarelli. Based on indisputable facts, the film finally reveals what really happened to Elvis and why so many people are reluctant to admit that...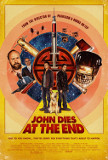 John Dies at the End
John Dies at the End is problematical. It's an attempt by director Don Coscarelli to adapt a book that has a fanatical following but has often been described as "unfilmable." The end result has garnered mixed reactions from those who love David Won...