Movies directed by Nicholas Meyer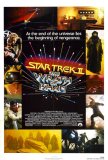 Star Trek II: The Wrath of Khan
In the wake of the somnambulant Star Trek: The Motion Picture, the fledgling Star Trek movie series was in need of some zest, which is exactly what The Wrath of Khan provided. While retaining the thematic elements of the late-'60s TV series an...
Star Trek VI: The Undiscovered Country
"Captain's Log, Stardate 9529.1: This is the final cruise of the Starship Enterprise under my command. This ship and her history will shortly become the care of another crew. To them and their posterity we commit our future. They will continue...