Movies directed by Tod Williams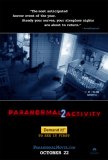 Paranormal Activity 2
Regardless of how it performs at the box office, this much is clear: Paranormal Activity 2 is a mistake. The clumsy and obvious byproduct of the financial success of its predecessor last Halloween, this movie has no reason for existing except to p... Door in the Floor, The
As a character study that examines a pair of reprehensible individuals, The Door in the Floor does an excellent job. The problem with the film is simple: how many people want to spend nearly two hours in the company of such characters. The viewe...