African Queen, The (U.S./U.K., 1951)
October 10, 2017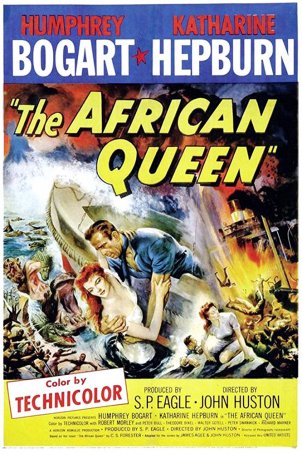 Over the course of a 26 year career that encompassed more than 75 movies, Humphrey Bogart made only five color films. The first and most respected of those was 1951's The African Queen, the last of five pictures he made with his good friend, director John Huston. The African Queen also represented the only time Bogart was paired with Hollywood legend Katharine Hepburn. For Bogart, The African Queen capped his career. Not only did he give what he believed to be his best performance, but the Academy honored him with a Best Actor statuette to go along with it. (Of the production's four nominations, Bogart was the only one to come out on top with some people believing it to be a "lifetime achievement award" like Al Pacino's for Scent of a Woman.) Although Bogart would go on to make ten more films after The African Queen, only The Caine Mutiny, Sabrina, and The Barefoot Contessa are well remembered.
While The African Queen was financially successful in its day (being the 12th most-seen film of 1952), it has withstood the passage of time without losing its mystique. Most people with a knowledge of film history know of the movie even if they haven't seen it. Few Bogart fans would put it on a Best Five list of the actor's titles but most would place it on a Top Ten. Even though it has in many ways not aged well, it is well worth seeing and the restored Technicolor print allows it to look as crisp and clean as if it was filmed yesterday. Those with an aversion to black-and-white may find The African Queen more aesthetically appealing than Bogart's greatest titles.
The African Queen used a script written by James Agee (subsequently partially reworked by director Huston) based on the novel by C.S. Forester. The film changed many of the book's details to make things more cinematic (and, in at least one case, more practical). One alteration is the ending, which is different in the movie than the printed version. Forester admitted to being dissatisfied with how the novel ends but seemed satisfied with how things go in the film.
Although not based on any one specific real-life event, The African Queen found its loose inspiration in several World War One-era incidents. The story is set in the village of Kungdu in East German Africa. Hostilities between Germany and the Allies have just broken out and the ripples are felt across Europe and into Africa. Methodist missionaries Samuel Sayer (Robert Morley) and his sister, Rose (Katharine Hepburn), are treated roughly by German soldiers who come to conscript the locals. Samuel is beaten, goes into a delirium, and dies. At that time, Charlie Allnut (Humphrey Bogart) arrives on his tramp steamer The African Queen. He helps Rose bury her brother then offers her a means of escape. They depart Kungdu on the small vessel.
Rose isn't merely interested in finding her way home, however. She wants to turn The African Queen into a torpedo and sink the German gunboat Queen Luise, which patrols a lake downstream. Reaching the Queen Luise requires surviving a trip down the Ulanga River, which presents numerous obstacles: three series of rapids (one of which is essentially a waterfall), a German fort, and an area of muddy islets where navigation becomes difficult. At first, Charlie is against what he deems to be a suicide mission but Rose uses her strong personality to wear him down and he eventually agrees, resigning himself to a death sentence. The journey, with Charlie and Rose confined together for a long period on a small craft, results in a romantic relationship and, by the time The African Queen reaches its conclusion, they are a couple.
Seen today, The African Queen works better as a romance than an adventure. It's not that the "action" sequences are poorly executed – in fact, considering the limitations of 1950s filmmaking, they are adept – but none raises the pulse more than a little. The second and third rapids represent the most suspenseful sequences but passing the fort and some of the late-movie events aren't all that exciting. But the relationship between Bogart's Charlie and Hepburn's Rose is shown to grow in a credible and sometimes playful fashion. Some of this is due to the star power of the leads but there is genuine chemistry and we quickly become invested in their romance.