Big Hero 6 (United States, 2014)
November 06, 2014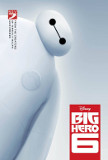 In 2013, Frozen arrived in theaters to capture the hearts, minds, and imaginations of young people (especially girls) around the world. Big Hero 6 is Disney's follow-up and it's unlikely to have the same seismic impact. Although competently made and consistently engaging, there's nothing special about this animated superhero origin story. The first collaboration between Disney animation and Marvel Comics, it lags behind The Incredibles, Disney/Pixar's previous foray into this genre.
The story takes place in the futuristic city of San Fransokyo, a cultural, geographical, and architectural fusion of East and West. The protagonist is young teen Hiro Hamada (voice of Ryan Potter), a robotics prodigy who accompanies his older brother, Tadashi (Daniel Henney), to college one day and falls in love with what he sees in the lab. In order to prove his worthiness to enter the university, he must invent something to impress the head of the department, Professor Robert Callaghan (James Cromwell). Hiro receives support from his brother's friends and cohorts: live wire Go Go Tomago (Jamie Chung), chemistry whiz Honey Lemon (Genesis Rodriguez), big-but-loveable Wasabi (Damon Wayans Jr.), and superhero-obsessed Fred (T.J.Miller). Also in the mix is Tadashi's inflatable robot creation, Baymax (Scott Adsit). Tragedy occurs when Tadashi and Professor Callaghan are killed in a mysterious fire. Hiro discovers that the fire wasn't accidental - it was deliberately set to cover up the theft of his invention, which is being (mis)used by a kabuki-masked figure with dark plans for San Franksokyo.
This is the second animated film of 2014 to confront death with a deftness of touch that won't overly upset children. It happened in How to Train Your Dragon 2 and is being repeated here. In the past, traditional animated films have mostly avoided the subject (there are exceptions - Bambi's mother, for example), but this may be an acknowledgment that kids are growing up faster and able to handle somber content. Although Big Hero 6 addresses Tadashi's death carefully and respectfully, the film's overall tone remains light. There's a fair amount of comedy and several obligatory action sequences that could easily be converted into playable video game levels. The filmmakers deserve credit for the seamless way in which they incorporate the serious elements into the overall story. This potential minefield is successfully navigated.
The film's marketing-friendly creature is the robot Baymax, which look a little like a cross between the Michelin Man and a giant Pillsbury Dough Boy. Big, white, and fluffy (except when wearing his armor), Baymax is a toymaker's dream. Although not as cuddly as the average Disney mascot, this robot is guaranteed to capture children's imaginations. Big Hero 6 is geared more toward boys than girls so the animators have refrained from making Baymax too cute (no singing or dancing). Despite the superhero stuff going on, one could make a convincing case that Big Hero 6 is really about the relationship that develops between the lonely Hiro and the creation of his beloved brother.
After immersion in the novel visual styles showcased in The Boxtrolls and The Book of Life, the "standard" approach used in Big Hero 6 feels a little…vanilla. The backgrounds are eye-poppingly rendered - San Fransokyo looks great - but the foreground images occasionally lack sizzle. As for the 3D - call it "serviceable." The voice acting is solid but unremarkable, with Disney opting to use "character voices" (for lack of a better term) than immediately recognizable, A-list talent. This has its advantages because familiar voices can overwhelm a character.
The superhero types on display here are of the Batman/Iron Man variety - normal people whose "powers" come as a result of technological improvements rather than through mutations or innate abilities. The film presents positive messages about the emptiness of revenge and the importance of friendship while offering an adventure designed for viewers too young for the more intense storytelling of The Avengers. The screenplay is smart enough to be considered adult-friendly. This isn't "classic Disney" but it's an experience parents and children can enjoy together in the dark, and sometimes that's all one can ask of a big-budget animated film.
---
Big Hero 6 (United States, 2014)
Director:
Don Hall, Chris Williams
Cast:
(voices) Ryan Potter
,
Scott Adsit
,
Jamie Chung
,
T.J. Miller
,
Genesis Rodriguez
,
Damon Wayans Jr.
,
Maya Rudolph
,
James Cromwell
,
Alan Tudyk
Screenplay:
Robert L. Baird & Daniel Gerson and Jordan Roberts, based on the comic by Duncan Rouleau & Steven T. Seagle
Cinematography:
Music:
Henry Jackman
U.S. Distributor: Walt Disney Pictures
---
Three...better movies of this genre
worse movies of this genre
Three...better movies of (voices) Ryan Potter
(There are no more better movies of (voices) Ryan Potter)
worse movies of (voices) Ryan Potter
(There are no more worst movies of (voices) Ryan Potter)
Three...better movies of Scott Adsit
(There are no more better movies of Scott Adsit)
worse movies of Scott Adsit
(There are no more worst movies of Scott Adsit)
Three...better movies of Jamie Chung
(There are no more better movies of Jamie Chung)
worse movies of Jamie Chung
(There are no more worst movies of Jamie Chung)