Bronson (United Kingdom, 2008)
October 28, 2009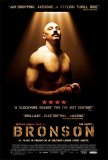 Bronson, loosely based on the life of "the most violent prisoner in Britain," is more of a collage of interrelated scenes than it is a straightforward narrative. Amped up and kinetic, the film stands little chance of boring the viewer, but its self-aware artiness and occasional shock tactics could turn off some members of the audience. The film does a good job of presenting in bloody detail the misdeeds of a misanthrope while italicizing his underdeveloped artistic abilities, but it is obtuse when it comes to character development. As much as this may be an acting tour de force for Tom Hardy, who gives one of the year's most forceful and courageous male performances, Bronson is never constructed as anything more than a one-dimensional caricature. That's the problem with Bronson - it's lively and vivid but ends up leaving the viewer indifferent to the central character, his life, and his dubious place in British pop culture.
Born Michael Peterson in Luton, England in 1952, the man who would eventually adopt the moniker of actor Charles Bronson as his "fighting name" (for bare-knuckle boxing) was a bad seed. Willful and violent as a boy, he barely made it into his 20s before ending up in prison - a situation in which he has spent all but 69 days of the period from 1974 until the present day. Although originally sentenced to a seven-year term for armed robbery, Bronson proved to be less than a model prisoner and his frequent attacks on guards and hostage-taking resulted in constant extensions of his term. In addition to serving time in maximum security facilities (where he was almost always in solitary confinement), he was also committed to a prison for the criminally insane. After becoming a free man in 1988, Bronson was unable to keep himself out of trouble and he was eventually captured, tried, and again imprisoned after another robbery. His violent and chaotic temperament once again made him a difficult case, but the anarchy he caused earned him a degree of infamy that made it unlikely he could fall victim to an "accident" while behind bars. (A possibility more than one guard would have endorsed had the potential press nightmare not made it unworthy of serious consideration.)
Director Nicolas Winding Refn, the Danish director best known for his Pusher trilogy, opts not to present Bronson's life in a strictly chronological fashion. Various vignettes from the man's life are depicted with two linking devices: Bronson in make-up doing a one-man stage show and Bronson narrating his life story to an unknown listener while behind bars. The implication is that the character is not sane and what we are viewing is a rambling catalog of his greatest hits as determined by an unstable mind.
The only actor with significant screen time is Tom Hardy and his performance is volcanic in its ferocity. There seems to be nothing Hardy won't do for the role - he's frequently naked and gets bloodied on multiple occasions. It's certainly not a "glamour part" and is deserving of the same recognition accorded to a female performance that includes full frontal nudity and debased activities. Hardy is a fairly well-known British character actor, having appeared in numerous period pieces and adaptations of classic literature. His international status was cemented in 2002 when he played the villain in the Star Trek movie, Nemesis.
The film should not be seen as strictly biographical. Although there is a "Charles Bronson" in the British prison system and he has gained a fair amount of notoriety over the years, Bronson is more a tall tale version of his exploits than a literal one. Many of the events in the film are either heavily embellished or completely made up and certain aspects of his life are left out altogether. Suffice it to say that this movie provides a glimpse of the man but should not be relied upon for factual information.
Bronson is violent and visceral, as befits a motion picture about such a brutish individual. An edge of dark humor is mixed into the cinematic recipe, recalling the way in which Tarantino weaves together violence and comedy without undermining the tone. The movie is serious and bloody, but rarely grim (although I could have done without the scatological introductory scene in the asylum). At its best, Bronson is briefly capable of recalling the likes of A Clockwork Orange and Fight Club. At its worst, it comes across as pretentious and exploitative. The most disappointing thing about Bronson is how little insight it provides into the character or his circumstances. Everything is on the surface and in-your-face; one senses Guy Ritchie would approve. It's almost as if Refn is content simply to provide fleeting impressions of how a sociopath of this type interacts with those around him. It's fascinating from a certain perspective but the overall experience rings hollow.
---
Bronson (United Kingdom, 2008)
---
Three...better movies of this genre
worse movies of this genre
Three...better movies of Tom Hardy
worse movies of Tom Hardy