Free Solo (United States, 2018)
November 01, 2018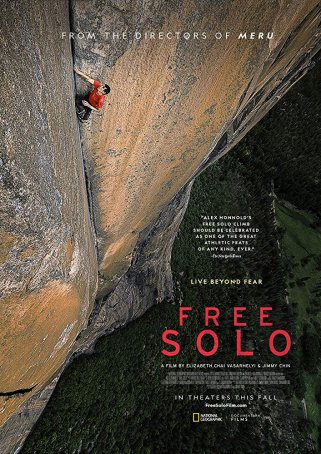 Spoiler warning: Although this is a documentary chronicling an historically-established event, I am aware that some potential viewers may not be aware of how things turned out. This review candidly discusses the results so those who wish to preserve a sense of "surprise" are advised not to proceed. You have been warned.
The first time I encountered the concept that someone might free climb Yosemite's El Capitan was in the 1989 feature film Star Trek V: The Final Frontier. In the opening scene of that movie, Captain Kirk foolishly makes the attempt, falls, and nearly pays with his life. In this fictional future world, free soloing the geological formation had apparently been done many times. (Spock notes: "I regret to inform you that the record for free climbing El Capitan is in no danger.") In the real world, the feat had never been accomplished. That remained a true statement until the morning of June 3, 2017 when renowned climber Alex Honnold became the first (and thus far, only) climber to free solo El Capitan. This movie, directed by Jimmy Chin and Elizabeth Chai Vasarhelyi, chronicles the event.
For roughly the first half of Free Solo, things proceed much like they would in any biography of a living person. There are interviews with the subject and those around him, including his girlfriend, Sanni McCandless, and his best friend and fellow climber, Tommy Caldwell. The movie, which was directed by expert climber Jimmy Chin and his non-climbing wife, Elizabeth Chai Vsarhelyi, follows Alex during his preparations, which include a trip to Morocco and the painstaking mapping of his route.
The film describes several areas that concern Alex and details about why each of them represents a difficulty. This proves to be a key aspect to increasing the tension that develops during the climb, which consumes the second half of Free Solo's running time. This plays out with as much (or more) suspense than any conventional thriller as the cameras capture every step of Alex's ascent. The actual climb took nearly four hours but the movie covers it in about 1/8 the time.
Although Alex is a fascinating personality, he's not much different from many similar adventurers who are driven to do foolhardy things in pursuit of a dream or inner drive, whether that "thing" is climbing Everest or living with the grizzlies in Alaska. At one point during Free Solo, one interviewee remarks that, no matter experienced a climber may be, if he continues challenging himself, he will one day fall and die. Alex doesn't fear death (a brain scan reveals that he is almost immune to fear) although he doesn't court it. (Some may argue about the last part of that statement.)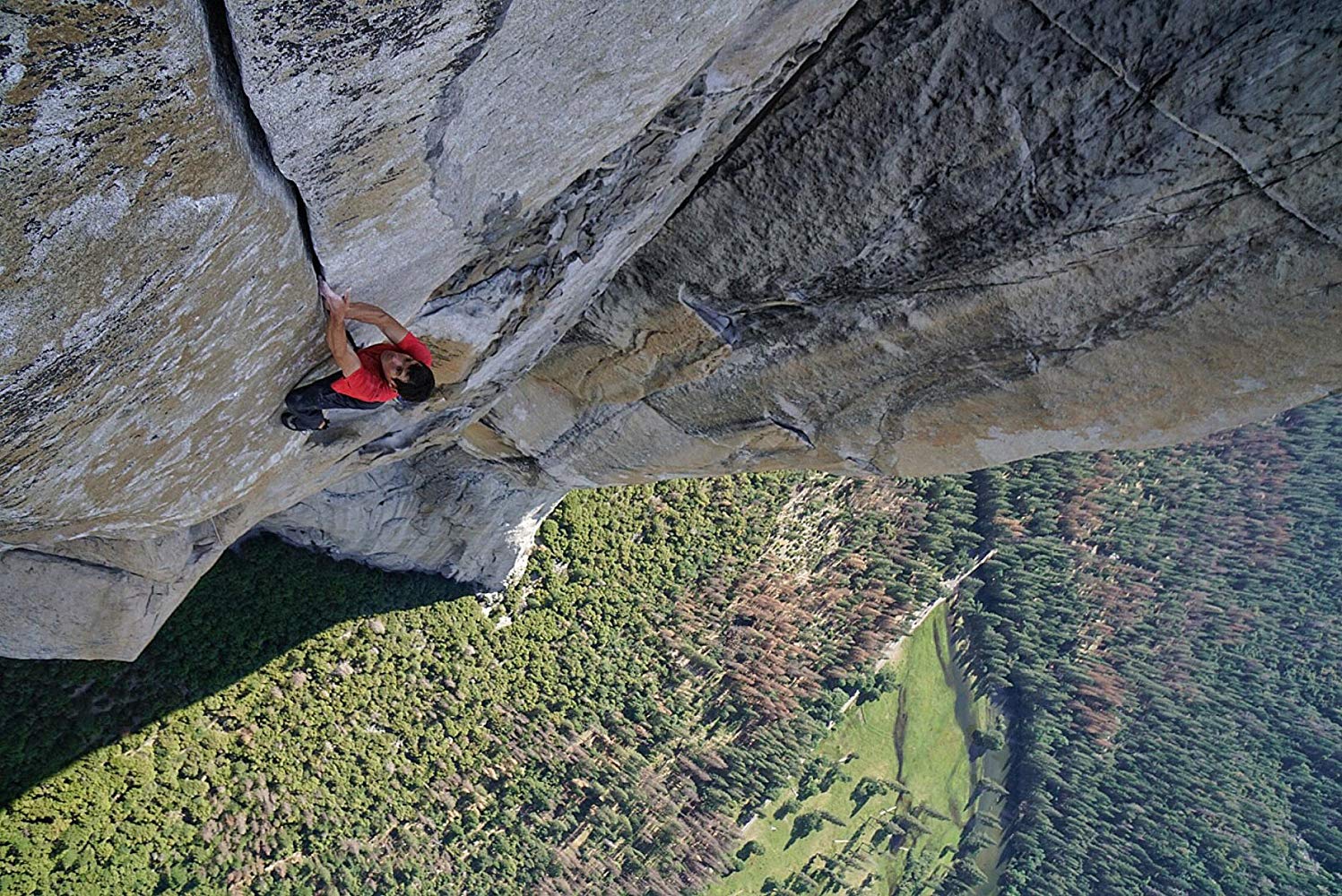 While the focus on Alex's climb gets a lion's share of Free Solo's attention, the movie provides a peek into the "making of" the film. Although Vasarhelyi doesn't appear on camera, her husband is frequently shown; we are provided with not only a glimpse of his friendship with Alex but the logistical difficulties of filming the event. (Although there are many long-distance shots taken from the ground, some of the images were captured by climbing cameramen.) One thing that emerges is the anxiety and apprehension of everyone involved in the project – to a person, they dread the possibility that they may inadvertently be making a snuff film. Meanwhile, the experience is so stressful to Sanni that she can't be on-site. It's also mentioned that her presence, like that of too many cameras, could interfere with Alex's concentration.
Free Solo illustrates three major tests for Alex: the physical difficulties of climbing El Capitan, the psychological pressure of making the ascent (he seems to have convinced himself that this is something he needs to do), and the emotional challenge of letting his guard down for another person (in this case, Sanni, the only woman he claims to have loved). Although the first two of those things are Free Solo's meat-and-potatoes, the third is a humanizing element that adds depth to the biography and, because it raises the stakes, increases the suspense accompanying the climb.
Four cinematographers - Chin, Matt Clegg, Clair Popkin, and Mikey Schaefer – are credited. They capture some amazing images of El Capitan (and other parts of Yosemite) but, interestingly, one missing element is the sense of vertigo that sometimes accompanies movies made about high altitude daredevil activity. There are shots looking down from the ascent but the filmmakers don't dwell on those. The focus is always on Alex, never specifically on his surroundings. This is a different approach than another crew might choose but there's sufficient drama in the story that it's not needed.
Documentaries are notoriously hard sells for theatrical release. (This year's highest-grossing documentary, for example, was the Mr. Rogers-themed Won't You Be My Neighbor, which made during its entire run less than 10% of what Infinity War made in its first weekend.) Free Solo was funded by the National Geographic Channel and will air there. The compelling reason to see it in a multiplex, however, isn't so much the advantage of a larger screen as it is the absence of commercial breaks. The full impact of the movie relies on the gradual building of momentum and any kind of interruption could break the spell.
---
Free Solo (United States, 2018)
Run Time: 1:40
U.S. Release Date: 2018-10-19
MPAA Rating:
"NR" (Profanity)
Genre:
Documentary
Subtitles: none
Theatrical Aspect Ratio: 1.85:1
---

Three...better movies of this genre
worse movies of this genre
Three...better movies of Alex Honnold
(There are no more better movies of Alex Honnold)
worse movies of Alex Honnold
(There are no more worst movies of Alex Honnold)
Three...better movies of Sanni McCandless
(There are no more better movies of Sanni McCandless)
worse movies of Sanni McCandless
(There are no more worst movies of Sanni McCandless)
Three...better movies of Jimmy Chin
(There are no more better movies of Jimmy Chin)
worse movies of Jimmy Chin
(There are no more worst movies of Jimmy Chin)