Micmacs (France, 2009)
May 25, 2010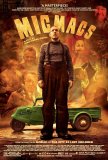 The latest would-be art-house sensation from French auteur Jean-Pierre Jeunet bears the title Micmacs, and has nothing to do with any entrée available at a certain high-profile fast food restaurant. It is, however, an unusual concoction that would have found favor during the '90s, when foreign films of this sort were prized by those seeking something more filling than the fare served by cinema's junk food purveyors, the multiplexes. But can such a film succeed in North America 15 years later?
Jeunet has one of the most intriguing resumes of any working filmmaker. He began his career in a creatively fruitful partnership with Marc Caro, with whom he made two early-1990s cult favorites, Delicatessen and The City of Lost Children. (Caro's career fizzled after his collaborations with Jeunet ended.) Jenuet then allowed himself to be seduced by Hollywood and helmed the ill-fated fourth Alien movie, Alien: Resurrection. In the early '00s, he returned to France, where he made two of his most widely lauded motion pictures: Amelie and A Very Long Engagement, the latter of which seemingly signaled a more traditional trajectory in the filmmaker's career. Micmacs, however, provides a return to the rhythms of Delicatessen and The City of Lost Children. As was true of those efforts, this one is almost entirely plot-driven, with little opportunity for significant character development beyond what is necessary for the narrative to work. The story unfolds a little like a giant Rube Goldberg machine, twisting and turning, going in strange directions, and taking unexpected detours, but always getting closer to the end goal. It's visually stimulating and a lot of fun to watch, but it lacks the emotional investment that Jeunet brought to his best film to-date, Amelie.
The story focuses on Bazil (Dany Boon), a video store clerk and all around movie lover who is one day hit in the head by a stray bullet. This leaves the doctors with a dilemma: take the bullet out and risk turning him into a vegetable or leave it in and allow the possibility that he could drop dead at any time. They opt for the latter. Once released from the hospital, the now-homeless Bazil falls in with a group of society's outcasts and works with them "rehabilitating" scrap metal. He also begins to pursue a course of revenge against the rival arms manufacturers responsible for making both the mine that killed his father and the bullet lodged in his skull. His convoluted plot requires the participation of his new friends.
Watching Micmacs, I was reminded of a live-action cartoon. There is a kinship between what Jeunet accomplishes here and what we see in some of the "less polished" animated efforts of Aardman and the like. The actors, from Dany Boon to André Dussollier to Jeunet stalwart Dominique Pinon, understand that their jobs do not require the development of three-dimensional personalities and so work to fashion wildly exaggerated caricatures that work within the framework devised by the filmmakers.
Micmacs is an inventive romp punctuated by the kind of quirkiness Jeunet has brought to all his films. The story is as colorful as the characters and, although the development of the plot is not linear, there's a sense of unflagging energy that impels proceedings forward. Of course there's a happy ending, but would you really expect anything else from a fractured fairy tale like this?
---
Micmacs (France, 2009)
---
Three...better movies of this genre
worse movies of this genre
Three...better movies of Dany Boon
(There are no more better movies of Dany Boon)
worse movies of Dany Boon
(There are no more worst movies of Dany Boon)
Three...better movies of Michel Crémadès
(There are no more better movies of Michel Crémadès)
worse movies of Michel Crémadès
(There are no more worst movies of Michel Crémadès)
Three...better movies of Dominique Pinon
worse movies of Dominique Pinon
(There are no more worst movies of Dominique Pinon)