Polina (France, 2016)
September 22, 2017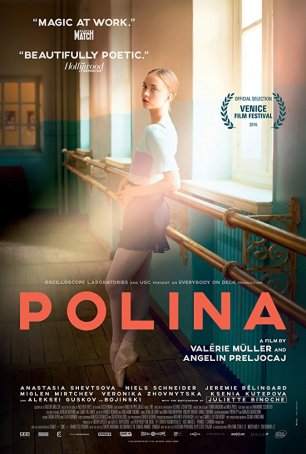 Polina is mesmerizing. Part of that is because perhaps 50% of the scenes are dance-related, choreographed by co-director Angelin Preljocaj. Another part is because the lead, Anastasia Shevtsova (making her acting debut), is a classically-trained ballerina. But it's mostly because the film conveys energy, color, and movement from start to finish, irrespective of whether Polina is dancing, bartending, or trying to catch a few moments of sleep in a laundromat.
Based on the graphic novel by Bastien Vives, Polina tracks the life of a would-be ballerina from her young years (as played by Veronika Zhovnytska) into adulthood, when she finds her niche in life. In essence, it's a traditional coming-of-age story. Polina is a moody character, prone to outbursts of temper and never satisfied with living in the here-and-now. She's always looking to the future, wondering about the next mountain to climb beyond the one she's currently on.
As a child in Moscow, Polina is taught by the dour Bojinski (Aleksey Guskov), a figure lifted directly from film-dom's "stern teacher" shelf. Her time under Bojinksi makes her ready to study for the Bolshoi Ballet but her restlessness results in her running off to Paris with a boyfriend, Adrien (Niels Schneider). While there, she and Adrien successfully audition to appear in a production directed by renowned dance choreographer Liria Eksaj (Juliette Binoche). A leg injury ends Polina's chances to work for Liria. Feeling rejected and marginalized, she moves to Antwerp where, unable to find work as a dancer, she takes a job as a bartender. But a chance encounter with a man looking for a roommate re-opens doors she thought might have been closed.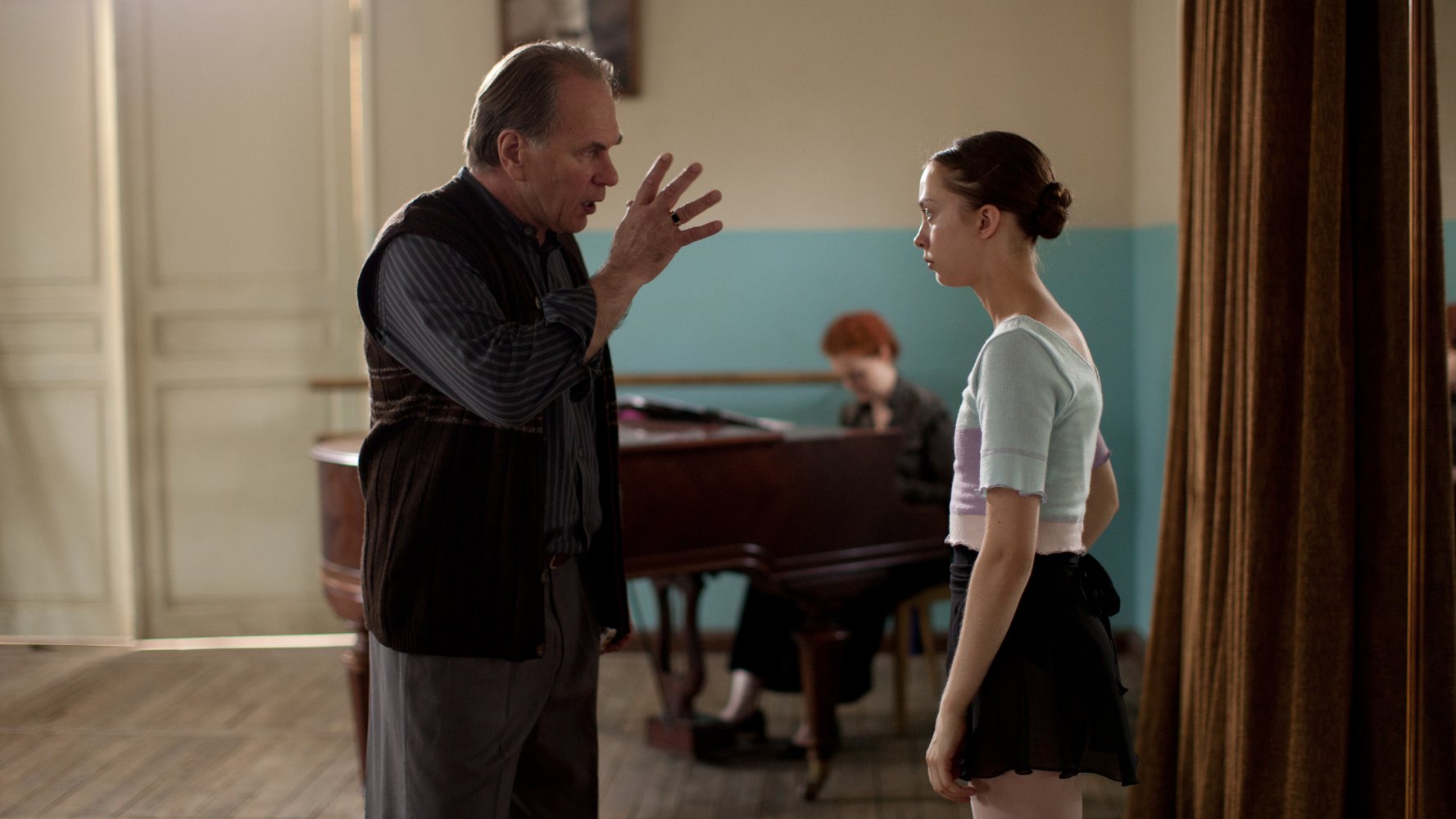 When Polina focuses on dance, it's aesthetically pleasing, sometimes bordering on breathtaking. The cameras are positioned in such a way that cutting is needed only for close-ups to show the emotion of the dancers. Long stretches are presented unbroken at medium range. Shevtsova is at her best when dancing; her limber body displays a seemingly inhuman flexibility and her face exhibits the coldness of an ice queen and the passion of a lover. The music, credited to 79D, gives the film an up-tempo urgency and immediacy. Ballet films have a reputation of being staid and restrained; Polina's throbbing score helps defy this perception. The movie, like its music, is vibrant.
Away from the stage and classrooms, Polina occasionally stumbles. A muddled storyline about the title character's father's mob associations is never satisfactorily resolved. It seems to be leading to something that never materializes. Her romantic relationship with Adrien is perfunctory. The narrative arc in Antwerp follows a familiar trajectory. As an actor, Shevtsova is charismatic but unpolished. Polina comes alive when she dances (regardless of the kind of dance) but shuts down when she stops.
When Polina works, it captivates. When it doesn't, it's sufficiently well-made to advance the story. Like Whiplash, the movie was made by lovers of an art form determined to convey their ardor to those who might not share it. If that indeed was their goal, they have succeeded.
---
Polina (France, 2016)
---
Three...better movies of this genre
worse movies of this genre
Three...better movies of Anastasia Shevtsova
(There are no more better movies of Anastasia Shevtsova)
worse movies of Anastasia Shevtsova
(There are no more worst movies of Anastasia Shevtsova)
Three...better movies of Veronika Zhovnytska
(There are no more better movies of Veronika Zhovnytska)
worse movies of Veronika Zhovnytska
(There are no more worst movies of Veronika Zhovnytska)
Three...better movies of Juliette Binoche
worse movies of Juliette Binoche