Whiplash (United States, 2014)
October 26, 2014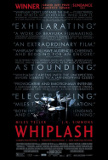 It's a noteworthy achievement for director Damien Chazelle to infuse a tale about the development of a musician with all the tension and intensity of a top-notch thriller. Whiplash is riveting. At times, it evidences the qualities of a can't-turn-away car wreck: brutal and horrific yet compelling. At other times, it has the rhythms of a sports drama with all the ups and downs inherent in that genre. It's about obsession and compulsion. It's about what happens when too much importance is placed on greatness and when the goal of achieving it eclipses all else. It twists the mentor/student relationship in ugly ways. But, above all, it focuses on the power shifts and test of wills that develop between characters brilliantly portrayed by Miles Teller and J.K. Simmons. This movie is not to be missed.
Make no mistake: both Teller and Simmons deserve acknowledgement for their work here with Oscar nominations. I have no idea if the Academy will agree. Simmons plays the more showy and complex character, a Machiavellian music teacher/band conductor whose motivations are often as inscrutable as his tactics. Teller's ambitious but naïve drummer is no less powerfully portrayed but the sense here is that the older actor is more likely to be recognized. Ultimately, it doesn't matter. Both men give the best performances thus far in their careers, with Simmons taking giant strides away from J. Jonah Jameson and Juno's dad, and Teller making us forget how much he has sometimes resembled a young John Cusack. Even at Cusack's best, he never offered anything this visceral.
The story uses a cinematic standby: the student challenged to achieve his full potential by a teacher. Movie history is littered with these narratives, but I can't remember one quite as uncompromising as Whiplash. Some of this is due to the high-energy, tightly paced manner in which Chazelle directs but the script refuses to offer moments of false sentiment. The characters don't bond and even the ending doesn't quite play out the way one might anticipate. The familiarity of the arc is undermined by the manner in which it is constructed. Most teacher/pupil films are safe, secure experiences that develop into audience pleasing, feel-good experiences. Whiplash is more complex. It revels in making viewers uncomfortable and Chazelle is unconcerned whether viewers stand and applaud or sit in stunned silence. Whiplash indeed.
Simmons' Terence Fletcher is no Mr. Chips. In fact, he's closer to the drill sergeant portrayed by R. Lee Ermy in Stanley Kubrick's Full Metal Jacket. One wonders whether that's where Simmons went for his inspiration. Forget about Robin Williams in Dead Poets Society, Michelle Pfeiffer in Dangerous Minds, and Richard Dreyfus in Mr. Holland's Opus. Fletcher is a much different character. His goal of prodding his students to reach their potential is achieved through bullying and sadism. He offers scorn instead of praise. ("There are no two words in the English language more harmful than 'good job'.'") He is a cruel taskmaster whose "end justifies the means" mantra makes him the nightmare instructor everyone fears. His latest protégé at the exclusive music school where he works is talented jazz drummer Andrew Neyman (Teller) whose personal drive for greatness feeds the unhealthy relationship that develops between the two. Along the way, we are provided with enough glimpses of the "inner" Fletcher to dispel the illusion that he's just a monster, and we're given ample evidence that Andrew is as much accomplice as victim in what transpires.
I was on the edge of my seat during parts of Whiplash, and that almost never happens. Usually with a film like this, I know where it's going and sit back to enjoy (or not enjoy) the ride. Whiplash doesn't permit such a passive response. It invites participation - almost every action on Fletcher's part, especially his end-game, can be seen through various lenses and Chazelle leaves it up to the viewer to decode motivation. Even his "confession" might be a bluff; it seems sincere but in retrospect can be seen as part of a greater plan. Fletcher is a master manipulator. Depending on your perspective, the ending can be viewed as triumphant or tragic. Perhaps it's both.
This represents Chazelle's first opportunity to take a film into wide distribution. It's based on an 18-minute 2013 short he made (with Simmons reprising his role) and was the toast of Park City in 2014, winning Sundance's Audience Award and Grand Jury Prize. Kudos to the writer/director, Teller and Simmons. These three men have combined to craft something vital and memorable. Whiplash has its spot reserved on my end-of-the-year Top 10.
---
Whiplash (United States, 2014)
Ranked #5 in Berardinelli's Top 10 of 2014
Run Time: 1:46
U.S. Release Date: 2014-10-17
MPAA Rating:
"R" (Profanity)
Genre:
DRAMA
Subtitles: none
Theatrical Aspect Ratio: 2.35:1
---
Three...better movies of this genre
worse movies of this genre
Three...better movies of Paul Reiser
(There are no more better movies of Paul Reiser)
worse movies of Paul Reiser
Three...better movies of J.K. Simmons
worse movies of J.K. Simmons
Three...better movies of Miles Teller
worse movies of Miles Teller