Footloose (United States, 2011)
October 11, 2011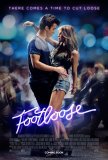 When the characters in Footloose are dancing and the music is blaring, the film comes alive. It has energy and personality. Would that the same could be said about the dramatic scenes, which are hamstrung by a combination of mediocre acting and atrocious dialogue. While it's true that few viewers will venture into a theater showing this remake for the story, the screenplay should not be a detriment to enjoyment. Less talking and more dancing would have made for a more footloose and fancy-free environment.
Remaking the 1984 Kevin Bacon teen rebellion movie may seem like an odd choice for director Craig Brewer, whose previous credits include the well-received Hustle & Flow and the cult film Black Snake Moan. Brewer was not the first choice to direct this; that was Kenny Ortega, but he bowed out over "creative differences." An affinity for the original won Brewer the job and his re-interpretation of Dean Pitchford's script is surprisingly faithful to the 1984 version. Unfortunately, a lot of the weaknesses remain intact alongside the strengths. Footloose fans should be pleased with the resulting production, which includes numerous homages to its predecessor, including re-recordings of four songs ("Footloose", "Almost Paradise", "Let's Hear it for the Boy", and "Holding out for a Hero") and similar camera angles (ground-level shots of feet during dance numbers).
Ren (Kenny Wormald) is a classic Big City Boy Trapped in a Small Town. After the death of his mother, he is forced to relocate from Boston to the backwater Georgia burb of Bomont for his senior year of high school. Worse still, in a place where the local preacher, Rev. Moore (Dennis Quaid), is more powerful than the judge and the police, dancing and the playing of loud music have been outlawed. The minister's wild child, Ariel (Julianne Hough), routinely flouts the regulations, but she does it under the radar. In addition to dancing and strutting her stuff, she loses her virginity to bad boy race car driver Chuck Cranston (Patrick John Flueger), because she's bored. When Ren arrives, she joins up with him and the two plot a revolt to give the high school students their first prom in three years.
The weakest aspect of the untidy, overlong story is Chuck, whose purpose is dubious. He's a one-dimensional redneck without any redeeming qualities and his biggest scene - a "bus race" that allows Brewer to create the kind of vehicular chaos one normally finds on Mythbusters - is superfluous. It hammers home personality traits that are already effectively established while eating up ten minutes that could have been devoted to another dance number or two.
Footloose comes alive when the characters are dancing, and there are a number of standout sequences. The film opens with an explosion of energy that ends with a shocking bang (the car crash that leads to the onerous anti-dancing legislation). Stars Kenny Wormald and Julianne Hough were obviously selected more for their fleetness of foot than their ability to handle drama. Brewer, however, plays too often to their weaknesses and too infrequently to their strengths. Hough is left without a memorable dance scene and stuck with a verbal sparring match against Dennis Quaid. She's pretty and lively (and bears more than a passing resemblance to a young Jennifer Aniston), but her emotional depth is limited. Wormald's physicality is undeniable, but his acting appears to be a small step above that of Taylor Lautner. And it's tough for a 28-year old guy to pass credibly for a high school senior. Call it the Grease syndrome.
The recent rash of '80s remakes has not led to the box office gold expected by their financial backers, in part because today's generation has more than a passing familiarity with the originals, which aren't in inaccessible black-and-white or subtitled. Footloose offers more lively entertainment value than the 2009 Fame mis-fire, but it nevertheless feels unnecessary. With a new version of Dirty Dancing on the way, can a recreation of Flashdance be far behind?
Footloose is disposable fun, although Brewer could have amped up the enjoyability quotient by tightening the script to make it more musically oriented and to focus on the teen rebellion aspect rather than on the personal demons driving Ren and Ariel. That's Ingmar Bergman territory and, predictably, it doesn't play nearly as well to the thumping beat of "Footloose" or the cheeky bubblegum pop sound of "Let's Hear it for the Boy." An obvious disappointment relates to the lack of a Kevin Bacon cameo (there are conflicting reports about whether it was never offered, or offered and turned down). If his absence leaves the icing off the cake, then Brewer's failure to improve upon a flawed original creates a sometimes frustrating unevenness: half-baked at times, overdone at others, and only occasionally just right.
---
Footloose (United States, 2011)
---
Three...better movies of this genre
worse movies of this genre
Three...better movies of Kenny Wormald
(There are no more better movies of Kenny Wormald)
worse movies of Kenny Wormald
(There are no more worst movies of Kenny Wormald)
Three...better movies of Julianne Hough
(There are no more better movies of Julianne Hough)
worse movies of Julianne Hough
(There are no more worst movies of Julianne Hough)
Three...better movies of Dennis Quaid
worse movies of Dennis Quaid